From space: video of five days of tornadoes
Wow. It's positively creepy how those cells burst into life with what looks like no trigger or precursor. They're just suddenly there. Terrifying.
I was in Kansas over the weekend for my nephew's college graduation (congrats Derek!), and literally minutes before the ceremony was to start there was a tornado warning. We had to huddle in the building's basement for about 45 minutes before the all-clear was sounded; the tornado spotted was to the northwest and missed us (although right as the warning started I was able to get a picture of the weird rolling mammatus clouds overhead).
After the ceremony we saw the storm raging to the north of us, and I got this photo of it: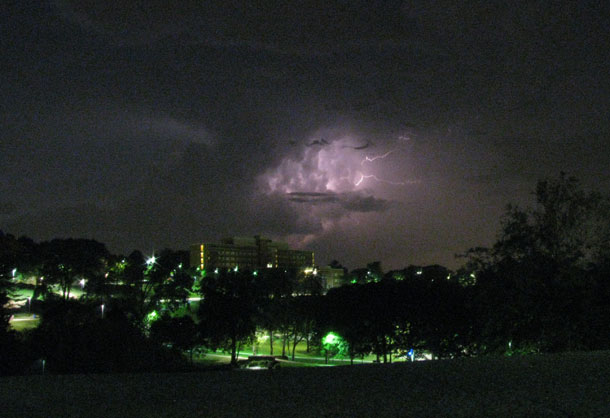 That's a several second exposure at (I think) f/8. The lightning was never more than 5 - 10 seconds away for quite some time. It was awe-inspiring.
The next day we left Lawrence to come home, and a fierce black cloud stretched from horizon to horizon to our west. It missed us, and by the time we got on the road it was gone... but I have to wonder if that was the same storm system that produced the tornado that swept through Joplin, Missouri. I've never seen an actual tornado in real life, but that's as close as I ever want to come.
Video credit: Movie Credit: NASA/NOAA GOES Project, Dennis Chesters
---