Happy sad happy sad happy sad
OMFSM this made me laugh out loud in delight!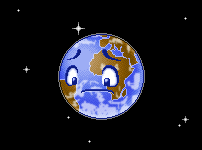 Advertisement

How adorable is that? It's called "Orbit Buddy", and was created by DeviantArt user Royaba.
I guess planets are the opposite of astronomers. We don't like the Moon to be up when we observe because it lights up the sky and washes out all the fainter stuff we're trying to see. Unless we're observing the Moon, of course. But either way, we get the same expression on our faces when we see fun stuff though the eyepiece.
[UPDATE: Right after posting this I realized the Moon is orbiting in the wrong direction. But it's still awfully cute.]
TODAY IN SLATE
Politics
Blacks Don't Have a Corporal Punishment Problem
Americans do. But when blacks exhibit the same behaviors as others, it becomes part of a greater black pathology.
Lifetime Didn't Think the Steubenville Rape Case Was Dramatic Enough
So they added a little self-immolation.