Science podcast for kids, by a kid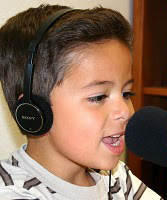 If you're looking for the very definition of "adorable", then look no farther than Aaron's World, a science podcast made by a six-year-old boy who loves science. Each segment is just a few minutes long, and has a story with Aaron and his friend INO as they explore space and time. Aaron then explains a little bit about the science of the story.
Aaron does a great job talking about the science, and he is clearly an enthusiastic young scientist. I bet he'll go a long way getting people excited about the Universe.
If you have a kid who likes science -- or dinosaur stories -- then check out Aaron's World, which is a pretty cool world to visit.