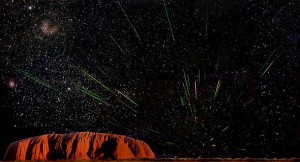 The Leonid meteor shower peaks tonight!
This is a relatively nice shower to watch. There are usually 20 - 30 meteors per hour, so you'll see one every few minutes. Sometimes -- though rarely -- it can peak at much higher rates, but I don't think anything like that is predicted this year.
Watching a meteor shower is actually pretty easy. All you need is a big view of the open, dark sky -- the fewer trees, buildings and lights the better -- and something comfortable to relax on like a beach chair (the kind that opens up so you can lie on it). The best time to watch is after midnight; that's when the Earth is facing into the oncoming bits of gravel and ice, and you see more meteors (like seeing more bugs hitting your car's front windshield than the rear one). The Moon is not quite full, and should be low in the sky after local midnight. Not ideal observing conditions, but not too terrible.
That's it! Happy meteor hunting!