Bad Universe episodes 1 and 2 to air on Discovery Canada and in the US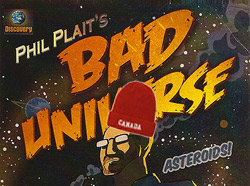 I've been told that episode 2 of Bad Universe -- Alien Attack! -- will air on Discovery Canada on November 7th at 9:00 p.m. Eastern time.
Better yet: they're re-running Episode 1 in the hour before, from 8:00 - 9:00. A double dose of disaster!
Not only that, but Discovery Channel in the US is rerunning both episodes on the 7th as well, at 4:00 and 5:00 p.m. Eastern time. So, if you missed 'em the first time around, here's your chance.