A night of geekery and Discovery!
If you were curious about what I'm doing tonight, here's my schedule (all times Eastern):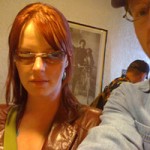 7:00 p.m.: I'll be watching the live stream performance from my friend Marian Call, who is singing at the Think Geek HQ in Washington DC! This is such a high density of nerdery it may collapse to form a black hole. I have links to various marianesque chanteusery in an earlier post about her.
So tune in and watch as I try to figure out if I, for one, am in imminent danger of having to welcome our new insect overlords. And don't forget: there's still a little bit of time left (if it's before noon Mountain time, that is) to win free swag from this episode!