BREAKING: Cuccinelli's climate change case dismissed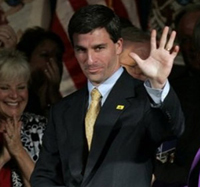 I've written quite a bit about Ken Cuccinelli, the Virginia State Attorney General who has been pursuing a witch hunt case against climate scientist Michael Mann (see "Related Posts" at the bottom of this post). Cuccinelli claims that while Mann was working at the University of Virginia, he was wasting taxpayer money researching global warming. Cuccinelli has subpoenaed files relating to Mann's work. You can just guess how I feel about that (if you say it makes my irony gland explode, you win).
Cuccinelli did not show, [Judge] Peatross wrote, any evidence that Mann's work was "misleading, false or fraudulent in obtaining funds from the Commonwealth of Virginia."
The bad news is that the judge left the door open for Cuccinelli to file more demands to obtain research documents. This sort of thing puts a chill on freedom of academic research, which is why UVa has fought so hard against Cuccinelli. Given that Thomas Jefferson founded UVa, the irony factor in this situation is very high indeed.
Cuccinelli is a climate change denier, plain and simple. His attack against Mann was ill-advised and based on nothing but noise. After all the overwhelming evidence against his claims, if Cuccinelli continues to pursue this case I hope people come to realize who is really wasting taxpayers' money.