BREAKING: Third time's a charm, Congress passes science act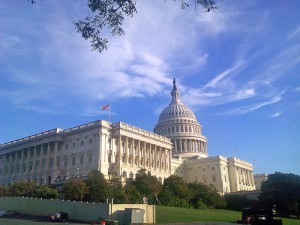 After Republicans twice stalled it, the America COMPETES Act was passed by the House of Representatives by a vote of 262-150.
I have the history of this bill outlined in an earlier post. It failed the first time it went to vote because a Republican Congressman used some shameful politics to derail it, and the second time because to bring the Act to the House Floor for a vote, the Democratic majority had to put it in to pass with a 2/3 majority. Too many Republicans still voted against it, claiming it was too much spending.
That, to be blunt, is garbage. This Act makes sure we have enough money funding science and technology to grow our economy. Not passing it would be like eating your seed corn. As Representative Rush Holt (D-NJ) says,
"It shouldn't take three votes to pass legislation to support the research vital to long term economic growth. If half of economic growth in the last half century is attributable to technological developments and innovations, then we can't afford to presume that U.S. leadership in innovation is a given. If we intend to lead the global economy, we must tend to our innovation infrastructure, as this bill does."
This bill will continue the funding of the first Act, which was passed with broad bipartisan support under the Bush Administration (when Congress still had a Republican majority as well) in 2007. This time, to get it passed, the Democrats did something clever (I
know
):
When consideration resumed, Chairman Gordon moved a division of the question on the amendment included in the Republican Motion to Recommit passed by the House on May 13. This effort allowed the House to consider and vote separately on several parts of the Motion to Recommit.
Ha! This "division of the question" forced Congressmen to vote separately on the amendments added last time to scuttle the bill, so they are on record. This is clever because the first time the Republicans sank the bill, they did so by adding an amendment forbidding salaries to be paid to government employees who downloaded porn. The only way to vote on the bill would have been to kill that amendment, so then the noise machine (cough cough Fox cough) could say the Democrats voted to pay people who surf porn on government machines*.
By forcing this amendment-by-amendment vote, the Democrats could vote for the porn amendment, shutting down the right-wing machine before it can even get started. Even so, I'll note that only 17 out of 167 Republicans voting voted to pass the bill. Every Democrat voted to pass it, and every single one of the 150 no votes came from the right.
The bottom line is, I am very happy this finally passed. It will fund a lot of science research as well as educational efforts for the next few years. As Rep. Holt points out, science always pays off far more than you invest, always. America will be better off and stronger because of this.