BA talk at Rensselaer Thursday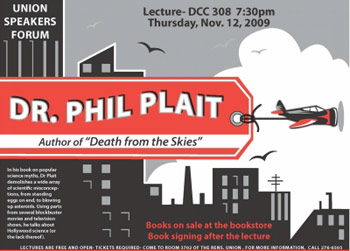 For those of you in the upstate New York area, I'll be giving my Death from the Skies! talk at Rensselaer Polytechnic Institute (RPI for those in the know) this Thursday, November 12, at 7:30 p.m. It's free and open, which I guess means the public can come, but you might want to contact them about that.
I visited RPI many years ago (it was on my list of potential colleges when I was in high school, but that's a long story), and it's gorgeous. This time of year it'll be spectacular, I bet, so I'm really looking forward to this!