Advertisement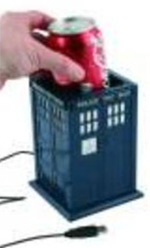 Even better, this same company has a USB-powered TARDIS can cooler! WANTWANTWANT.
You'd think it would hold a bigger can, though.
Tip[ o' the sonic screwdriver to Kevin Jung.
TODAY IN SLATE
Politics
Blacks Don't Have a Corporal Punishment Problem
Americans do. But when blacks exhibit the same behaviors as others, it becomes part of a greater black pathology.
Lifetime Didn't Think the Steubenville Rape Case Was Dramatic Enough
So they added a little self-immolation.