I'm lazy, and don't feel like doing anything original right now. Plus I'm planning for The Little Astronomer's slumber party tonight, and about to have nine 12-year-old girls descend on Chez BA. So, here are some things I found around the web to entertain you.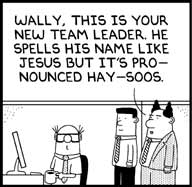 1) I hate to link to Dilbert, because Scott Adams is an antiscience twinkie, but when you read this strip you'll see why I linked to it.
4) Are plastic bags the scourge so many people say they are? This article says the claim that they kill millions of animals is totally false. Such things have happened before, so my bull detector isn't going off. But it doesn't say anything about how they are made and how they are disposed of, which also play into this.
That's it for now. I'm off to the party store to get festive plates and earplugs. TTFN.