One of my favorite things to do in the whole world is to give public talks about astronomy. It's not a big secret that I love love love this stuff, and as much fun as it is to write about astronomy, there's just more connectiveness, more immediacy, more intimacy, with standing up in front of a crowd and showing them astronomy.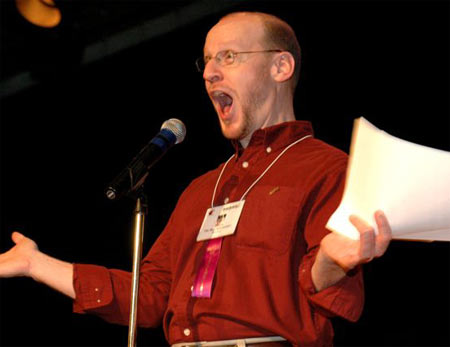 I'd give talks every week if I could, and there have been many times I've done four in one day. With my loaded work schedule, however, it's always been tough.
But hey, wait a sec -- soon I'll be a full time writer. I won't have the daily 8 a.m. - to - 6 p.m. grind of a day job (just the 7 a.m. - to - midnight grind of publisher deadlines, aiiie aiiieee aiieeeeee!). I'll be free to travel whenever I want and give talks!
So I am announcing this to world: let me talk. I want to travel around, I want to talk about astronomy, I want to teach people about critical thinking and skepticism and science and use lots of run-on sentences. I want to excite people and infect them with the love I have of science.
Let me talk! I have a lot of stuff I want to say.