Update (April 21, 2007): Welcome people from dpreview! I see lots of folks coming in from there, and I hope you like the entry!
You know, I could almost feel sorry for Richard Hoagland. Here's a guy who has built an entire career in pseudoscience, and it all relies on a single thing: the idea that an eroded mesa on Mars is actually a giant sculpture of a face, built by aliens, or humans from the future, or apes-who-evolved-from-men, or what have you.
But still, the desire to dogpile on these goofball ideas is hard to deny. After all, Hoagland is on late night radio all the frakkin' time promoting his goofiness, and he's dissed me on several occasions. But how, oh how can I resist the urge to pile it on when image after image comes in from Mars declaring that the Face is just a rock?
The latest is from HiRISE, a camera on the Mars Reconnaissance Orbiter, which takes incredibly high-resolution images of the red planet. When HiRISE went online, I wondered if they'd target Cydonia (the region where the "Face" sits), because of the face, but also because it's an interesting region.
They did, and the results are in: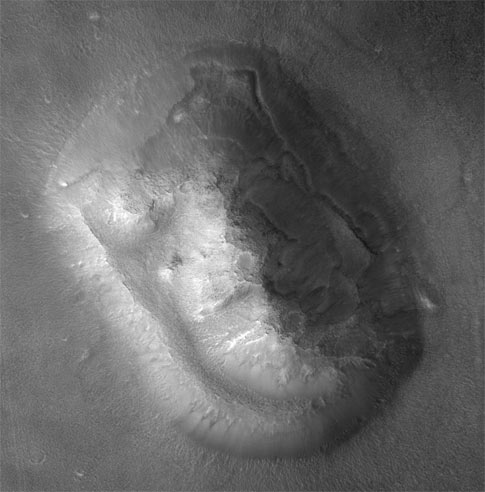 Duh. Every image taken of the face shows it to be ... a rock. The latest 3D tour from the ESA last year was yet another nail in that particular coffin (see #7 in my Top Ten Astronomy images of 2006).
If you want to see a tad more detail, HiRISE took a fantastically hires version of this image -- 22,000 x 21,000 pixels. Warning: and no kidding, I am warning you-- this is a whoppingly huge image. It's 300+ megabytes, and you need special software to even look at it because it's so huge. But wowee wow wow! That's cool.
Man, I love being right. But when it comes to stuff like this, I'm used to it. I guess the only question left is, how will Hoagland distort reality to fit his preconceived claims about the face? I may have to listen in to Coast to Coast AM to hear what he has to say. That should be amusing. :-)