I spent the weekend in Louisiana both for work (to do a teacher workshop in Baton Rouge) and for BA (I gave my Moon Hoax talk to the Pontchartrain Astronomical Society, and I'll be writing more about them later, after the elections Tuesday).
So instead of a longish entry, here are a couple of odds and ends.
First, an oops. A little while back I linked to some great panoramic images taken of Mars. I couldn't find the super high-res images, but Randall in the comments section of that post put up a link. Here's the normal pan (22,000 x 5800 pixels, 12 Mb). The anaglyph should be here (28000 x 7900 pixels, 13 Mb) but at the time I write this it's giving me errors. There's a TIFF file listed on the anaglyph page, but it's 657 Mb! So you might want to hold off downloading that.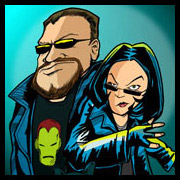 Hey, for your listening pleasure, head on over to Skepticality and download episode 37. There's a lot of boring stuff (including that Fraser guy from BAUT), and then I'm on it, talking about the latest Nobel Prize winners. And other stuff. But my piece starts around 22 minutes in, including the intro.
Hey, this is cool. Jerry Pournelle -- who co-wrote (with Larry Niven) such science fiction classics as "Footfall", "The Mote In God's Eye", and "Lucifer's hammer" -- likes my book!
Just preening. Move along.
Oh, one more thing: on Wednesday, Mercury will transit the face of the Sun. This is relatively rare, happening roughly a dozen times a century. I'll have more tomorrow, with some links to live webcasts and such. The San Francisco Sidewalk Astronomers' page is a good place to start though.