Fun: One Nun Bun Done Run
'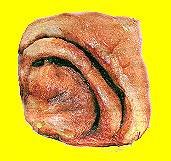 As the article says,
When Bob Bernstein arrived at his coffeehouse to assess the scene of an early Christmas morning break-in, the one thing he noticed missing was the cinnamon bun that bears a striking likeness to Mother Teresa.
The person who stole it didn't take the money from the donation jar that was right next to the bun on the counter. Obviously, this was no petty theft. Was it heresy?
No, but some would consider it a mortal cinnamon.
I dunno about this. It does look like a face, but Mother Teresa? It looks more like something from a Wallace and Gromit movie. And hey, I'm an expert: I've seen better, and that effort was literally cheesy.
And if you get the feeling that I am not taking this seriously, then I have three letters for you:
Lastly, I'll note that the coffeehouse owner -- who kept the a bun because it looks like a catholic Saint-in-training -- is named Bernstein. And yes, he is Jewish.
MMMMmmmmm, sacrilicious.'