Deep Impact: Bang! Success!
The Deep Impact impactor slammed into comet P/9 Tempel 1 right on the money last night! It was amazing. Imagine: a comet orbiting the Sun at 30 kilometers per second is hit by a probe moving at 10 km/sec, and images were taken by yet another instrument sweeping past the whole event.
We humans are pretty smart.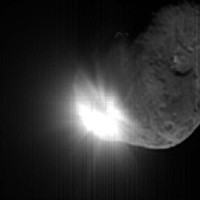 Congrats to the Deep Impact team!