This Quaint Italian Town Is Literally Losing Ground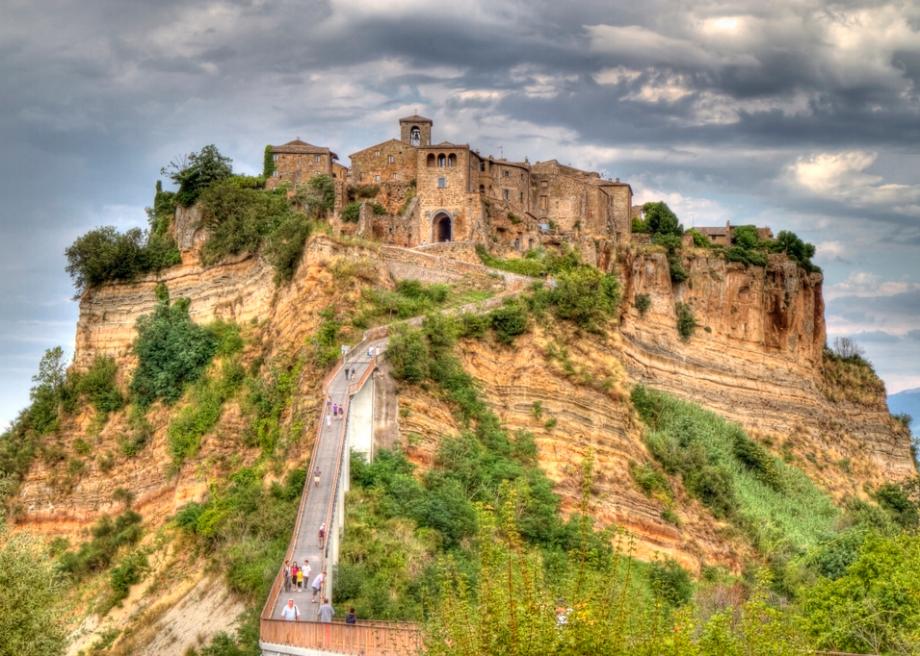 Atlas Obscura on Slate is a blog about the world's hidden wonders. Like us on Facebook and Tumblr, or follow us on Twitter.
Resting atop a lovely volcanic tower, the small town of Civita di Bagnoregio, Italy, has survived for centuries clinging to its high perch, but as the soft clay ground on its sides erodes, both ground footage and architecture are being lost.
The tiny town was first built around 2,500 years ago by the ancient Etruscans. Civita was built atop a tall column of volcanic tuff with only one central entrance through a stone arch. The borders of the circular town became flush with the edges of the plateau, as the tightly packed architecture filled the limited space atop the column. The soft clay that made up much of the base of the town was prone to erosion already, and along with natural disasters that further weakened the base, the architecture was always in danger of crumbling off the edge.
In the 17th century, Bagnoregio, once a suburb of the hilltop town, became its own settlement as people moved to the more stable town. The more ancient Civita remained, but was only connected by the slim donkey path that led to the entrance arch. The town was never abandoned but quickly became desolate as the young people left for bigger cities and the old people only spent part of their time in the town.
In the modern age, the donkey path has finally eroded away and now the only way to the small, remote village is via a permanent footbridge that has been installed. Supplies only make it up there via moped. The population reaches about 100 during the summer months and drops into the double digits during winter. Plans to shore up the slopes of the town with metal bars have been discussed, although this does not seem to have happened yet.