Your Guide to the World's Hidden Wonders
A Tiny Island With Just Enough Room
Atlas Obscura on Slate is a blog about the world's hidden wonders. Like us on Facebook and Tumblr, or follow us on Twitter.
When islands get really small, they sometimes barely even count as islands, and so some places actually have criteria that the landforms must meet to be officially considered islands and not just crappy little scraps of land. Just Room Enough Island meets these standards just barely.
Part of the nearly 2,000-isle-strong Thousand Islands chain, Just Room Enough Island was purchased in the 1950s by the Sizeland family, who were looking to create a holiday getaway. They built a house on the tiny speck of land, placing the walls right up to the edges of the island, creating a home that was just big enough to fit and giving the island its quirky name. A pair of bench chairs were placed in front of the home, and there was also a tree growing on one side. And that is all the room the island had.
While the Sizelands had hoped for their quirky little getaway to be a nice respite from the hustle and bustle of city life, it soon attracted hordes of sightseers and tourists who broke their placid solitude.
In order to be considered an island in the region, the land must be larger than 1 square foot, it must remain above the water level year round, and it must sustain at least one tree. Just Room Enough Island meets these criteria, but really it's more house than island.
The Smallest House in Great Britain
Atlas Obscura on Slate is a blog about the world's hidden wonders. Like us on Facebook and Tumblr, or follow us on Twitter.
Also known as the Quay House of Conwy, the self-proclaimed "Smallest House in Great Britain" is definitely a tiny abode, but it actually looks quite cozy.
The minuscule home was created in the 16th century and remained in use until 1900, when the final tenant was forced to leave by order of the city council. In terms of space, the little home only measures 10 feet deep and not even 6 feet wide. The ceiling is only a little over 10 feet high from the floor to the top of the eave. Remarkably, it is split into two floors. The first floor is devoted to the living area with room for coal and an open fire, and a water tap tucked behind the stairs. The upstairs holds the cramped bedroom, which also comes with a small niche for storage. How luxurious.
The Quay House has not been lived in since its last owner was made to leave over a century ago, but the interior has been preserved to provide a glimpse of the spartan life of a historic Welsh fisherman. Visitors are welcome to briefly explore the little home and are usually welcomed by a woman in traditional Welsh garb. They can explore the first floor, but the second floor has become too unstable, although guests can still peek their heads into the still-furnished bedroom.
Construction in recent years has seen the amount of tourists to the house decline, but the proud smallest house in Great Britain endures.
Before the Hyperloop, There Was the Morgantown PRT
Atlas Obscura on Slate is a blog about the world's hidden wonders. Like us on Facebook and Tumblr, or follow us on Twitter.
Although the Morgantown Personal Rapid Transit system may look quaint today, automated guideway transit systems like this one were at one time believed to be the future of American transportation.
Before the Hyperloop, there was the PRT. And before the PRT, there was a lot of traffic in downtown Morgantown, West Virginia.
Morgantown is home to West Virginia University—a school that underwent considerable expansion in the 1960s. Early attempts to move tens of thousands of students between campuses and classes in a reliable fashion proved futile. Luckily for WVU, West Virginia Sen. Robert C. Byrd had a prodigious gift for directing government funds towards the Mountain State.
The first of its kind, and greenlit in the early 1970s as a federally-funded transportation pilot project, the Morgantown PRT was designed by Boeing and cost $120 million to construct. In continual usage since 1975, the system consists of a fleet of 71 automated, rubber-wheeled vehicles operating on an 8.7-mile-long network of elevated guideways. It features a number of inventive features, including a heating system that pumps chemicals and warm water onto the tracks to clear them of snow in the winter. Unlike similar transit systems, travelers on the Morgantown PRT can travel directly to their final destination, without additional stops along the way.
The PRT now accommodates around 15,000 riders per day, primarily WVU students. It has become a key piece of university cultur, and takes center stage during the annual PRT Cram, where student organizations compete to see how many people they can fit in one of the eight-person cars. The record? 97.
Submitted by Atlas Obscura contributor georgeindc.
This Post Office Is Actually Just a Barrel
Atlas Obscura on Slate is a blog about the world's hidden wonders. Like us on Facebook and Tumblr, or follow us on Twitter.
Located on Floreana Island in the Galapagos, Post Office Bay has been acting as a sort of passive post station since the 1700s, using nothing but a barrel and the camaraderie of sailers and travelers.
The site was established by whalers in the 18th century. As whaling ships headed out from England and the United States to hunt the gentle giants of the sea, they would use the Galapagos Islands as a stop-off to refill on food and water. They often feasted on endangered giant tortoises, eventually eliminating them from some of the islands. The hunting trips were long and the lonely sailors wished they had a way to send messages back home. So a barrel was placed on Floreana Island where whalers on their way out could put letters. The letters would then be picked up and delivered by sailors returning home from their trips. There was no postage fee, simply the trust that whoever grabbed your letter would get it to where it needed to go.
Surprisingly the mailbox and its honor system are still in use today. While the letters are no longer the missives of lonely sailors just trying to get messages to their loved ones any way they could, thousands of letters still pass through the barrel each year. Nowadays the postcards and letters are generally left and delivered by hopeful tourists, but many still seem to make it to their destination.
As described in an article in the Washington Post, groups of visitors (often tour groups or cruise patrons) will stop by the barrel and pull out the available mail, hollering out destinations to see if any of them are near enough to deliver. After the existing mail has been divvied up, people then leave notes and letters of their own for future visitors to take.
Today the site is surrounded by debris and driftwood, much of it covered in stickers and graffiti. Post Office Bay now resembles the fantasy of a remote island post spot more than it did when that was its true purpose.
America's Only Metric Interstate
Atlas Obscura on Slate is a blog about the world's hidden wonders. Like us on Facebook and Tumblr, or follow us on Twitter.
For better or worse, the United States remains one of only three countries that have not officially adopted the metric system. America's refusal to adopt the metric system has not been for lack of trying, however.
In 1975, Congress passed the Metric Conversion Act, which declared metric as the preferred system of the United States. The U.S. Metric Board was created to implement this conversion. In keeping with this plan, road signs on Interstate 19, connecting Tucson, Arizona, to Mexico, were changed so that distances were posted in kilometers. It remains to this day the only highway in America with distances posted solely in kilometers.
As might be expected, a number of motorists have been confused by the unique distances on the signs, and measures have been taken to replace the metric signs with ones with distances displayed in standard American units of measurement. Luckily, the road has been able to maintain its unique identity thanks to the efforts of locals who didn't want to have to change the signage and directions for their businesses. Presumably they were also dismayed at the thought of losing their singular speedway.
America's metric experiment proved to be short-lived. The Metric Conversion Act and U.S. Metric Board were dismantled only seven years after they were created. Forty years later, America remains committed to its customary system of measurement. However, if you are willing to give an inch and forget about miles, head to Interstate 19, and see what it is like to drive a few kilometers.
Submitted by Atlas Obscura contributor steedjb.
A Cemetery Plot Full of Famous Authors
Atlas Obscura on Slate is a blog about the world's hidden wonders. Like us on Facebook and Tumblr, or follow us on Twitter.
Author's Ridge is a scenic little corner of the large cemetery and is the final resting place of a laundry list of legendary authors and transcendentalists who once lived in the city of Concord. During the 19th century, Concord became a hot bed of forward-thinking transcendentalists who were eager to usher in a new age in American history. Many of the followers of the social movement would go on to pen some of the most indelible works of literature in the American canon. From Henry David Thoreau's natural reflections in Walden to the essays of Ralph Waldo Emerson, their progressive ideals would help shape the direction of national thought.
Then, of course, they died.
The list of names of famous authors who died while living in Concord is impressive. There are Thoreau and Emerson, but also Nathaniel Hawthorne, Louisa May Alcott and her family, and William Ellery Channing, all interred near one another.
Author's Ridge is a popular pilgrimage site for lovers of literature. Literary explorers routinely leave pens, poems, and little notes around the graves of their favorite authors. As it turns out, the transcendentalists' greatest achievement may have been to leave a mark on American literature that transcends even their death.
Submitted by Atlas Obscura contributor st7n.
What Counts as Wilderness?
Atlas Obscura on Slate is a blog about the world's hidden wonders. Like us on Facebook and Tumblr, or follow us on Twitter.
When you hear the word wilderness, what do you picture? Vast woods full of leaping stags? A mountain rearing up into the clouds? Jungles tangling in all directions? Or something else entirely?
Your answer likely depends on your formative experiences—which books you've read, the types of landscape you visited growing up, and, of course, your native language. For American English-speakers well-versed in Ralph Waldo Emerson and his literary descendants, wilderness might bring to mind endless trees, raging rivers, and "the distant line of the horizon" described in his 1836 essay, "Nature."
But for those who grew up elsewhere, the word, and the concepts behind it, could conjure up something entirely different. In Japan, for example, the closest analog to wilderness is kouya, which means "rough, dry fields." In Iceland, the concept includes vast, sublime landscapes, but no wildlife, as even untamed animals are more likely to live near warm human settlements than in what Icelanders think of as "wilderness."
"Wilderness Babel," a virtual exhibition maintained by the Rachel Carson Center for Environment and Society, curates linguistic experiences of wilderness, or lack thereof, from around the world. Part map, part lexicon, and part grab-bag natural history lesson, the project collects different languages' words for "wilderness" (or their closest analogs) and drops them on a map. Click on the region you're interested in, and you're treated to a short essay by an environmental historian familiar with the area, along with imagery and sounds taken from the places described.
The undulating grassy hills and sparsely populated rural landscapes that many people in the U.K. consider their wild heritage were emptied fairly recently, by famines, persecution, and emigration. In the Philippines, the word for "mountain," bundok, took on connotations of wildness and unpredictability only after the U.S. invaded during the Philippine-American war. (Meanwhile, in U.S. English, the Tagalog word morphed into boondock, which was initially a term for a confusing, remote area, but has now become slang for a backwards-seeming place.)
For those with a closer tie to nature, a place need not be untouched by humans to be considered "wilderness"—it just needs to be less touched, or left alone for the moment. The Finns happily go into the erämaa during hunting and fishing seasons, and for the Nez Percé of the Western U.S., who live off the land entirely, "wilderness" is not even a place—it's a particular rite of passage, in which initiates go without food or human contact for a long period.
The whole idea of wilderness is relatively recent. "Go back 250 years in American and European history, and you do not find nearly so many people wandering around remote corners of the planet looking for what today we would call 'the wilderness experience,' " the environmental historian William Cronon wrote two decades ago.
As different societies urbanize to varying degrees, they start to define wilderness more starkly—according to the Dutch Wilderness Babel pages, in the Netherlands, which is heavily developed, a streetside meadow might be considered wild, "even though meadows are not 'natural' to the Dutch landscape and therefore show past human activity."
That Thoreau, Frederick Jackson Turner, and others who started the wilderness trend were steeped in suspect ideas about primitivism, nationalism, and consumerism has led to associations between the idea of wilderness and the very things that are most likely to destroy it. Scrolling through Wilderness Babel, with its tales of Japan redefining wilderness just as Mount Fuji becomes capped with noodle shops, doesn't do much to dispel this hunch.
But in the present moment, when so much of the future seems to depend on working out exactly how humans should relate to our environment, this language barrier has practical implications as well as historical ones. Alexandra Yannakos, the Wilderness Advocacy Coordinator for the National Outdoor Leadership School, has found it difficult to explain her job (or even say its title) to people she encounters on her travels. "In many languages, one has to be creative and combine words and meanings to recreate what the American wilderness movement stood for," she wrote in NOLS' magazine, the Leader, in 2004.
By understanding how various cultures define the word, we may be able to better picture a truly international wilderness movement might look like—one equally considerate of natural processes and the largely cultural systems that decide just what "natural" means.
A Passport for Falcons
Atlas Obscura on Slate is a blog about the world's hidden wonders. Like us on Facebook and Tumblr, or follow us on Twitter.
If you're boarding a flight to or from the United Arab Emirates and spot a blindfolded falcon hanging out in first class, do not be alarmed. The bird of prey is allowed to travel in the cabin and has been subjected to the same stringent security checks as you have—including passport control.
In the Emirates, falcons get issued their very own forest-green passports. The unusual documentation scheme is due to the fact that, in the UAE, falcons are highly prized and therefore attractive to smugglers. Falconry, in which the birds of prey are trained to hunt, is a significant part of the region's Bedouin heritage.
Though the UAE's desert dwellers no longer rely on falcons for food delivery, falconry continues as a sport and source of national pride. An annual falconry festival in Abu Dhabi lures hawks and their trainers from around the world. Falconers from the region travel the Persian Gulf and beyond with their birds to engage in festivals, competitions, and displays. Hence the need for passports and first-class accommodation.
A top falcon can sell for up to $1 million, writes Ali Al Saloom in the National. The high value of well-bred birds has led to an illegal trade—which is why, in 2002, the Convention on International Trade in Endangered Species of Flora and Fauna, or CITES, moved to crack down on falcon smuggling by introducing a mandatory falcon passport for jet-setting birds of prey.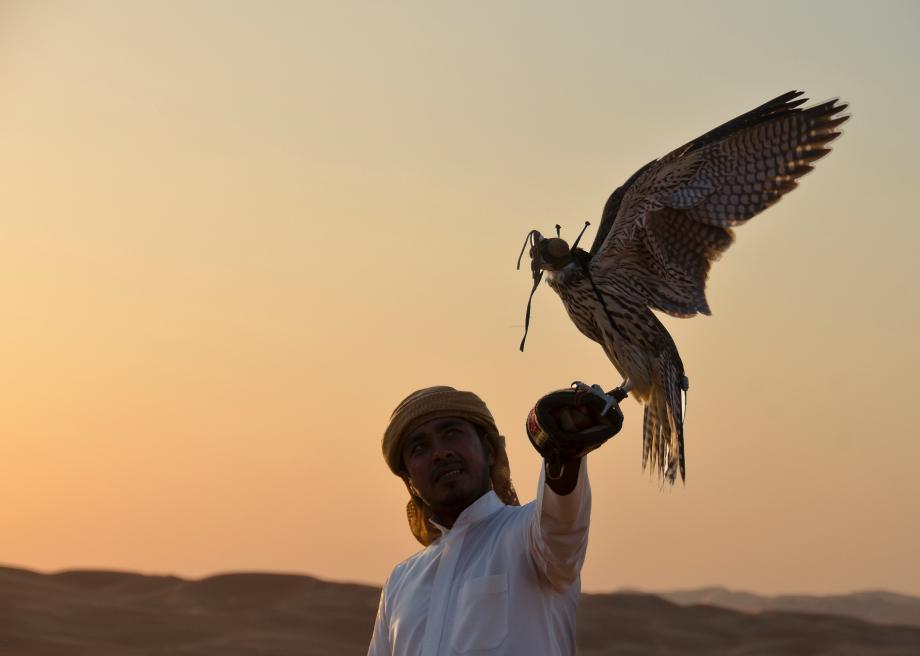 Each passport corresponds to a particular falcon. That falcon must also be fitted with a leg ring inscribed with an identity number that ends up on the passport. This guards against one bird impersonating another. Sadly, the passports do not require photos, but falcons, you'll find, are somewhat hard to tell apart based on their head shots alone. They also travel with tiny, eye-covering leather helmets on their heads in order to stay calm, making face-based identification even more difficult.
CITES stipulates that, when flying with an avian companion, a falconer must present the bird's passport to a border control officer, who, as with human passports, "should validate it with an ink stamp, signature and date to show the history of movement from State to State." Passports are issued by the UAE's Ministry of Environment and Water for a fee of 500 UAE dirhams—around $136—and remain valid for three years.
The passport "certifies the legal origin of the falcons used for falconry and ensures smooth and easy documentation for falcon travels," says Maribel Broso of the Abu Dhabi Falcon Hospital. After being issued a passport, the birds may fly accompanied by their falconers to eight countries: Bahrain, Kuwait, Oman, Qatar, Saudi Arabia, Pakistan, Morocco, and Syria.
A Brief History of the Konami Code
Atlas Obscura on Slate is a blog about the world's hidden wonders. Like us on Facebook and Tumblr, or follow us on Twitter.
UP, UP, DOWN, DOWN, LEFT, RIGHT, LEFT, RIGHT, B, A, START.
The code was originally designed to be input via the classic Nintendo Entertainment System (NES) controller which only had a directional pad, "A" and "B" buttons, with Start and Select buttons in between. Given the simplicity of the controller itself, the cheat code had to be a repetition of the available buttons, and the hypnotically rhythmic cadence of the Konami Code is part of its lasting charm.
But what did it do? It saved lives.
The code first appeared in the NES version of game developer Konami's classic space-shooter Gradius in 1986. The developer who was converting the game from its arcade version to the console version, Kazuhisa Hashimoto, couldn't actually beat the game because it was too hard, so he created what would come to be known as the Konami Code, to give himself a cheat that tricked out his little ship with all the game's power-ups. As the story goes, he simply forgot to take it out of the code before the NES version was released.
Hashimoto's code would go on to be included in each subsequent Gradius sequel and franchise expansion, but it was the code's inclusion in the 1988 NES version of ultra-macho shoot-em-up Contra that solidified its place in the cultural consciousness. Contra, another arcade port from Konami, was a notoriously hard action game where one stray bullet could end your game, and while this is a blockbuster idea for getting kids to dump quarters into an arcade machine, it could be a bit of a downer when playing it at home. Luckily someone had included the Konami Code in the NES version, and when correctly keyed in, it would instantly give players 30 lives. The game became one of the iconic releases of the original NES, and its fame carried over to the Konami Code cheat, which was also sometimes known as the "Contra Code" or the "30 Lives Code."
The code would go on to be included in all of Contra's sequels in addition to dozens of other Konami releases, including games in the Castlevania, Teenage Mutant Ninja Turtles, and Dance Dance Revolution franchises. The Konami Code, or some variation of it, has now been included as a secret cheat code in hundreds of video games from a number of different publishers across just about every game platform from PCs to Playstation 4s.
As video games moved away from the concept of limited lives, the effect of the Konami Code also evolved. Differing from game to game, today the code can sometimes unlock extra features or challenge modes (Bioshock Infinite), sometimes it gives out infinite ammo (Resident Evil 2), and sometimes it just unlocks some goofy secret screen (Adventure Time: Hey Ice King! Why'd You Steal Our Garbage?!). It's really the cheat that keeps on giving.
Nostalgic love for the Konami Code has even brought the code from the world of video games to the internet at large, as inputting the code on certain sites will trigger all manner of weird cheats. Go to the Buzzfeed homepage and type in the code to transform the entire site into news of a much more important nature. Enter the code on some of Conde Nast's British publication sites (vogue.co.uk, gq-magazine.co.uk, wired.co.uk) to receive a special visit from a bizarrely dapper visitor. Even Digg transforms into a totally new site with the use of the Konami Code (be sure to wear headphones).
In terms of long-lasting appeal and cultural impact, the Konami Code may be the single most popular cheat of all time. It didn't just reward us all with 30 lives—it has given us almost 30 years of easter eggs and secrets. UP, UP, DOWN, DOWN, LEFT, RIGHT, LEFT, RIGHT, B, A, START. Hopefully we just got 30 more.
The Fantastical Castillo de Zafra of Spain
Atlas Obscura on Slate is a blog about the world's hidden wonders. Like us on Facebook and Tumblr, or follow us on Twitter.
Built back around the 12th and 13th centuries, the stunning castle has been passed around amongst the Spanish nobility for hundreds of years. The tall towers of the castle sit atop a massive rock located on what was once the border between Christian and Muslim territories. The flat surface atop the rock is crowned with a high defensive wall that makes accessing the castle inconvenient even for those who live lived there.
By the 15th century, the castle had come under siege by a Castillian king who was fighting with the then owner of the castle. But unsurprisingly the imposing defense held.
The castle has been owned by a long list of noblemen, some of whom repaired or expanded the grounds. There are even rumors of secret rooms that were carved into the rock beneath the structures. While these have never been found, Castillo de Zafra absolutely looks like the type of castle that would have them.
By the modern day, the towers and buildings had been badly damaged and many were crumbling. But thanks to restoration efforts by the castle's 20th-century owner, Don Antonio Sanz Polo, it once again looks like something out of fantasy. Today the Castillo de Zafra is privately owned and anyone wishing to tour the castle grounds must get permission to enter the premises, and it is said that the only way in is by climbing a ladder. Up the rock. Awesome.
The Castillo de Zafra is also slated to be the stand in for the "Tower of Joy" in season six of Game of Thrones.