Your Guide to the World's Hidden Wonders
Robert the Haunted Doll: Creeping Out Floridians Since 1904
That's the explanation young Gene Otto gave whenever chaos and disorder visited his Key West family home.
In 1904, when he was 4 years old, Gene received a 3-foot-four doll in a sailor uniform from the family's Bahamian maid. Gene named the doll Robert, after himself—his full name was Robert Eugene Otto—and began carrying him everywhere. At night, Gene's parents overheard him having conversations with Robert. He would talk in his usual voice and a different voice would reply. Mr. and Mrs. Otto assumed that Gene was using a put-on voice to speak as Robert. As the years passed, they began to question this assumption.
As Gene grew up, Robert remained his constant companion. The doll had his own chair at the dinner table and shared Gene's bed every night. Whenever Gene experienced one of his frequent fits of rage, he would blame it on Robert. He also attributed odd occurrences of upturned furniture and scattered silverware to the doll.
When Gene got married, he consigned Robert to the turret room of the house. Kids walking past the Victorian mansion claimed they saw Robert scowling at them and appearing in different windows between morning and afternoon.
The doll remained in the turret until Gene and his wife Anne died in the mid-'70s. Tenants who lived at the house thereafter spoke of hearing giggles and seeing a change in the doll's expression from day to day.
In 1994, Robert joined the collection of Key West's Fort East Martello Museum, where he now sits in a glass box holding a toy lion. On the wall behind him are apologetic letters addressed to Robert from people who took his photo without permission.
You can visit Robert at the museum during the day, or at night when the rest of the exhibits are closed. Museum admission does not include a free frogurt.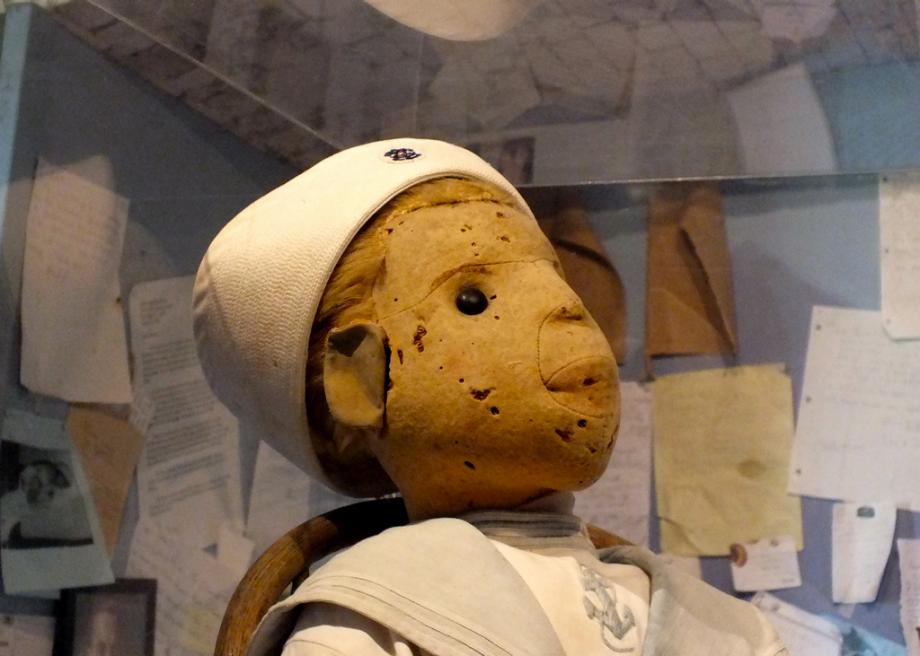 Living Under a Rock: The Boulder Village of Monsanto
The hillside medieval village of Monsanto was built around a pile of massive granite boulders. The placement of the rocks determined the shapes of the winding streets and the architecture of the stone houses—instead of trying to move the boulders, the villagers used them as walls, floors, and even roofs. From a distance, some of the houses look like they've been crushed by giant falling rocks.
Other than the odd air conditioning unit, plastic chair, and electric lamppost, Monsanto has retained its medieval appearance. It is now home to about 800 people. There are no cars—the preferred mode of transport through the narrow cobbled streets is donkey.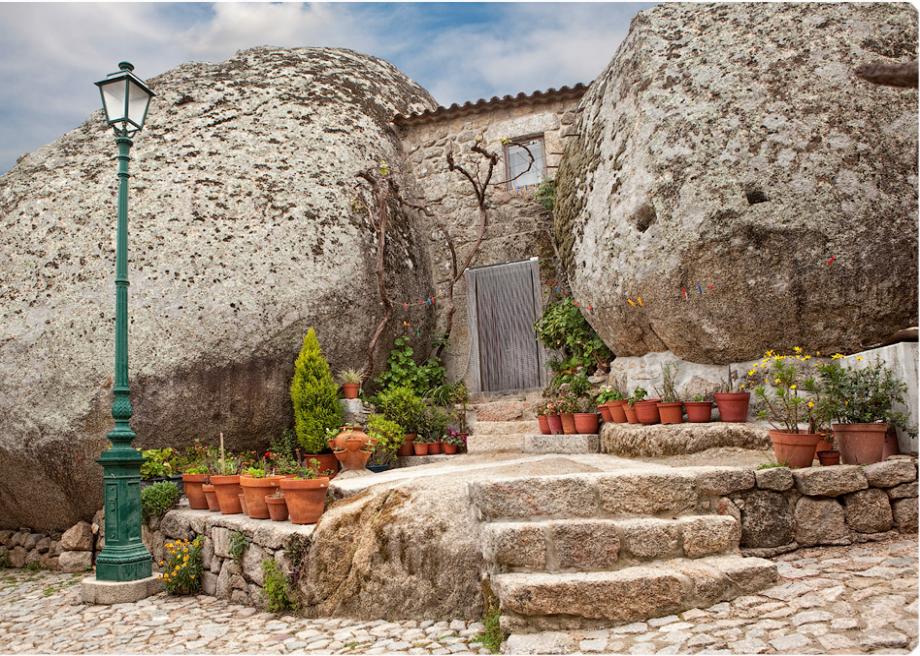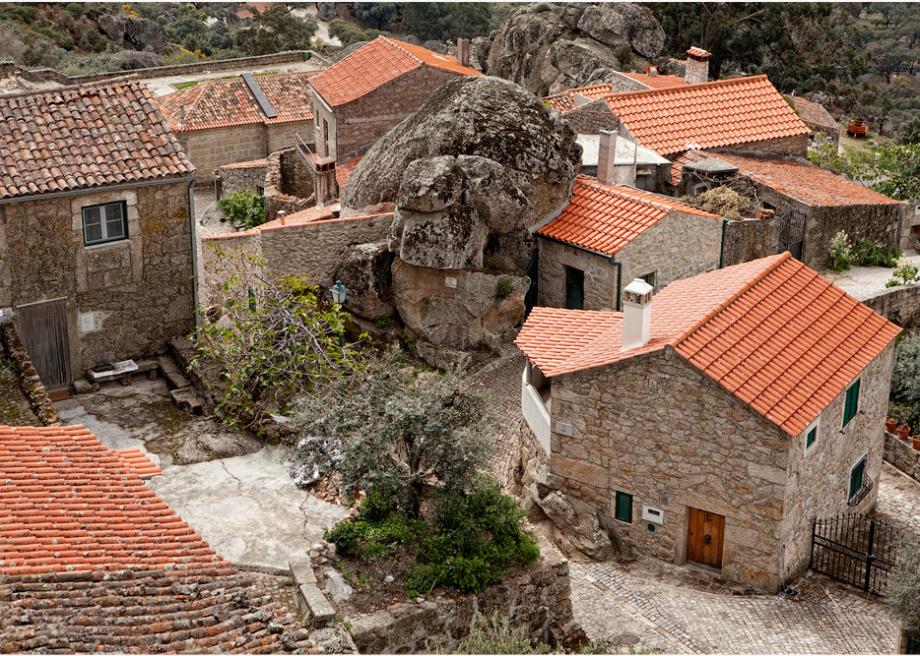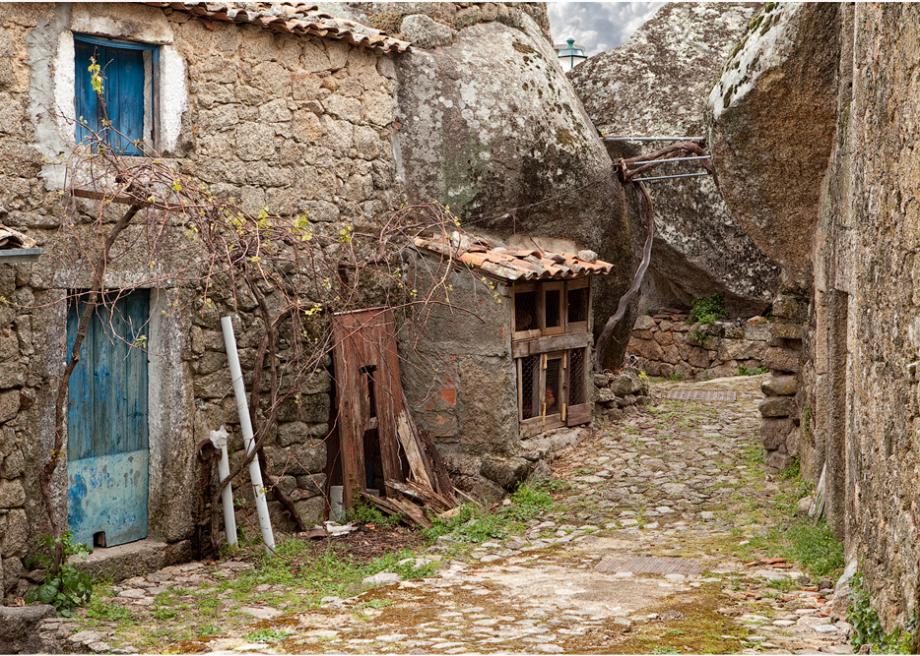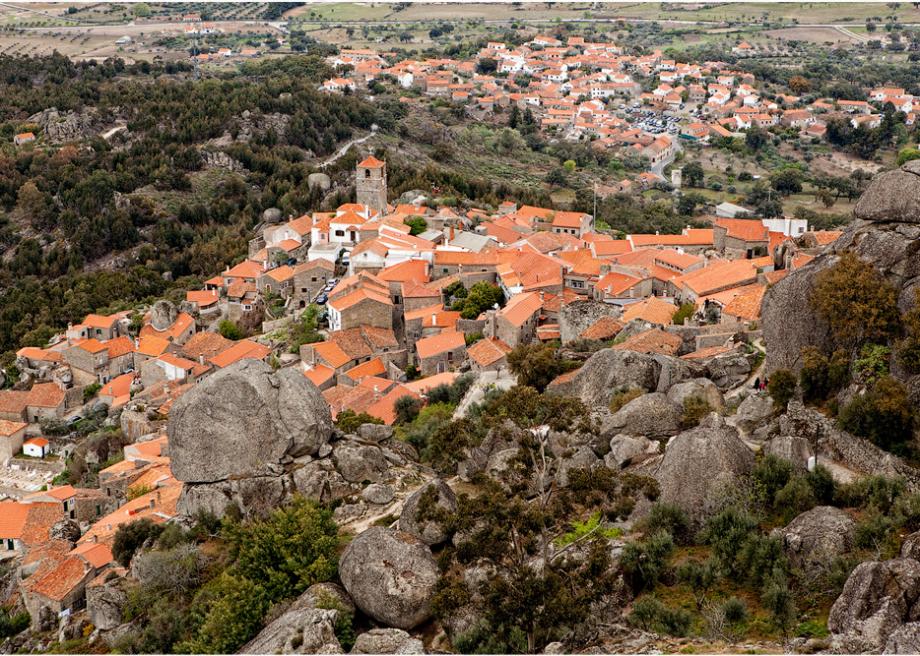 Dining with the Enemy: Pittsburgh's Conflict Kitchen Serves up Food and Politics
Conflict Kitchen at Schenley Plaza in Pittsburgh is currently serving Cuban cuisine. Earlier this year, the take-out restaurant offered only Iranian food. Before that, it served meals from Afghanistan, and before that, all the food on offer was Venezuelan.
Though the restaurant's culinary journey from Latin America to Asia to the Middle East and back again may appear erratic, there is a common theme uniting all four cuisines: they hail from countries in conflict with the USA.
Focusing on one nation at a time, Conflict Kitchen's aim is to expand the public's engagement with its food, culture, and political issues. In addition to serving appetizers, mains, and desserts, the restaurant hosts speakers and activists, who give their personal perspective on the country while sharing a meal. There are also events involving global participants -- a weekly event during the Iranian iteration involved Pittsburgh woman Elise Walton acting as a human avatar for Sohrab Kashani, a young man living in Iran. Diners could ask Kashani questions and receive a response from him via Walton.
The current offerings at the Cuban Conflict Kitchen include slow-roasted pork; ground beef with olives, peppers, raisins and tomatoes; twice-fried green plantains; and guava-cheese empanadas. Food wrappers feature quotes from interviews conducted with Cubans living in their home country and the USA.
The next iteration of the restaurant will focus on North Korea. In preparation, representatives from Conflict Kitchen recently traveled to Seoul and Anyang and interviewed defectors from the north.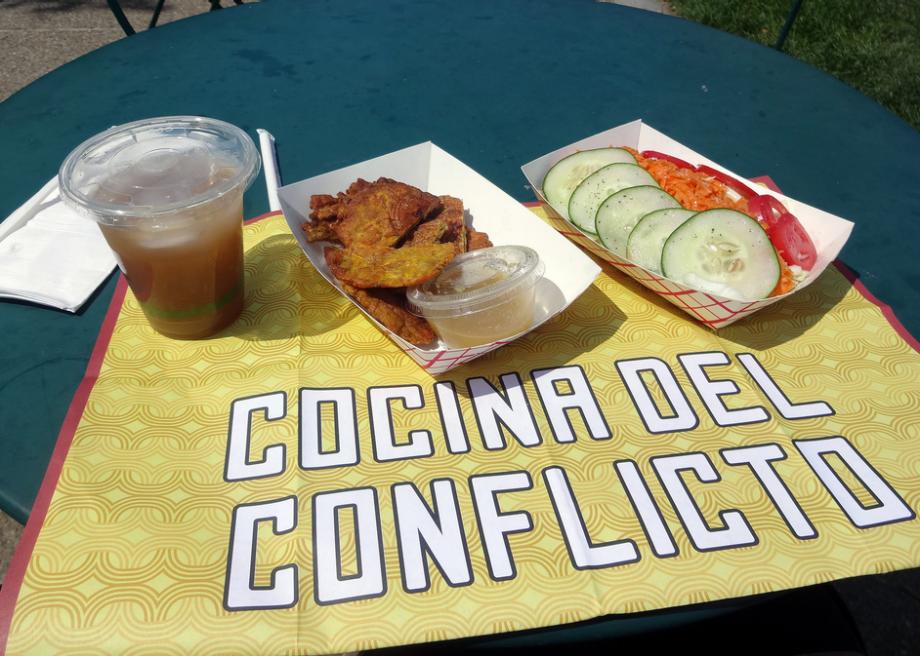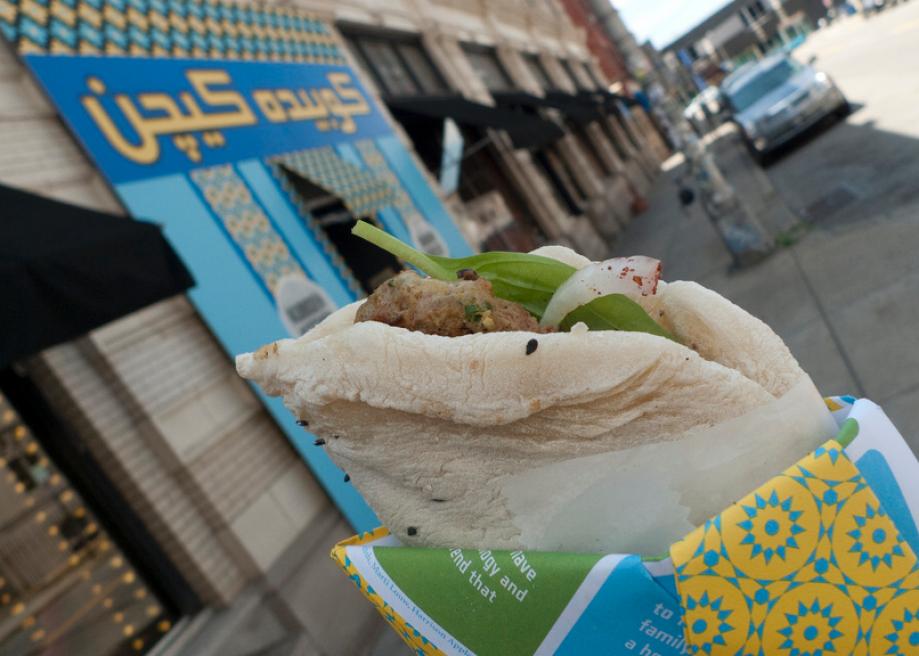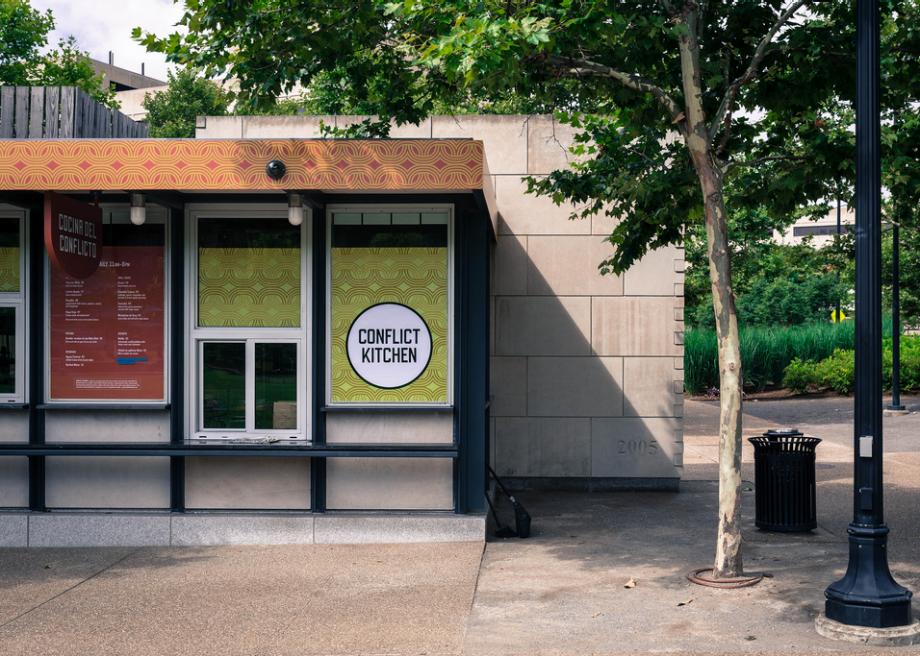 Unusual dining experiences:
The Abandoned Casino on the Edge of the Black Sea
From a distance, the Art Nouveau building on a promenade beside the Black Sea looks majestic. As you walk closer, however, Casino Constanta reveals itself: broken windows, curling paint, and rusted railings hint at the dilapidation inside.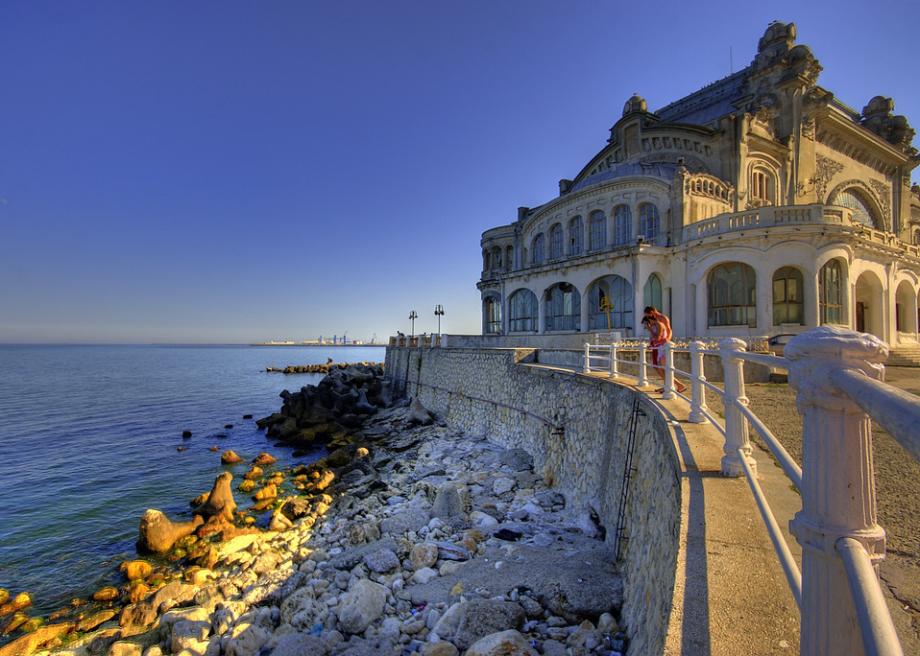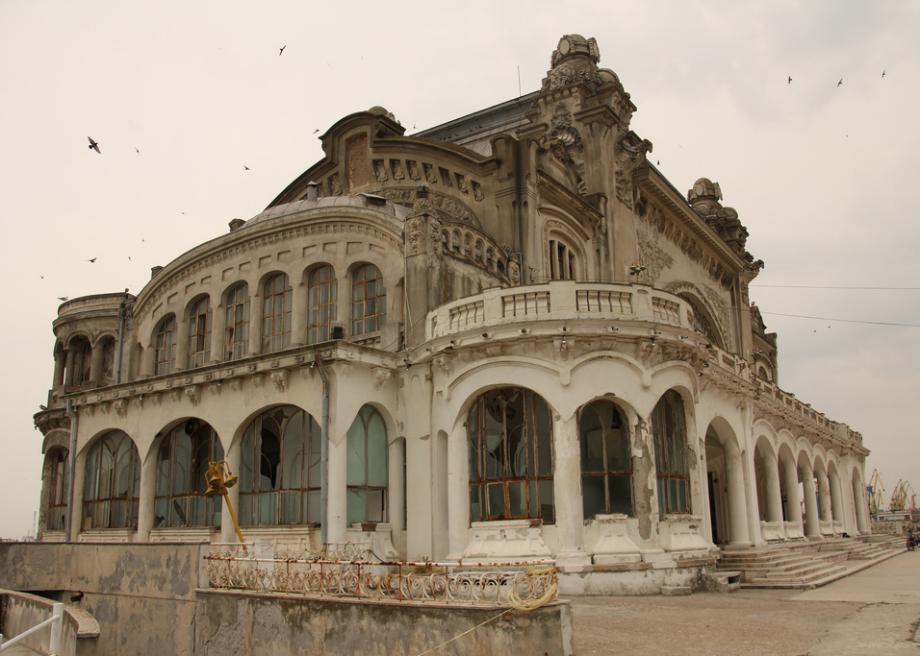 The casino, located in the southeast Romanian city of Constanta, was inaugurated in 1910. With its grand size, seaside location, and marine-themed decor, Casino Constanta soon attracted wealthy travelers and became a symbol of the city. But its glory days were short-lived.
Romania's changing fortunes in the face of two world wars saw the casino fall into disrepair. During the Second World War, the building was used as a hospital. Under the post-war communist regime, it operated as a restaurant. By 1990, the place had become so run down that it was too expensive to maintain. The building has been closed ever since, a silent sentinel on the edge of the Black Sea.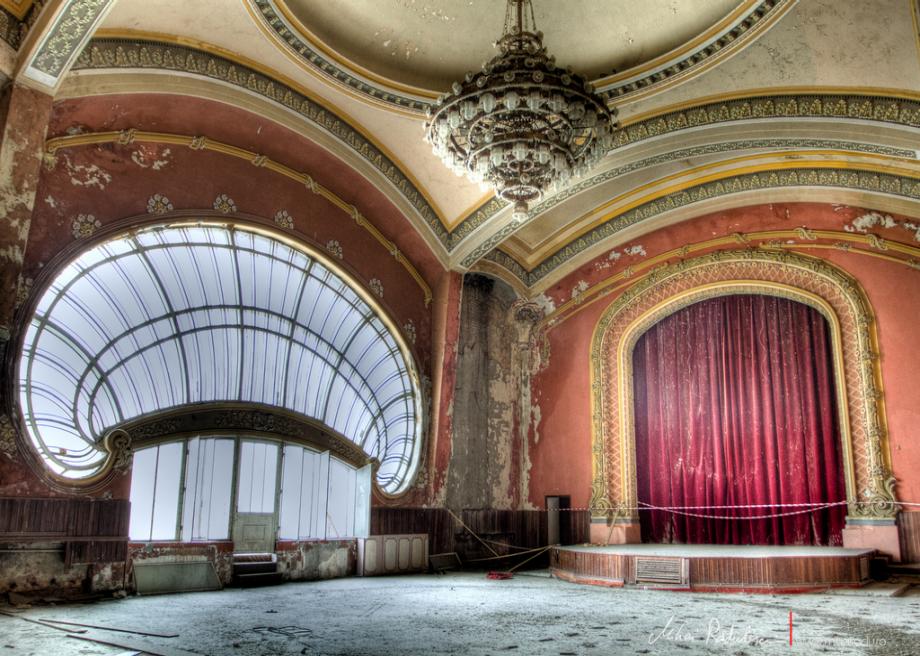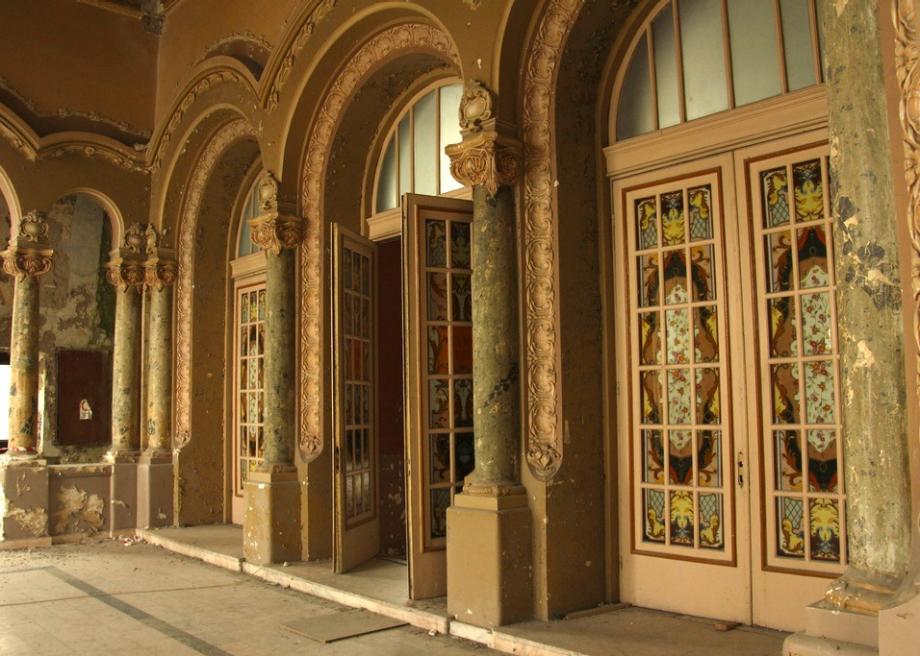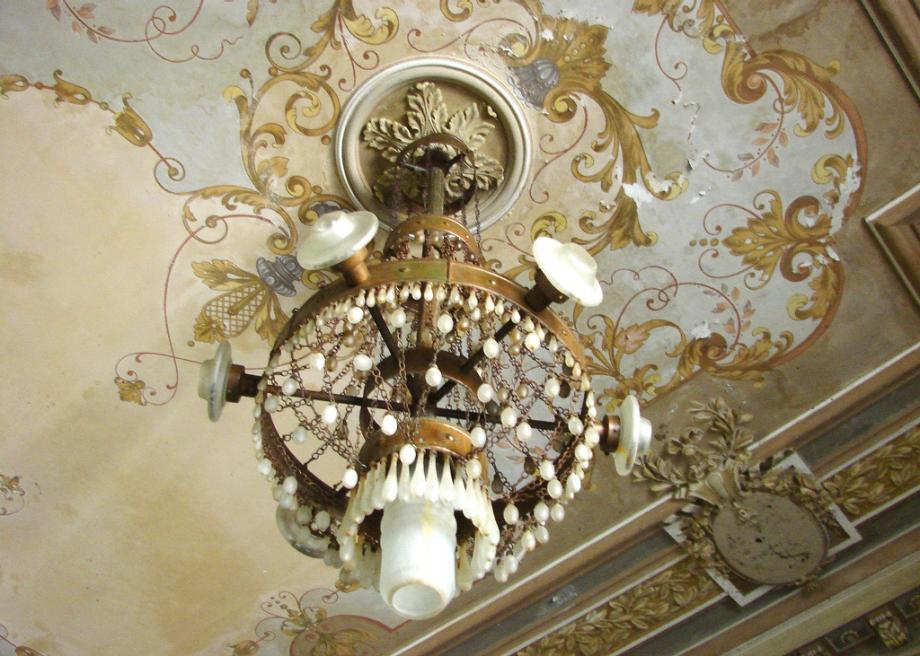 Abandoned, decaying buildings:
Pee-Wee's Big, Adventurous, 6,000-Year-Old Dinosaurs
Since the 1980s, travelers barreling through Cabazon along Southern California's Interstate 10 have been greeted by a 150-foot-long Apatosaurus and a 65-foot-tall T. rex.
Theme park artist and sand sculptor Claude Bell began building the steel-and-concrete dinosaurs, known as Dinny and Mr. Rex, in 1964. The main aim was to create hollow, climbable structures that would attract more customers to his Wheel Inn diner next door. But Bell also had a more personal motive: after spending years building sand sculptures and watching them disappear in the wind, he wanted to create something permanent.
Bell finished the Apatosaurus in 1973 and began construction on the T. rex in 1981. He died in 1988, but not before seeing his dinosaurs achieve fame -- they were featured in commercials, music videos, and the 1985 film Pee-Wee's Big Adventure.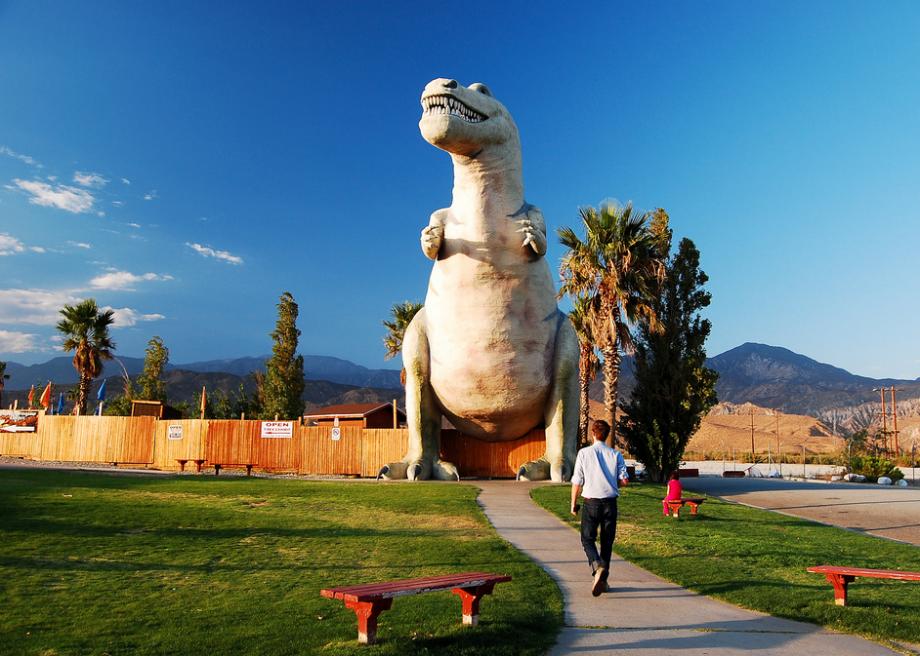 Since being sold in the mid-'90s, the Cabazon dinosaurs have changed dramatically, but not in a way that's visible from the outside. In short, they've found God: the site is now run by Creationists. Dinny's belly contains a gift shop where you can buy Noah's Ark puzzles and coloring books featuring a dinosaur giving a thumbs up sign with a speech bubble that reads: "God does great work, doesn't He?" Laminated Bible quotes dot the walls and colorful signs espouse the view that dinosaurs were created 6,000 years ago along with other animals, Adam and Eve, and the earth on which they roamed.
Beside Dinny is a dinosaur sculpture garden installed by the current site owners. It features a medieval knight throwing rocks at a T. rex.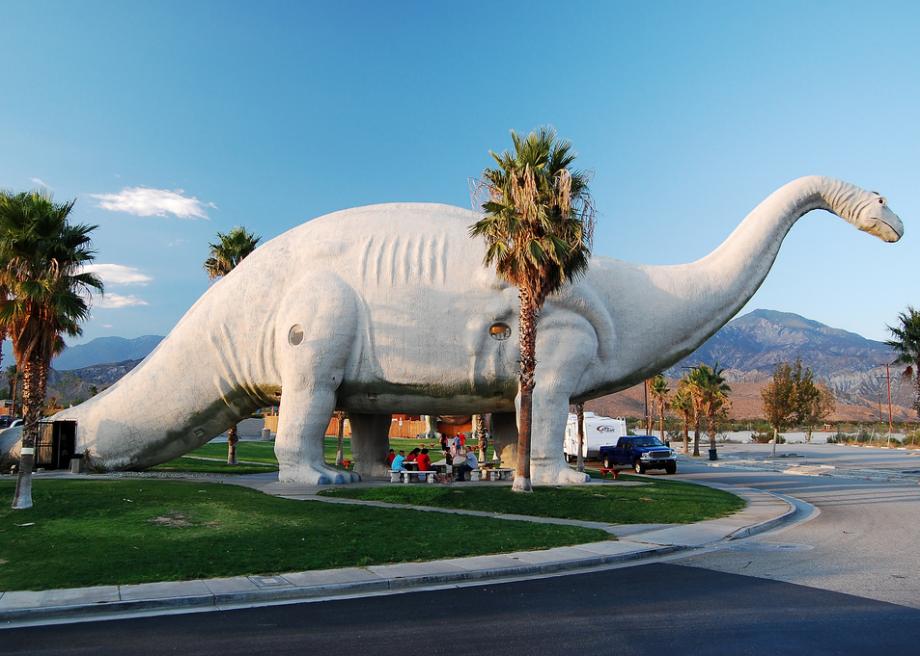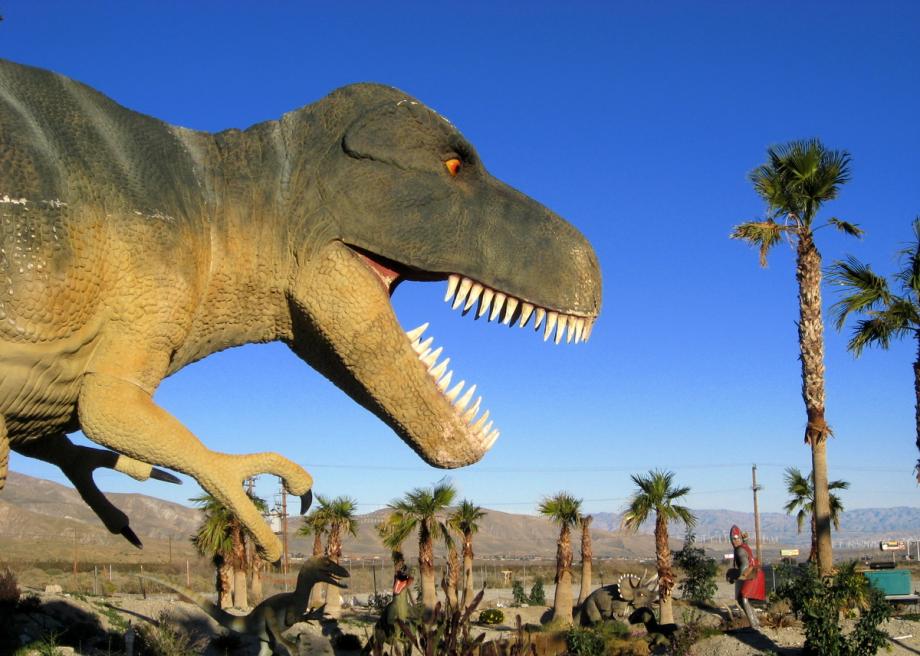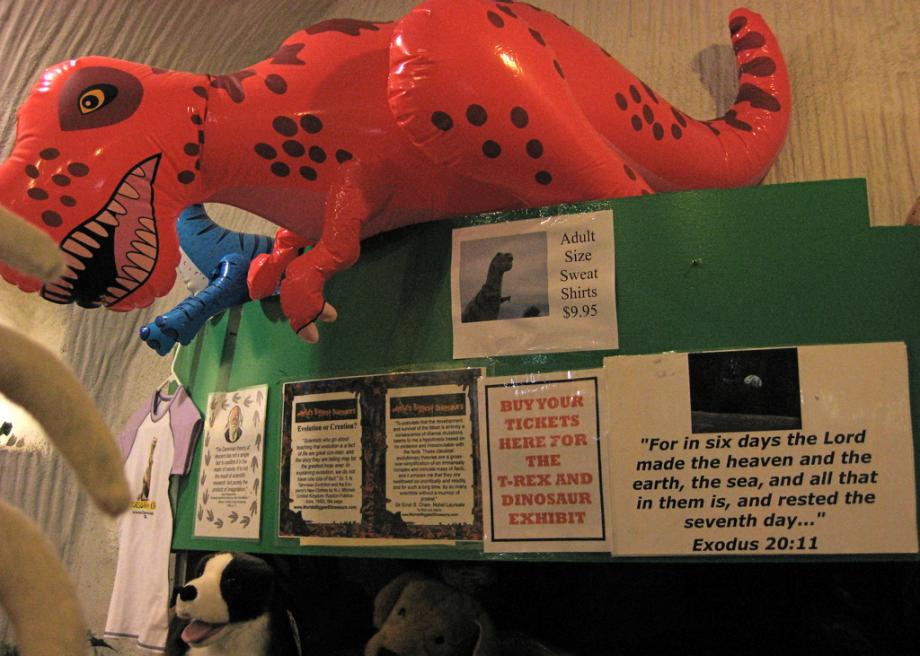 Other dinosaurs that have caused a stir:
Heal Thyself With Monkey Heads at Akodessewa Fetish Market
When troubled by illness, relationship problems, or financial woes, voodoo practitioners in the West African nation of Togo go to the fetish market of Akodessewa. Located in the capital city of Lomé, the market has a row of tables piled high with dog heads, elephant feet, chimpanzee paws, desiccated cobras, and gorilla skulls. These are all fetishes, or talismans: objects infused with the power of the divine that are used to heal and protect.
Togo and neighboring Benin are where voodoo—known locally as vodun—began. Despite the effects of European colonization, approximately half of Togo's population continues to hold indigenous animist beliefs. The fetish market, which is suffused with the smell of decaying flesh, is a sort of al fresco pharmacy, the perfect place to stock up on ingredients for rituals.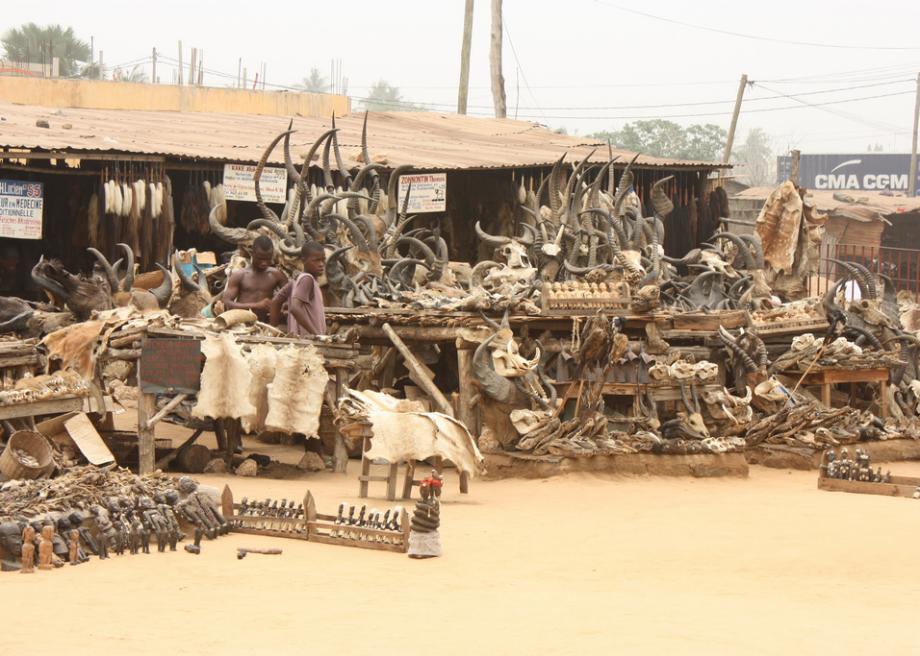 Tourists are welcome to peruse the offerings and visit one of the traditional healers in the huts behind the tables. During one of these consultations, the voodoo priest or priestess will ask you to describe your ailment, then consult with the gods to determine your prescription. Animal parts are ground up with herbs and held to a fire, which produces a black powder. Traditionally, a healer will make three cuts on your chest or back and rub the powder into the wounds. Tourists of a squeamish persuasion can opt to buy a wooden doll or just apply the powder to unbroken skin.
There are no set prices for the remedies—healers toss cowry shells to ask the gods what you ought to pay. If the price seems exorbitant, you are welcome to say so. The healer will keep consulting with the gods until you reach a mutually agreeable fee.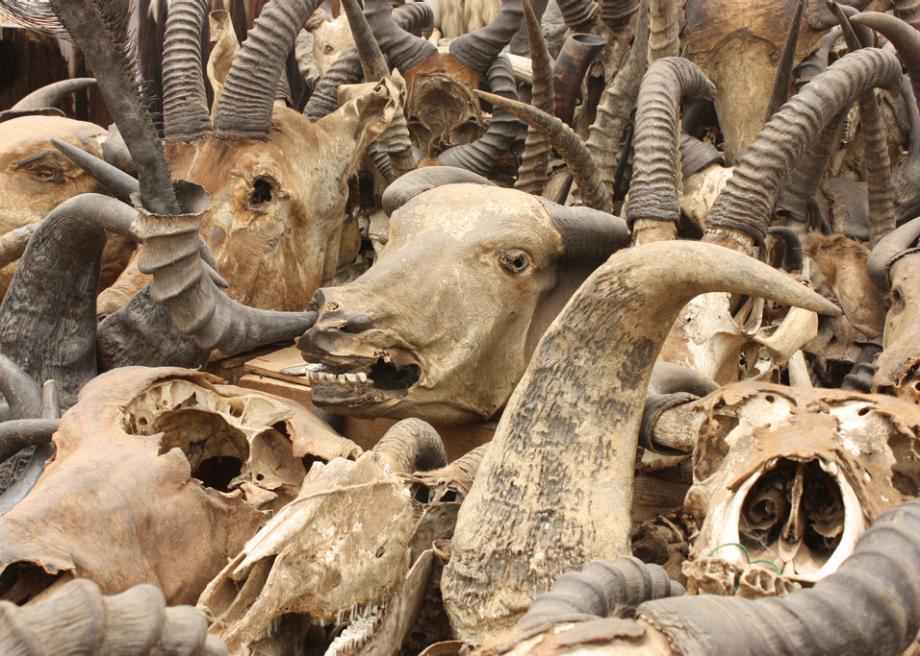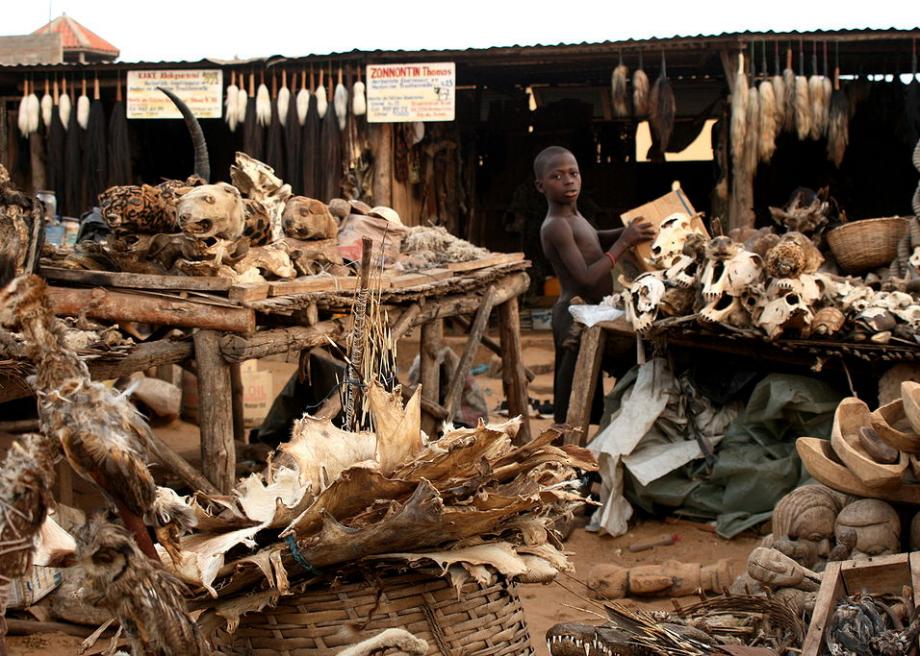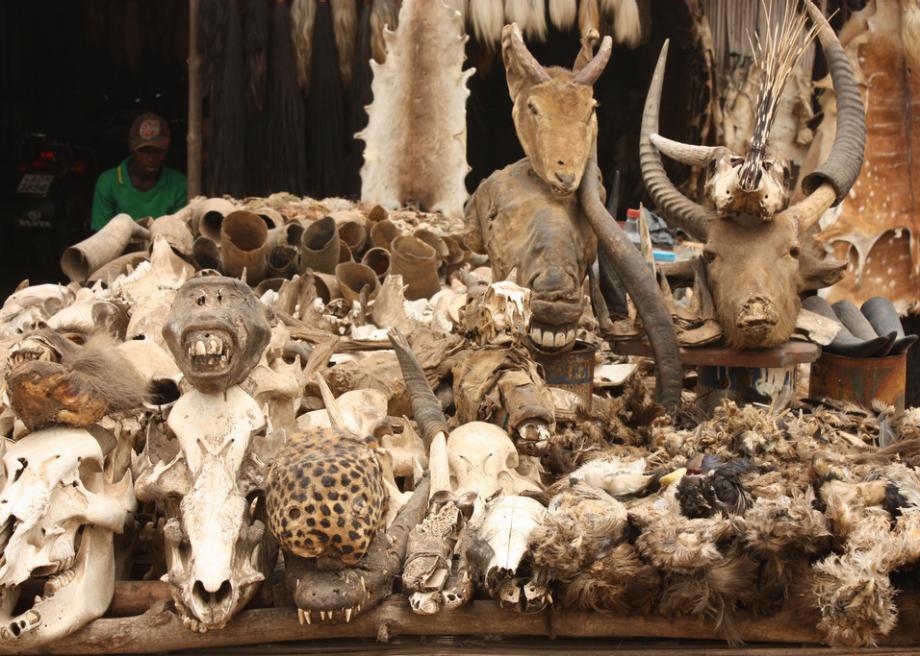 Rusting Snowmobiles, Creepy Dolls, and a Giant Cabbage: Welcome to Mukluk Land
Mukluk Land, located three miles west of Tok in the Alaska Interior, is a theme park with no apparent theme. "Stuff from Alaska" is about as close as it gets.
The park, which touts itself as "Alaska's most unique destination," offers a junkyard full of rusting snowmobiles, a mini-golf course, a giant cabbage, and a vintage red-and-white vehicle known as "Santa's Rocket Ship." Inside a wooden cabin you'll find skee-ball, whack-a-mole, an impressive collection of beer cans, and a ceiling plastered with flattened cereal boxes.
And then there are the dolls. A log cabin houses hundreds of them -- in rows on the floor, seated on shelves, stuffed side-by-side into open suitcases, and crammed into a red plastic convertible. All face a window through which you can peer into the room. Entering the cabin is forbidden, a fact brought home by the open bear trap on the floor.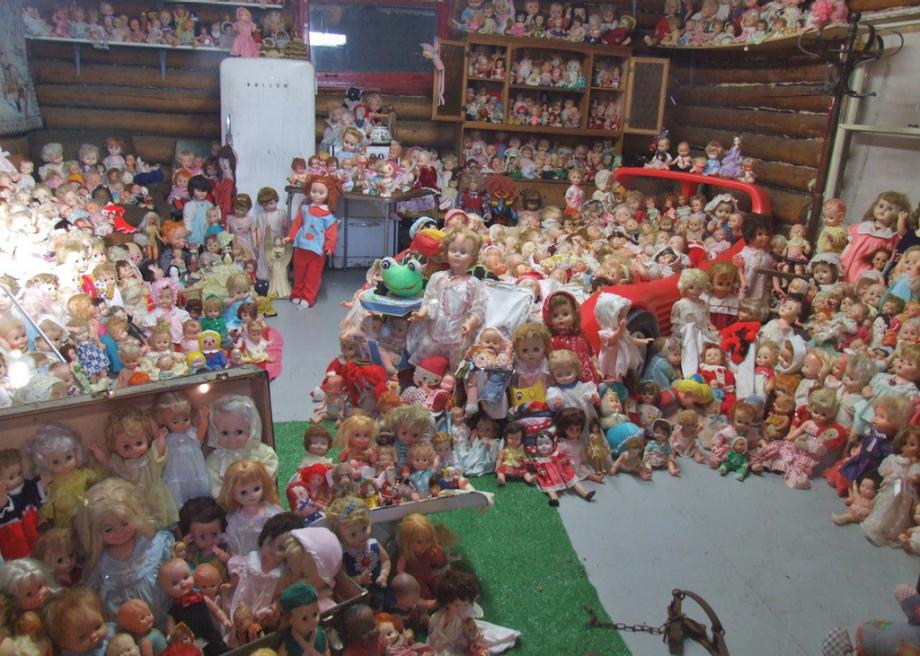 Once you're done perusing the park, pose for a photo in front of its main attraction: the giant mukluk. The big red boot, festooned with white pompoms, is suspended at head height from the front gate. On the way to the gate you'll pass a wide-eyed mannequin in an outhouse -- don't worry, that's where he lives.
Unfortunately, Mukluk Land is closed for the season, but it will reopen in June 2014. Adjust your travel plans accordingly.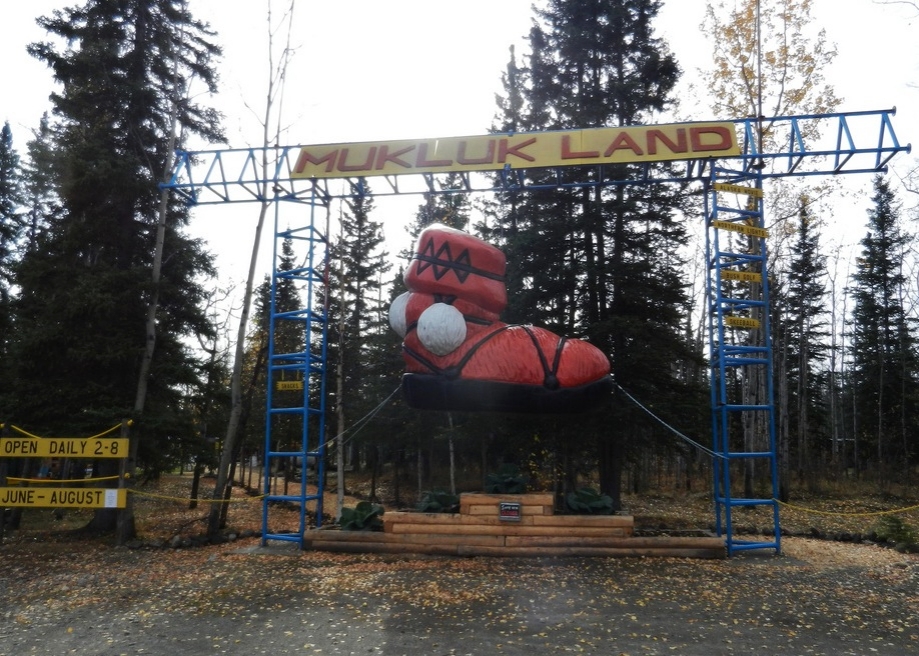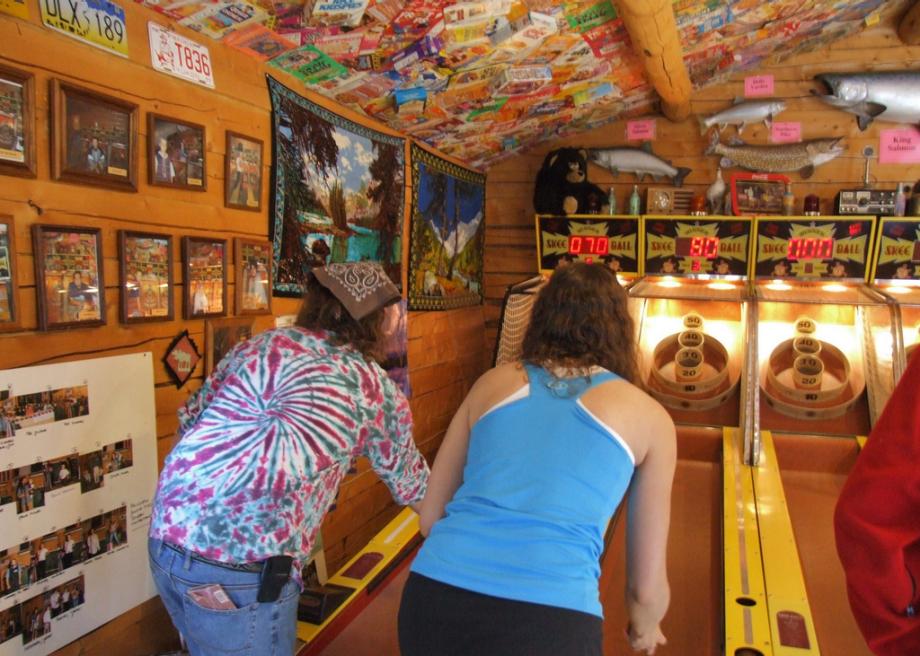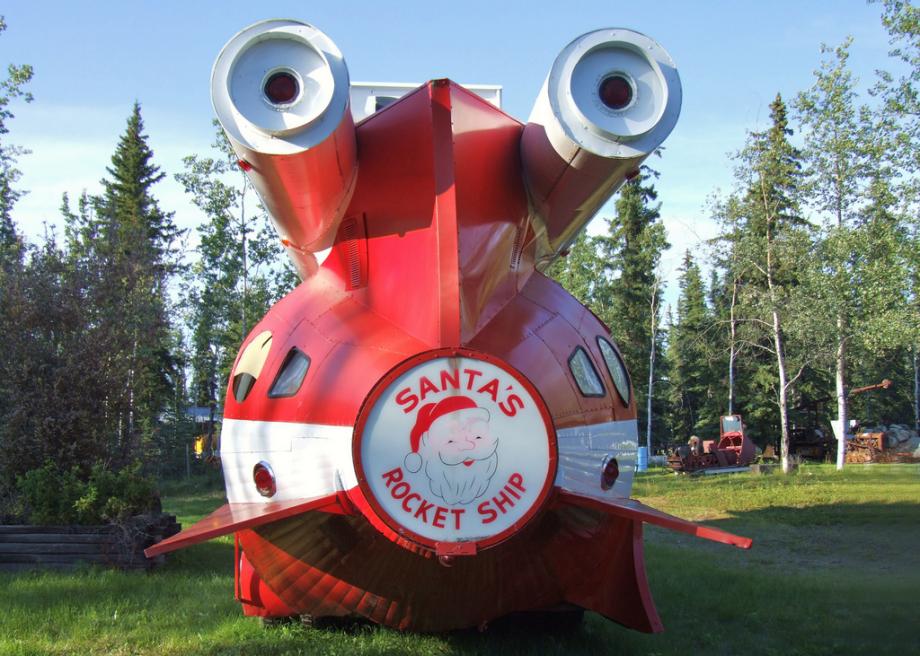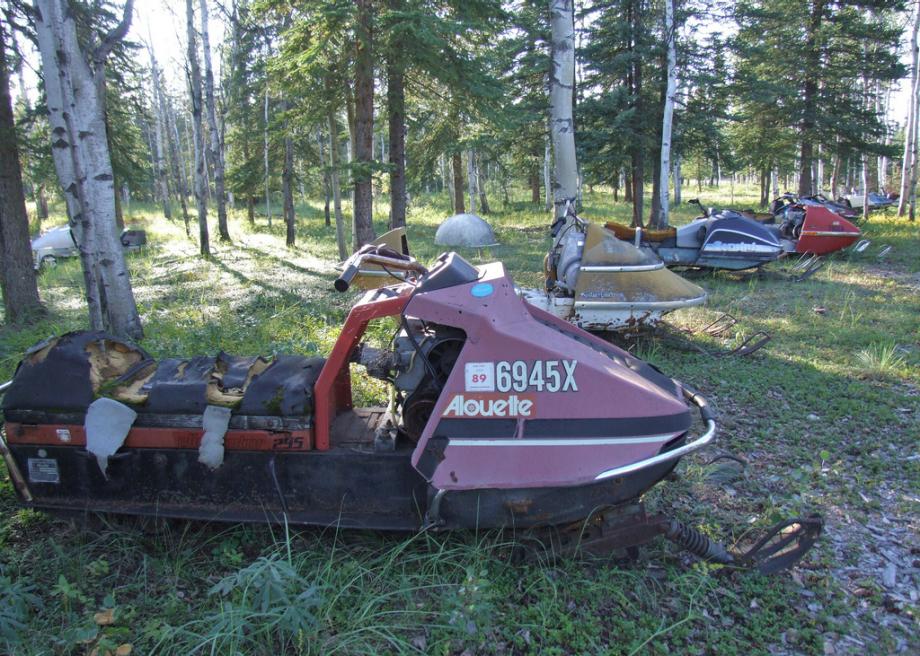 More delightful yet confounding places:
Beer, Bait, and Bikinis: The Colorful History of Miami's Off-Shore Stiltsville
In 1933, a Miami man famous for his chowder -- "Crawfish" Eddie, they called him -- constructed a wooden shack on stilts a mile offshore. Built during the last gasp of prohibition, the shack soon attracted drinkers and gamblers, who chased their beers and poker hands with a bowl of homemade chowder.
Crawfish Eddie's was the first shack in Stiltsville, a hodgepodge collection of offshore houses that became a playground for Miami's coolest sinners. After a few of Eddie's friends had built neighboring shacks, the Quarterdeck Club, an invite-only gentleman's establishment, appeared in 1941.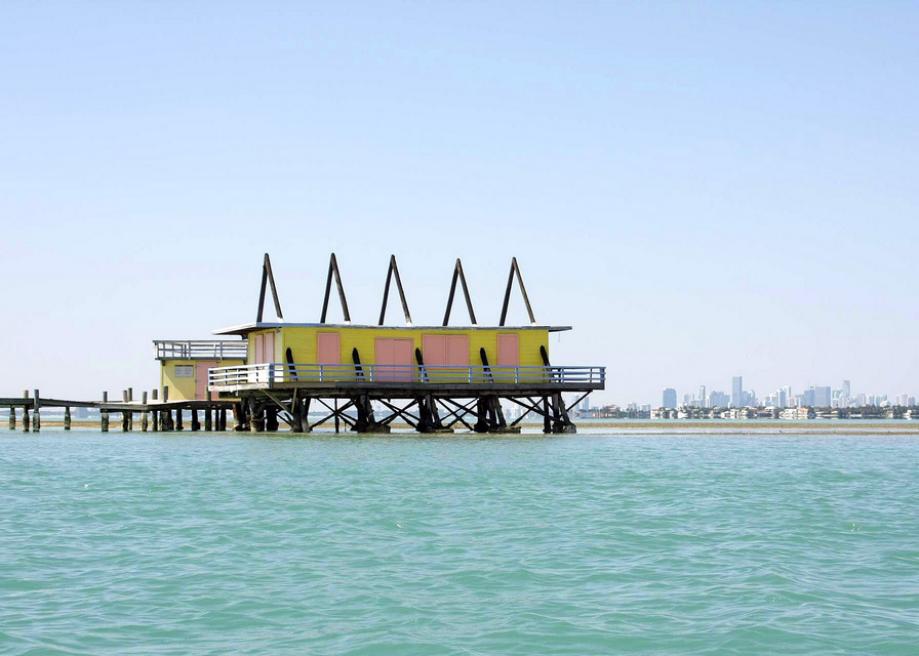 Fishing buddies would boat between buildings to drink, dine, and cast their lines into the shallow waters from the Quarterdeck's front dock. A LIFE magazine article from 1941 noted that club members fished with a flexible approach: "When fish spurn bait," it read, "a versatile sportsman can often kill them by well-aimed gunfire."
The early 1960s was boom time for Stiltsville. Twenty-seven shacks crowded the sand flats, and the new Bikini Club offered free drinks for women in two-pieces and a secluded sun deck for naked lounging.
The boom, however, was swiftly followed by busts both legal and meteorological. The vice squad raided the Bikini Club and shuttered it for operating without a liquor license and possessing 40 unauthorized, undersized, out-of-season crawfish. Then came Hurricane Betsy in 1965, which swept away all but half-a-dozen shacks.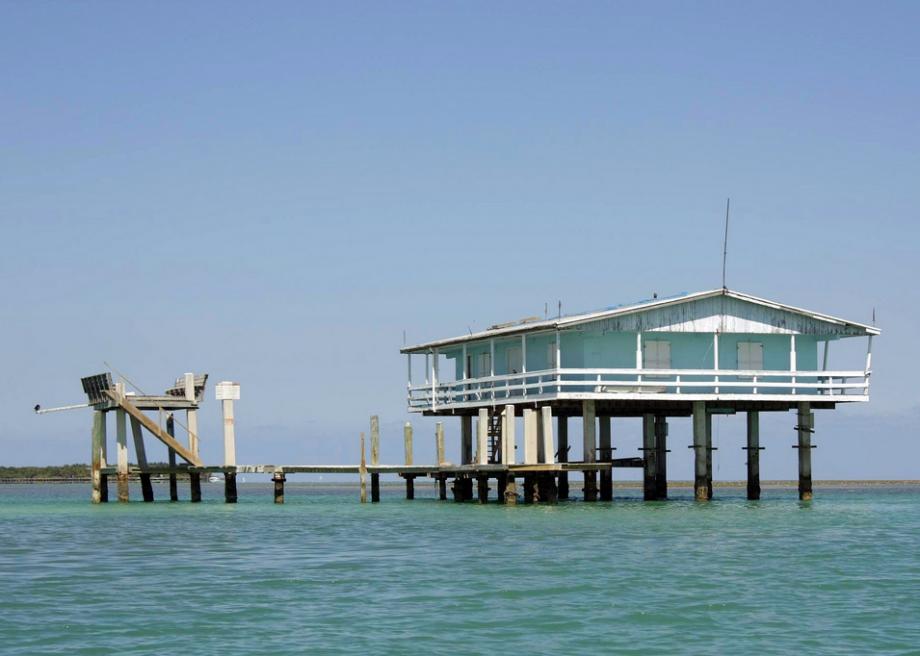 Many were rebuilt, but by this time the state's patience for Stiltsville shenanigans was wearing thin. Florida issued formal leases to the shack owners with an expiry date of 1999, declaring that any remaining on that date would need to be removed. When the crucial year finally arrived -- after Hurricane Andrew had decimated all but seven of the stilt houses -- community support helped Stiltsville owners to negotiate a deal with the government. The shacks were saved.
The houses now lie within the boundaries of Biscayne National Park and are co-managed by the National Parks Service and the Stiltsville Trust. If you're looking for a unique place to host a party, you can rent one of the properties for a night.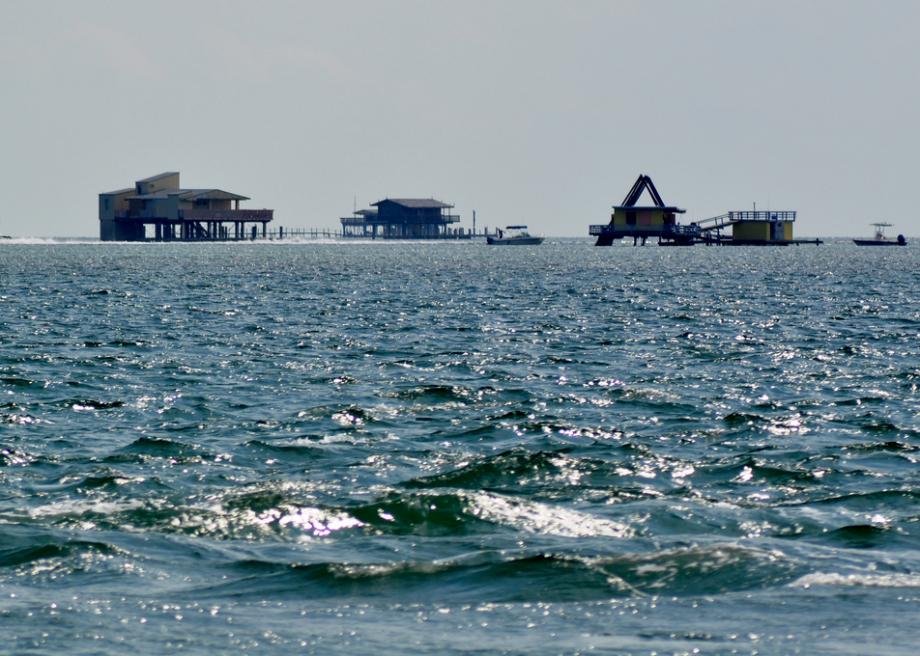 Stilt villages around the world:
Zooming Through the Tubes: The Pneumatic Mail Networks Hidden Under City Streets
Before the Hyperloop, before email, even before mail trucks, there was pneumatic mail: an underground network of pressurized air tubes that shot cylinders full of letters around a city.
Pneumatic post systems began as delivery services for stock exchanges. Traders needed to receive communications quickly in order to buy and sell at the optimum moments, and telegraphed messages, though faster than ordinary mail, often got held up between the telegraph office and the stock exchange. In London in 1853, the solution was a 660-foot pneumatic tube connecting the stock exchange to the central station of the Electric Telegraph Company.
Soon pneumatic mail systems began popping up around the world. Berlin, Paris, Vienna, and Prague all got their own city-wide mazes of tubes in the 1860s and '70s. New York soon followed, but the story of its pneumatic system is, like the city itself, full of fast talking and big ideas. The official, post-office-operated tube network opened in 1897, but it wasn't the first air-powered letter service to open in the city. Almost 30 years earlier an ambitious man named Alfred Ely Beach built his own mini pneumatic dispatch system in downtown Manhattan.
The entrepreneurial gentleman had been studying Europe's underground train systems and came to the conclusion that New York needed a pneumatic subway. The city, however, did not agree, and rejected his development applications. But Beach had a back-up plan. During his observations of Europe's subterranean infrastructure, he had became intrigued by pneumatic post. Beach proposed the construction of pneumatic "mail delivery" tubes and the city approved. He spent two months digging a block-long tunnel -- and funnily enough, it was just the right size for a passenger train. (To fulfill the terms of his contract, he installed an eight-inch-wide mail delivery tube alongside it.)
Built on the sly in grand style -- its station featured chandeliers, a grand piano, and a fountain -- Beach's fancy but impractical subway attracted passengers when it opened in 1870, but exhausted its novelty value after three years. His pneumatic mail tube, though similarly short-lived, has the distinction of being the U.S.A's first such system.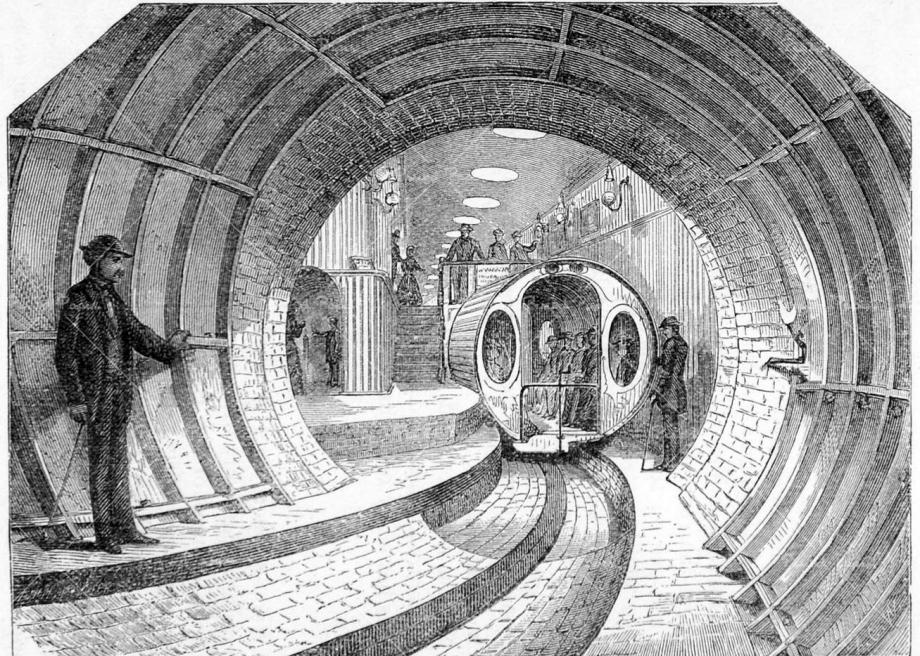 Take two for New York happened in 1897 with the unveiling of a pneumatic network that connected post offices throughout Manhattan and across the Brooklyn Bridge. Power stations with air blowers and compressors sent cylinders flying through the tubes at 30 miles per hour. Postal workers assigned to the loading and unloading of the grease-coated canisters became known as rocketeers. Some of them apparently couldn't resist a little mischief -- there are stories of workers from downtown ordering sandwiches from a deli up in the Bronx and receiving them via pneumatic tube within 20 minutes.
The European and New York networks lasted well into the second half of the 20th century, but always carried just a fraction of the mail -- the system's pipes, which ranged from two to eight inches wide, could only handle a low volume of letters, and parcels wouldn't fit in the canisters. Mail delivery by automobile became the preferred method, and the underground tubes fell silent.
Three bonus tubular tales:
How to Be Posthumously Transformed Into an 18-Foot Screaming Head
Peter Camani has a suggestion for where your earthly remains should go when you die. "Why settle for a small underground plot in the suburbs," he writes on his website, "when you have the option of joining a vibrant creation that fills the landscape?"
The "vibrant creation" to which he refers is a forest of 18-foot-tall screaming heads made from cement and, if his idea catches on, the ashes of deceased humans.
The field of screams is just one component of Camani's ongoing art project on a 300-acre former farm just outside the village of Burk's Falls, Ontario. It all began in 1989, when former high school art teacher Camani began building a house on the property. Dubbed Midlothian Castle, the dwelling features a screaming head for a turret and a dragon for a chimney—it appears to breathe smoke whenever the fireplace is blazing.
In 1995, Camani began installing sculptures on the land surrounding the house. There are now over 100 scattered through the landscape—84 screaming heads, giant half-sunken hands, trees with ghoulish faces, and the four Horsemen of the Apocalypse.
Inspired by the Druids and exploring the themes of environmental destruction and human impermanence, Camani intends to keep sculpting screaming heads for as long as he's able. He has long envisioned a forest of sculptures made from cement and human ash, with the names and bios of the deceased written on them. As far as we can tell, the current count of human ash sculptures stands at one.
If you'd like to become a literal part of Camani's screaming head project, you'll just need $10,000 to reserve your spot.