Your Guide to the World's Hidden Wonders
Nubians on the Nile: The Other Ancient Pyramids of Northern Africa
Egypt isn't the only African country with ancient pyramids rising from its sands. In fact, there are more pyramids in one small section of the northern Sudanese desert than there are in the whole of Egypt.
During Egypt's 25th dynasty (760 BC until 656 BC), Meroe, now located in Sudan, was the capital of the Kingdom of Kush, ruled by Nubian kings who had conquered Egypt. Often overlooked in the history books, these black pharoahs presided over an empire that stretched from the Mediterranean Sea to present-day Khartoum.
Meroe, a city nestled against the Nile 200 miles north of Khartoum, contained a necropolis for royal burials. As in Egypt, Nubian kings and queens were buried with gold, jewelry, pottery, and, occasionally, pets. Some royals were mummified, while others had their remains burned or buried whole. A sandstone pyramid, steeper and more narrow than the Egyptian variety, was built over each tomb.
In all, about 220 pyramids were built in Meroe, spread across three sites. They remained relatively intact until the 1830s, when Italian treasure hunter Giuseppe Ferlini smashed the tops off 40 pyramids while searching for gold and jewels. In recent years, a few pyramids have been reconstructed to give travelers a sense of what they used to look like.
You can visit the Meroe pyramids via car ride and camel from Khartoum, but due to ongoing violence in Sudan, the Department of State currently advises against traveling to the country.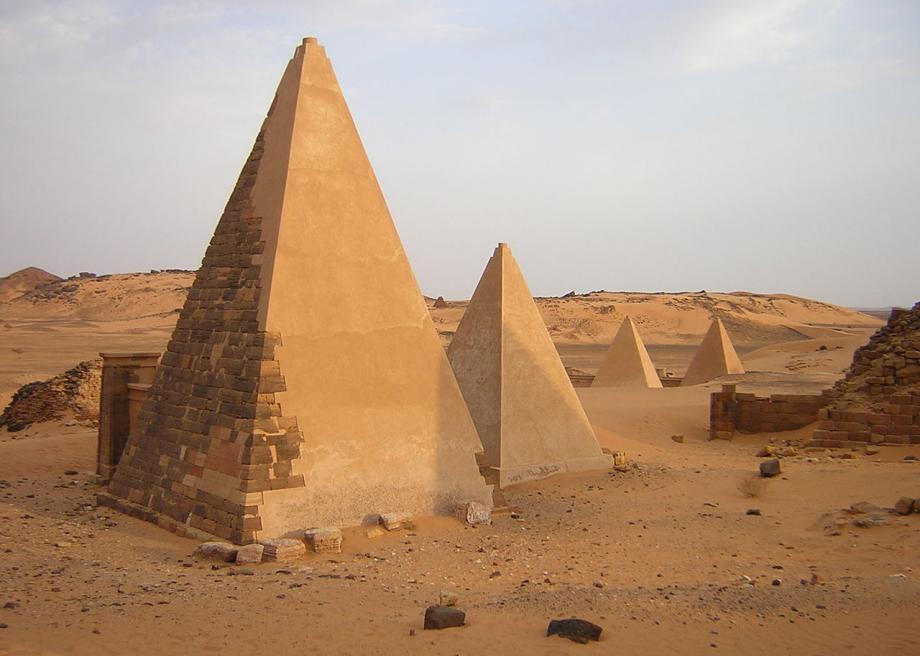 The Battle of the Oranges: Fighting Tyranny With Citrus
Bad news: you've just missed La Tomatina, the Spanish tomato-throwing festival that takes place on the last Wednesday in August. Good news: there's plenty of time to plan for the Historical Carnival of Ivrea, an Italian festival in February that culminates in three days of relentless citrus-based combat.
During the Battle of the Oranges, the townspeople of Ivrea divide into nine squads, each with its own distinctive uniform. Supplied with crates of oranges, the teams stand in the main square and await the arrival of the enemy: carts full of orange throwers poised to strike. Then, the fruit flies.
An important detail: the people on the carts are decked out in armor, including face-protecting helmets. Those on the street squads are not. It is not uncommon to see people stumbling out of the square with orange-induced injuries, such as black eyes, cuts, and the sting of citric acid in a wound.
The origins of this food fight are a little murky, but the most popular explanation begins with an attempted rape, a vengeful decapitation, and a torched castle. In the Middle Ages—so the story goes—local vile tyrant Marquis Raineri di Biandrate visited a young woman named Violetta on the eve of her wedding, intending to cash in his droit du seigneur.
But Violetta fought back, producing a dagger and lopping off the tyrant's head. When the villagers saw her holding the head aloft toward them in triumph, they took the opportunity to unleash the anger wrought from years of oppression. They stormed the castle, burned it to the ground, and vowed to never submit to tyranny again.
A few centuries pass, yadda yadda yadda, and the throwing of oranges to simulate the defeat of the tyrant becomes a yearly tradition, complete with rules for participants and guidelines for spectators. (Don't throw an orange at a horse; wear a red floppy cap if you don't want to get hit; no strollers.)
The next Battle of the Oranges takes place on the three days preceding Mardi Gras (February 15-17) in Ivrea, just north of Turin.
Attack on Kiska: Untouched Relics from a Baffling WWII Battle
Kiska Island, in the Aleutians far west of Alaska, is not a hospitable place. It's cold. It's topped with a volcano. It's 1,000 miles from medical assistance. No one lives there, and if you are bold enough to visit, you'll be greeted by a shipwreck in its harbor.
Kiska is also the site of a deadly World War II battle in which only one side fought. Here's the story.
In the early hours of June 7, 1942, 1,200 Japanese soldiers stormed the island. They didn't have a lot of overpowering to do: Just 10 Americans were living on the island, operating a weather station. After killing two of the Americans and sending the other eight to Japan as prisoners of war, the Japanese settled into Kiska and stayed for more than a year, carving out tunnels, building machine gun bunkers, and even planting gardens.
With no Americans left on the island, the U.S. Army was not concerned about civilian casualties. Within two weeks of Japanese occupation, the United States launched a series of bombing campaigns on Kiska. A few ships and submarines were destroyed, and Japan lost hundreds of soldiers, but the big attack on the island did not come until Aug. 15, 1943.
On that day, almost 35,000 Allied soldiers landed at Kiska ready to overpower the Japanese. As they stormed the beaches, braced for heavy casualties, they noticed something unexpected: No one was fighting back.
After learning that the United States had attacked the Japanese base on nearby Attu Island, Japan ordered its soldiers—which now numbered 5,400—off Kiska. All departed on July 28, 1943—more than two weeks before the Allied soldiers arrived.
Suspicious of the silent plains and abandoned artillery, Allied troops scoured the 107-square-mile island for more than a week. Kiska was beset by heavy fog, and the on-edge soldiers occasionally fired at one another accidentally. Booby traps left by the Japanese caused more casualties. About 100 Allied soldiers ended up dying, either at the hands of a comrade or in encounters with unexploded mines.
The island is still littered with items left by the Japanese as they fled in haste that day in 1943. But due to its remote location and harsh conditions, Kiska is not a popular stop on World War II relic tours. You're not supposed to set foot on the island unless you are conducting research, and for that you will need permission from the Alaska Maritime National Wildlife Refuge and the U.S. Fish and Wildlife Service.
If the authorities determine that your research is valid, it's just a matter of flying to Anchorage, then getting one of the twice-a-week fights to the island of Adak, then hitching a ride to Kiska on a U.S. Fish and Wildlife Service research vessel. You'll need to bring your own food, water, and anything else you require to while away a summer on a barren island among rare war relics.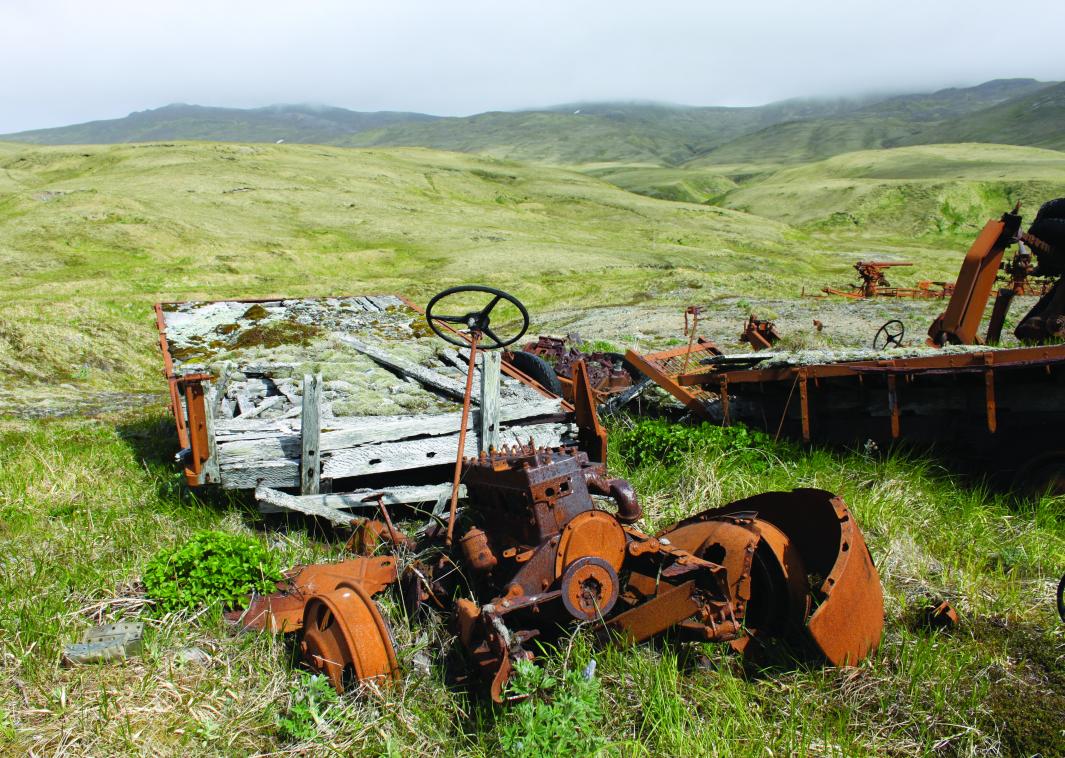 Brendan Coyle, author of the upcoming book Kiska: The Japanese Occupation of an Alaska Island, recently spent a summer on Kiska as a field assistant to a biology professor. The pair was tasked with researching the effects of the Norway rat on the island's indigenous bird populations. (Rats were introduced to Kiska in the 18th century when fishing vessels landed there.)
Though not entirely unexcited by rats and their destructive effects on an island eco-system, Coyle's main aim was to document the mostly untouched relics left by the Japanese. (For that reason, Coyle notes that the biology professor he assisted wishes to remain anonymous. "The national science council partly funds this research," he said, "so he doesn't want to give them the impression he's out there looking for World War II items when he should be looking at birds.")
During his 51 days on Kiska, Coyle photographed rusting guns, crumbling tunnels, gas masks whose tubes coiled like sea snakes in murky puddles, abandoned pairs of split-toe tabi shoes, and bombed-out submarines half-submerged in grass. Between photography and research expeditions, he and the professor spent time in their beachside tent, cooking meals on a propane stove, updating their journals, and being frustrated by frequent storms. (House M.D., screened on a laptop powered by a generator, was the entertainment of choice on bad weather days. There was no Internet.)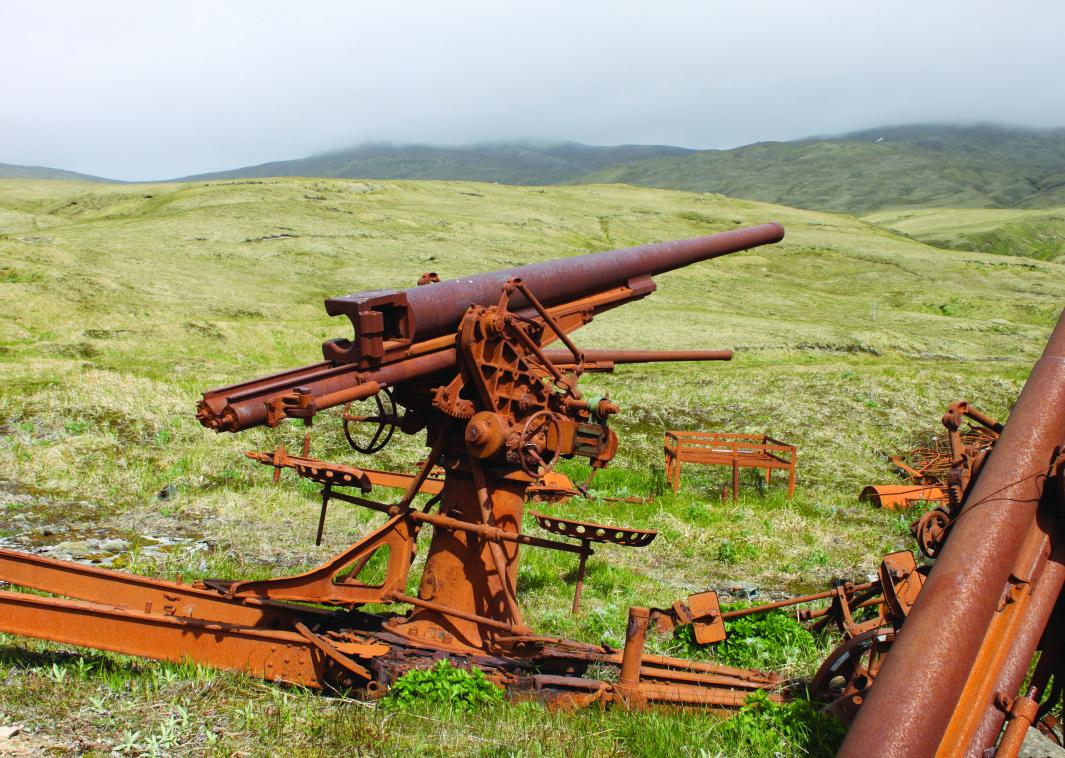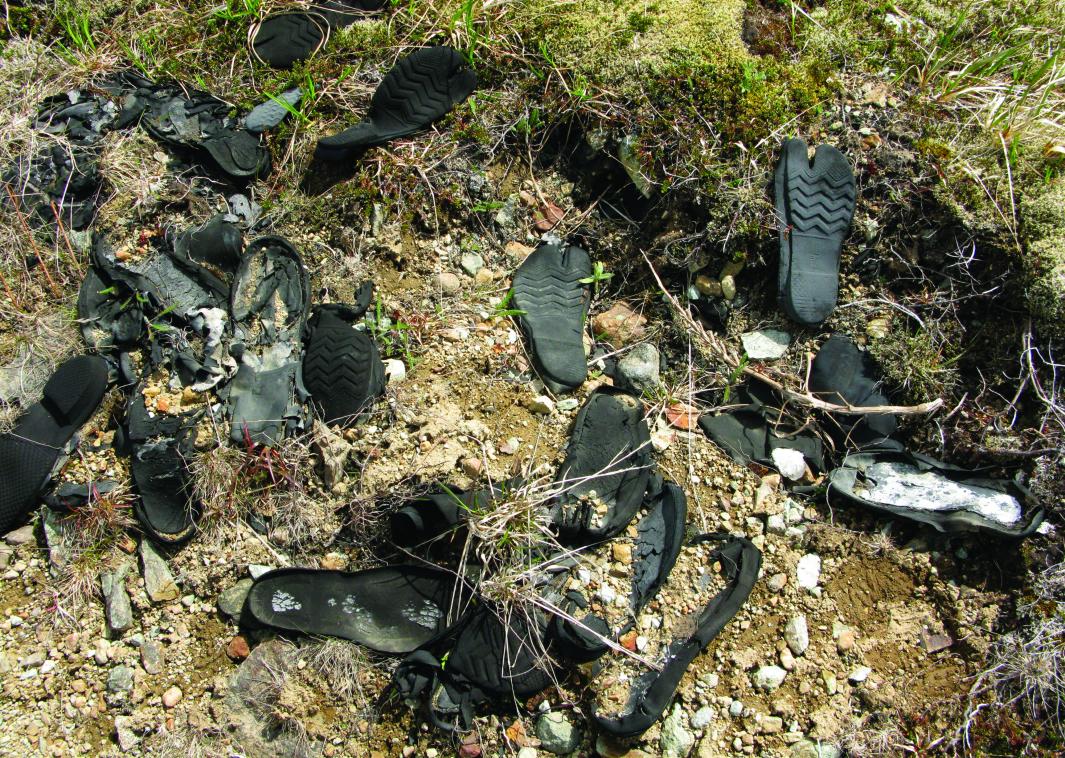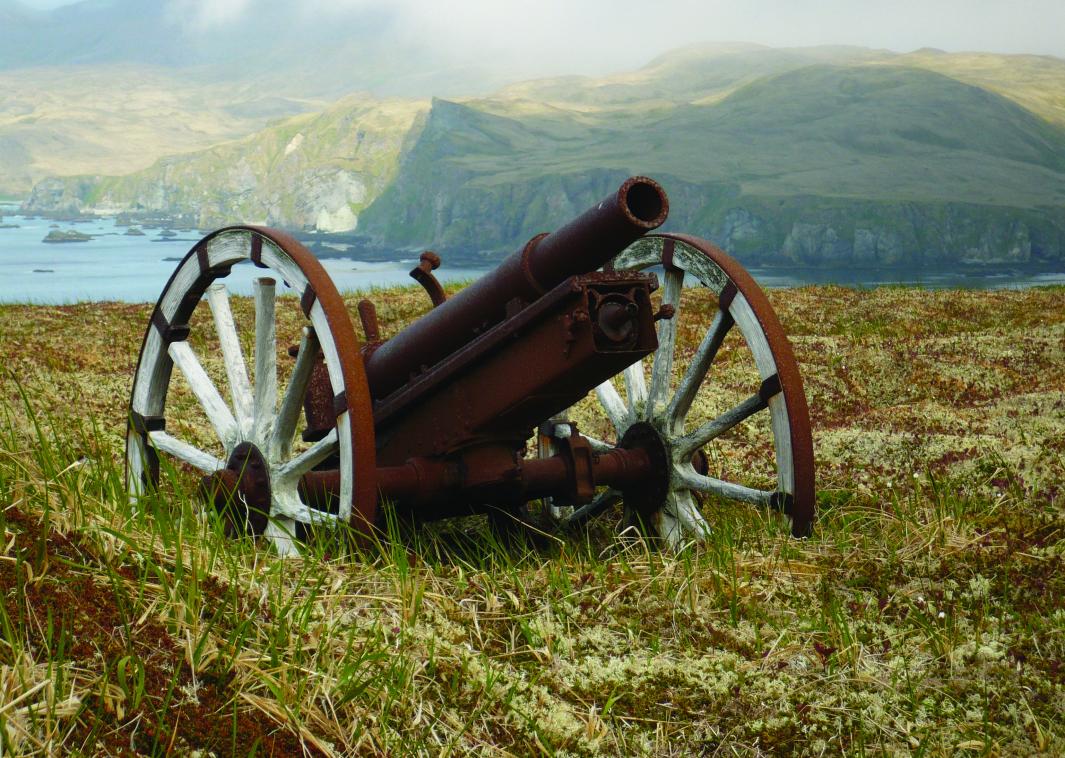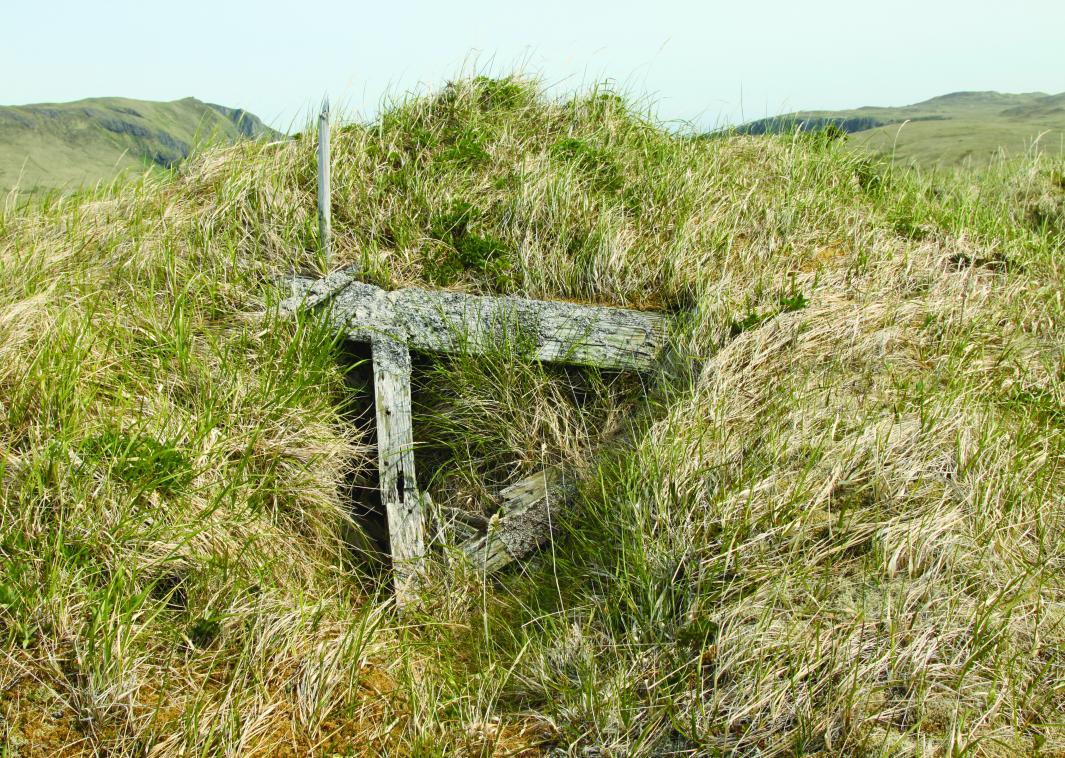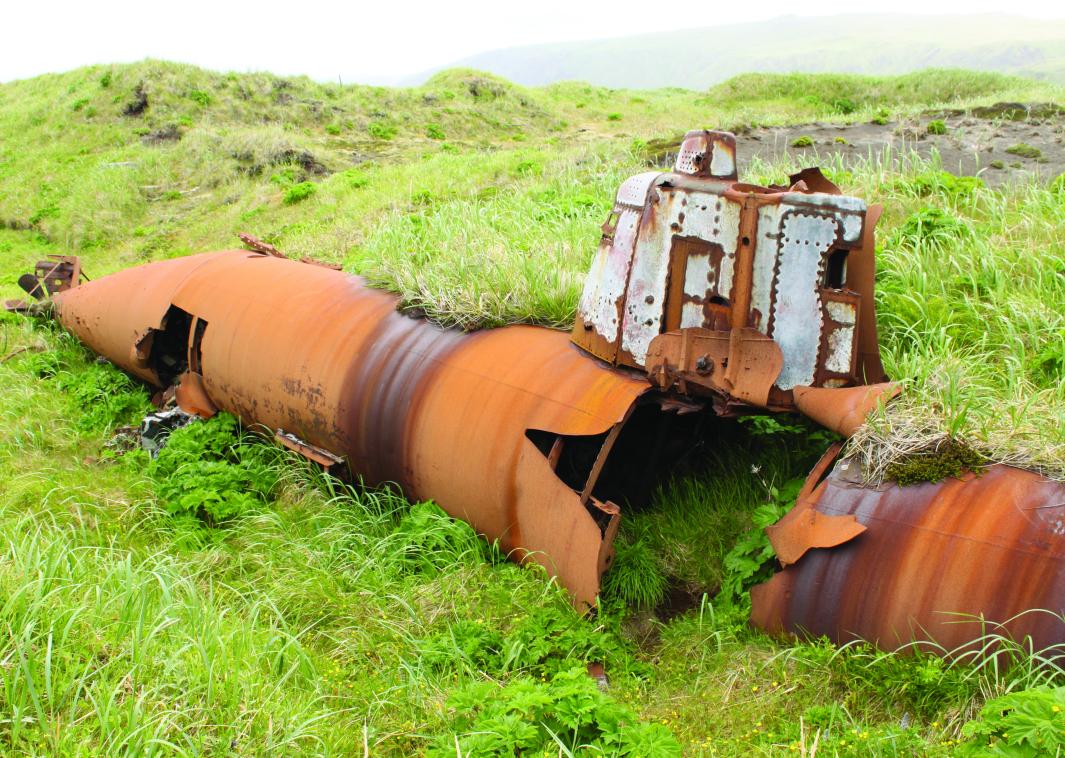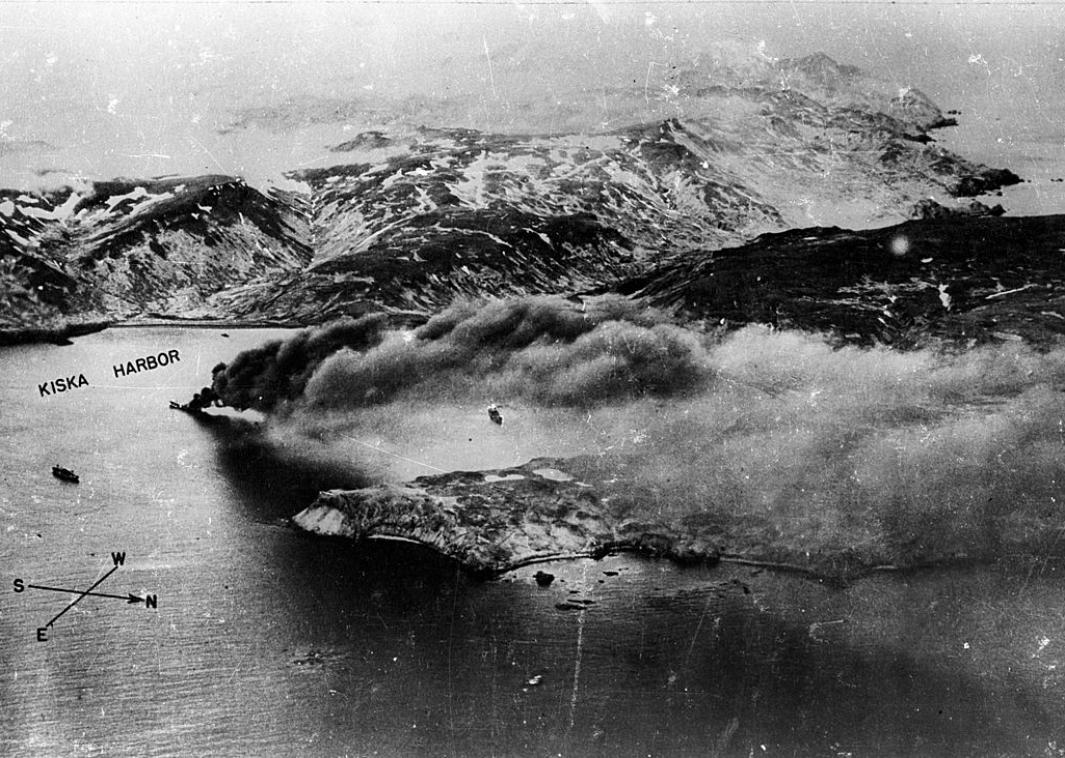 Big Stinky Blooms: The Putrid Beauty of Corpse Flowers
Something rare and magnificent is taking place at LA's Huntington Gardens this week. For the first time in four years, a Titan Arum flower in the Conservatory will bloom, reaching around six feet in height and perfuming the air with the scent of rotting meat.
Nabokov's Butterflies: The Lolita Author's First, Fluttering Love
Fifty-six years ago today, Lolita was first published in the USA by G.P. Putnam's Sons. But Vladimir Nabokov might never have unleashed Lo-lee-ta, fire of Humbert's loins and subject of many an impassioned seduction-versus-child-abuse debate, if he had devoted himself entirely to his first great love: chasing butterflies.
After catching his first butterfly at the age of six and collecting insects throughout childhood, Nabokov became a lifelong lepidopterist. During an interview in the Summer-Fall 1967 edition of the Paris Review, he made his enthusiasm for butterfly hunting clear:
INTERVIEWER
Besides writing novels, what do you, or would you, like most to do?

NABOKOV
Oh, hunting butterflies, of course, and studying them. The pleasures and rewards of literary inspiration are nothing beside the rapture of discovering a new organ under the microscope or an undescribed species on a mountainside in Iran or Peru. It is not improbable that had there been no revolution in Russia, I would have devoted myself entirely to lepidopterology and never written any novels at all.
After the 1917 Bolshevik Revolution forced his family to flee from St. Petersburg to Crimea, Nabokov studied butterflies to ward off homesickness. When he emigrated to the United States to escape the Nazis in 1940, Nabokov, whose Russian publications had not yet made him famous in America, got a job as Curator of Lepidoptera at Harvard University's Museum of Comparative Zoology. For seven years he spent up to 14 hours a day sorting and mounting butterflies.
In 1945, Nabokov developed a theory of butterfly evolution based on his examination of the Polyommatus blues group: he proposed that the butterflies journeyed in five waves from Asia to Chile before going north to the New World. Although lepidopterists dismissed the theory at the time, he was later vindicated—in 2011, the Proceedings of the Royal Society of London journal announced that scientists had confirmed Nabokov's theory using gene-sequencing technology.
This posthumous achievement joins the 20 species of butterfly named after the author's fictional characters. And Lolita itself is littered with butterfly-inspired language that reflects Nabokov's lepidoptery-heavy lifestyle: as the fragile and beautiful nymphet undergoes her metamorphosis, she is described as frail, silky, and fairy-like. Humbert presses his mouth to Lolita's "fluttering" eyelid, and then there's this moment as he watches her play tennis:
Did I ever mention that her bare arm bore the 8 of vaccination? That I loved her hopelessly? That she was only fourteen?

An inquisitive butterfly passed, dipping, between us.
The remains of Nabokov's butterfly collections are shared between the American Museum of Natural History in New York, the museums of Harvard and Cornell universities, the Zoological Museum in Lausanne, and the Nabokov Museum, established in the St. Petersburg house where he was born.
Budapest's Abandoned Art Deco Power Station
Hidden in Budapest's XI District, on the banks of the Danube in the unfashionable side of Buda, lies an iconic monument symbolizing the dawn of the electrical age. Once Europe's most advanced power station, the semi-abandoned, and now privately owned site, in Kelenföld celebrates its 100th birthday this year.
Kelenföld Power Station is not only a technological marvel, having supplied a large chunk of the city with electricity as far back as 1914, but it's also one of the masterpieces in industrial design.
Gizmo and a Guy with Glasses: Double-Take-Inducing Gargoyles and Grotesques
What would you call the figure pictured above? "Gargoyle" is probably what popped into your head, but—pedantry alert—that's not quite correct. A gargoyle is a decorative figure that conveys water away from the gutter of a building to prevent it from running down the wall. The water is usually siphoned away from the parapet through the gargoyle's mouth, but occasionally the drain is located at the other end of the alimentary canal:
When a decorative figure does not contain a spout, it is referred to as a grotesque or a chimera. Often of a demonic nature, grotesques add architectural interest and wield apotropaic magic: that is, they are intended to ward off evil.
Over the last few decades, development and restoration programs at Gothic churches around the world have led to the sculpting of more unconventional grotesques. Pop-cultural grotesques and gargoyles, such as the Alien xenomorph at Scotland's Paisley Abbey and the Darth Vader grotesque at the Washington National Cathedral bring modern villainy to old church parapets. Some of the newer grotesques attempt to bridge the religion-science divide: in 1992, when restoration work took place on the 16th-century Cathedral of Salamanca in Spain, project leader Jeronimo Garcia added an astronaut to one of the facades.
One of the most striking examples of old-versus-new is the Chapel of Bethlehem in France. Built in the late Middle Ages and restored in 1993, the chapel has 28 modern grotesques, including Gizmo from Gremlins and the anime robot Grendizer.
Today Me, Tomorrow You: Rome's Memento Mori Tombs
The Catholic churches in Rome are full of skeletons. While the bodies of the saints are often the most famous examples, the skeletons lurk around the tombs of the clergy and laity as well. Unlike the saints, the physical remains of former parishioners are largely kept out of sight, but if you imagine the number of bodies resting just beyond every surface, the churches start to look like mega-necropoli. You realize you're walking though Tokyos made of tombs.
You don't need an over-active imagination though; the Baroque skulls and life-sized marble skeletons decorating the graves are designed to grab your attention and speak to you. At Santa Maria dell'Orazione e Mort a skeleton delivers a message to the living on the street from the dead inside the crypt: "Hodie mihi. Cras tibi." "Today me. Tomorrow you." It shrugs. The skeletons are eager to remind you that the bones holding you up will be all that's left some day.
Though their rhetoric is grim, the skeletons are surprisingly lively. At San Francesco d'Assisi a Ripa Grande, they climb out from behind the artwork. At Gesù e Maria, one appears frozen in the middle of a solo danse macabre, flailing so wildly it seems to be coming apart. It's this kinetic quality that's so arresting; life bursts supernaturally from these dark corners devoted to death. The juxtaposition is unsettling but it illustrates the Catholic belief in eternal life. Though the skeletons tell you that you too will die, they're also showing you they believe there is another life to come.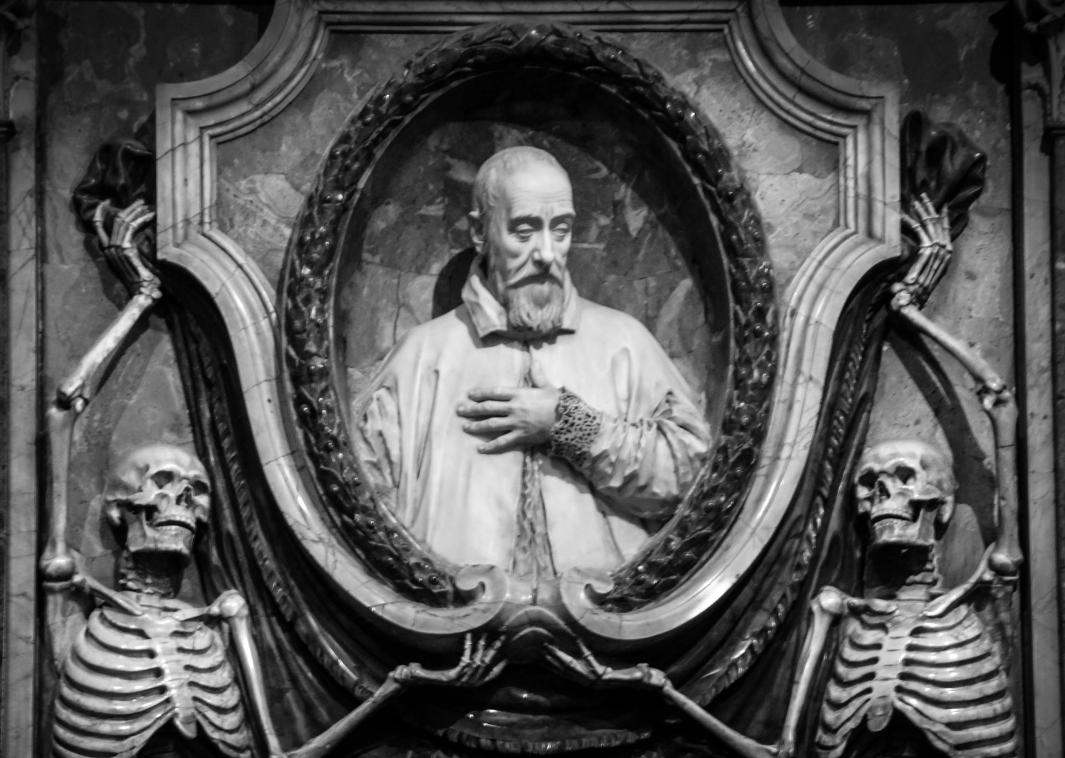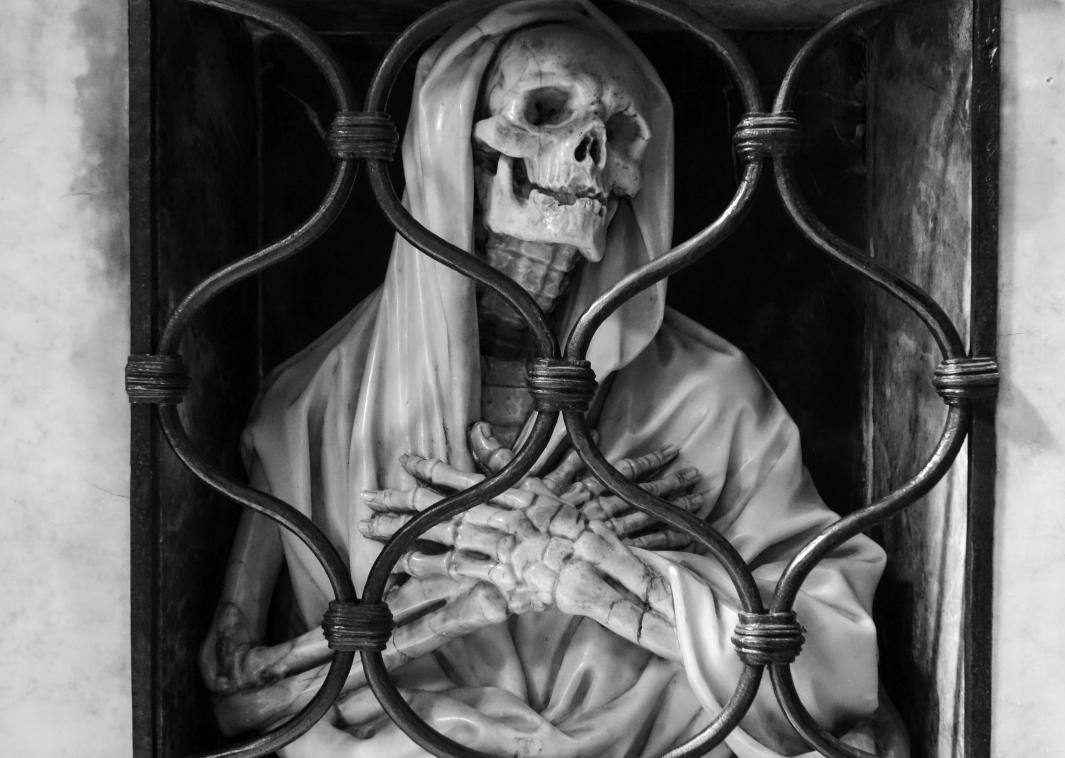 The Controversial Senegalese Monument Built by North Korean Propaganda Artists
On one of the twin hills in the Mamelles district of Dakar, Senegal, stands a mighty—and mightily confusing—monument.
At 160 feet tall, the bronze African Renaissance Monument is over one-and-a-half times the height of the Statue of Liberty. It depicts a man with a bare, ripped torso holding an infant aloft in one arm and guiding a woman with the other. The infant points ahead to indicate the glorious future, while the woman extends her arm behind to acknowledge the troubled past. Her hair is swept back by the wind, as are her scant, gossamer-like garments.
The colossal monument's Soviet-influenced, Socialist realism style makes sense when you consider that it was built by Mansudae Overseas Projects, a division of North Korea's government-run propaganda art factory.
Founded in 1959, Mansudae Art Studio employs around 4,000 North Koreans at its Pyongyang headquarters, 1,000 of which are artists handpicked from rigorous national institutions like Pyongyang University. These artists spend their days producing beautifully detailed propaganda, such as portraits of rosy-cheeked farm maidens, paintings of North Korea's glorious countryside, and One Can Always Lose, a series of 10 paintings depicting North Korea's 1-0 win over Italy during round one of the 1966 World Cup. All public images of Kim Jong-un, Kim Jong-il, and Kim Il-sung, including the enormous statues in Pyongyang, are the work of Mansudae artists.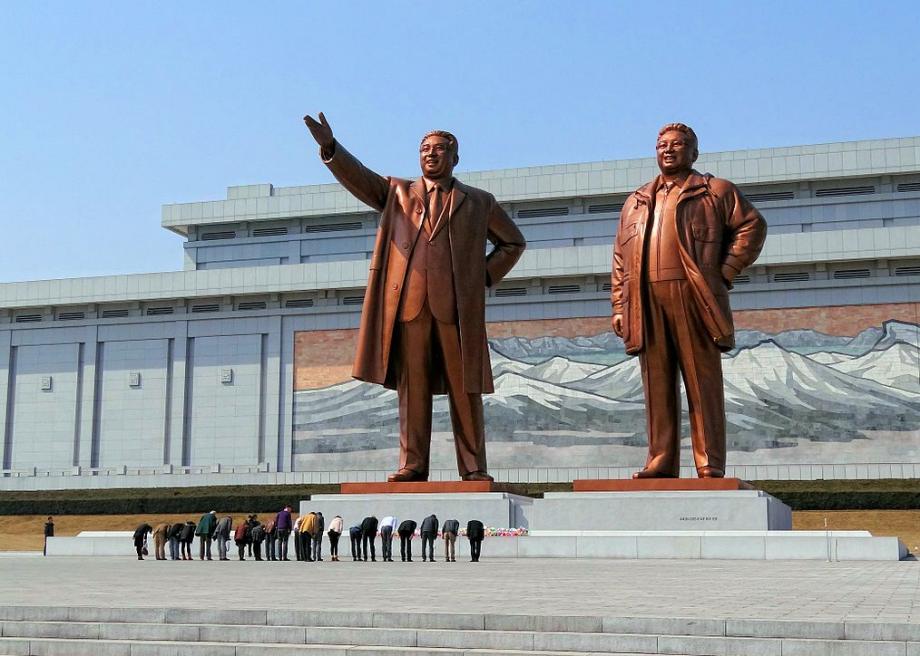 So how did members of North Korea's propaganda art factory wind up sculpting a monument in Senegal? Simple: it was all about the money. Mansudae Overseas Projects can build mammoth statues relatively cheaply, and has done so for 18 cash-strapped African and Asian nations thus far.
The Senegalese monument project began in 2006, when then-president Abdoulaye Wade began planning a massive hilltop monument that would represent Senegal—and Africa—emerging from centuries of slavery and colonialism. After years of planning and construction, the African Renaissance Monument was inaugurated in 2010 to mark the 50th anniversary of Senegal's independence from France. The final cost of the statue was $27 million. Unable to afford the payment in cash, Wade paid North Korea in the form of state-owned land in Senegal.
When the monument was unveiled, Wade was nearing the end of a 12-year presidency marred by alleged corruption, vote rigging, and changing the constitution to suit his own ends. His claim that intellectual property laws entitled him to 35 percent of revenue from tourism at the monument was met with understandable ire from fed-up Senegalese—47 percent of whom live below the poverty line, according to the World Bank. The statue's depiction of a near-naked man holding a woman with an exposed breast also caused consternation among the 92-percent-Muslim population.
Despite the controversy, the monument still stands, surrounded by half-built houses and piles of litter. You can pay to go inside and take the elevator to the giant man's head for a stunning view across Dakar. Just remember: 35 percent of your admission fee goes to Abdoulaye Wade. After fleeing Senegal following his 2012 defeat, Wade has returned to the country to support his son Karim, a former minister in the Wade government currently standing trial for allegedly embezzling $238 million.