Material Interests
Studio Gang's most inventive projects.
In an interview, architect Jeanne Gang described some of her firm's projects and her innovative use of materials. Her comments have been edited and condensed.
For a masonry exhibition at the Smithsonian in Washington, D.C., in 2003, Studio Gang made a cylindrical curtain of marble puzzle pieces that hung together without any additional supporting structure. The puzzle pieces were made with a water-jet cutter, which is a relatively new technology. Gang explains: "As an architect, I've always been interested in finding out what a material can do: what is it good at, but also what are some of the unexpected qualities of it that haven't been explored? [You need] experimentation and a willingness to fail—not for someone's final building, obviously, but in the design process. If you have that attitude you always learn something. With the Marble Curtain, we learned more about that material from breaking it—from taking it down into a lab and pulling it apart—than if you just used it as it was always used before."
Studio Gang completed the Brick Weave House, a private residence in Chicago, in 2008. The design features a two-story brick screen that encloses the house and a private courtyard. Gang explains: "On the Brick Weave House, we worked with the masons and the people who make the ties, which are the invisible hardware inside a brick masonry wall. We did some custom designs for the ties, and that's something you'll never see—it's invisible but it helps that project work."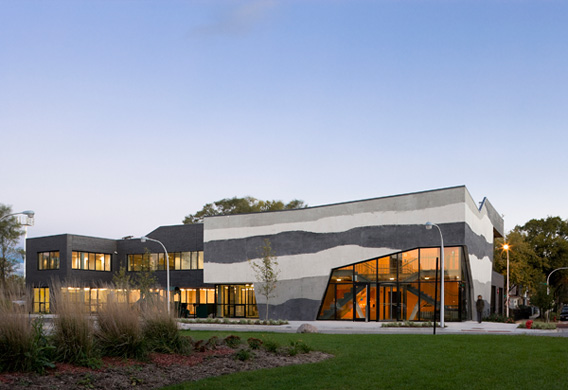 The SOS Children's Villages Lavezzorio Community Center in Chicago was completed in 2008, and it has a very unusual facade. Gang explains: "With the SOS, we had to depend on donations from different entities and in-kind material donations because it was a social service project with a very small budget.  One of the ideas was that we could get donated concrete for the exterior wall. The different [concrete] mixes are inherently different colors, so we started to explore how we could really get that to look fluid. We had to learn how that wall would be built because it's not something you just think of as a graphic—it's more that this is how the thing is made … expressed on the outside."
Northerly Island is a 91-acre park in Lake Michigan, directly off the Chicago shore. In 2010, Studio Gang finished a framework plan to develop the park with features including an amphitheater, harbor walk, and reef. Gang explains: "In Northerly Island, we had workshops [with the public] to try to draw out ideas and understand them as part of the context for the project. It's like using Google Earth. You get the big picture first, including what people think—and with Northerly Island," she points out, "people have been thinking about it for 30 years. Then you zoom in, thinking for example about what kind of habitats can a project support, and what kind of events, and you keep zooming in more and more until you get down to materials and details."
The Nature Boardwalk at the Lincoln Park Zoo in Chicago was completed in 2010, and the design includes a pavilion that can enclose open-air classrooms. Gang explains: "We wanted to do a pavilion that didn't have any columns in it and that was a way into the project. There was an idea about a building shell, but then there was also an exploration of a material, which was wood—laminated wood beams that are bent in two directions, almost like you could bend furniture, so in that case we were researching bolt-building and furniture-making and those kind of techniques, as well as new digital techniques for creating laminated members. So there were a lot of different things going on simultaneously."
Studio Gang completed the design for the Ford Calumet Environmental Center in 2008. The Calumet region, which is southeast of Chicago, was a center for manufacturing throughout the 20th century, and the landscape is now a mix of the natural and the industrial. Gang compares the building to a bird's nest because it is designed to incorporate salvaged material from the post-industrial site: "In Ford Calumet, we had to create a design where different kinds of columns could be used, depending on what's available; the building would have to work with a steel tube, or a Y flange, or a solid steel member. It was a very unusual process."