Who Is That Masked Man?
The wildly popular new Google tool that lets you wear a virtual mask—or hat or tiara—while you video-chat.
A 2011 Kickstarter project titled "Teleportraiture" hinted at this dynamic. Artist Janet Bruesselbach proposed to paint portraits of people via video chat. She theorized that the results would be different from those achieved in a traditional, live portrait sitting. "In video chat, interaction is very self-aware," she wrote. "You find yourself having to alter your face from the way people look at computers to how they look at people. … This toggling between performing and concentrating means that, more often than not, the absent, concentrating expression of the computer user will be depicted." (Click here and scroll down to see examples of her work.)
Where will Google Effects go next? So far, the effects at our disposal remain a bit limited. Clown hair, sunglasses, Dr. Seuss hat, and such. According to Google, the three most popular effects are a crown, a halo, and a pair of devil horns—which suggests that chatters are attempting to project value-laden notions of themselves. (I'm the king, I'm an angel, I'm mischievous.) A couple of other effects suggest further strides toward emotional signaling: A scatter of hearts that hovers above your head manages to project dopey affection, while a pair of upturned eyebrows accompanied by a giant, floating question mark lend the user a puzzled countenance. I'm intrigued by the idea of conveying more complex feelings with these effects, as adjuncts to my own facial expressions or even, in a pinch, as replacements.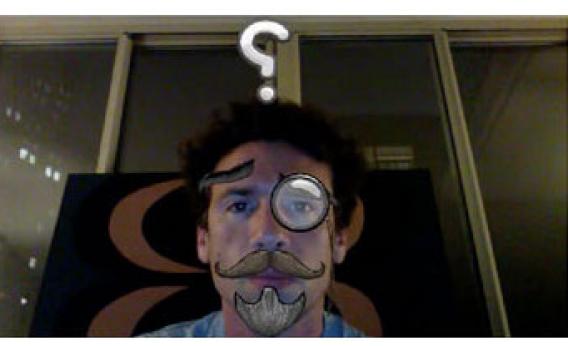 Of course, as always, the Japanese are way ahead of us when it comes to the machine-aided lifestyle. When I was at Comic-Con last month, I attended the launch party for Necomimi cat ears. These are robot ears on a headband, which—interpreting electrical signals sent from an earlobe clip and a forehead sensor—purport to communicate our internal moods via furry ear disposition. You're excited? The ears perk up. You calm down? The ears sink and settle. As the website enthuses: "People think that our bodies have limitations, but just imagine if we had organs that don't exist, and could control that new body?"
I got a freebie pair of these ears and, while I sort of enjoyed having new, twitchy appendages jutting out from my head, I wasn't convinced the ear actions were closely corresponding to my nuanced emotional states. (Can ears signal regret? Schadenfreude? An intense need to pee?) Certainly my experience was nowhere near as awesome, or occasionally wistful, as that of the Japanese girl in this amazing promotional video:
Perhaps in the end Google Effects won't just get more sophisticated but will move beyond video chats and bubble out into the real world. Then we'll all start donning devil horns and floating question marks at cocktail parties. Could be socially helpful. Now, if you'll excuse me, I need to go infiltrate that clique in the corner with the giant marijuana leaves bouncing from their headbands.