Spinning a Narrative
Peloton is SoulCycle's latest competitor, and it wants to get inside your house.
The recently opened Peloton Cycle in Manhattan's Chelsea neighborhood looks a lot like other spinning studios. At the front of the room is a stage with a single bike where the instructor sits, while the walls on all sides sink into shadows. The setup leads to a natural seating hierarchy, with the most confident and fit spinners claiming spots toward the front and center, and the new and inexperienced ones receding into the darkness in back—and with good reason. The closer you sit to the front at Peloton—which takes its name from the main pack of cyclists in a race—the more likely you are to be captured on film and streamed out to other Peloton riders around the globe.
I arrived at Peloton's gleaming new facility one morning late in April, just days before the company welcomed the public with its grand opening. The front boasts a spacious lounge and coffee shop, and the showers are lined with fragrant "gluten-free" shampoos and conditioners. (Do we need to fear gluten in our shampoos? Probably not.) Classes start at $30 a pop, but Peloton's real investment—a basement room with nearly $1 million in audio and video streaming equipment—will never be seen by most of the riders who cycle through.
To say X is the Netflix of Y has become a tired metaphor, but Peloton quite literally aims to be the Netflix of exercise. Whereas Flywheel, SoulCycle, and the like sell classes à la carte or in discounted packages, Peloton wants its customers to invest in one of its $1,995 custom-made, video-enabled bikes, and then pay $39 a month to access live-streamed footage of workouts plus a library of old sessions. The vision is to provide, through video streams, the energy and excitement of an in-person class with the convenience of never having to leave your home. "We don't really have plans to open a bunch of studios, and we're distinctly not competing against Flywheel or SoulCycle," says John Foley, Peloton's founder and chief executive and the former president of e-commerce for Barnes & Noble. "The more successful they are, the better for our business, because we're really competing against other at-home fitness products that you could put in your basement or home gym."
Peloton trains its cameras on the front of the studio to focus mainly on the instructor, so I wasted no time in claiming a bike near the back for my spinning session. The studio lights dimmed around me, but remained bright on our instructor, Steph, as she eased us in to the pulsating beat of "Plätscher." Over the next hour, we sat back in our saddles and forward on our handlebars, and back and forward in a sweaty trance to the throbbing electronica. We were the peloton, flying in formation; the riders tuned in at home were chasing our pack. All the while, video cameras traced the action from the surrounding walls and a track in the ceiling.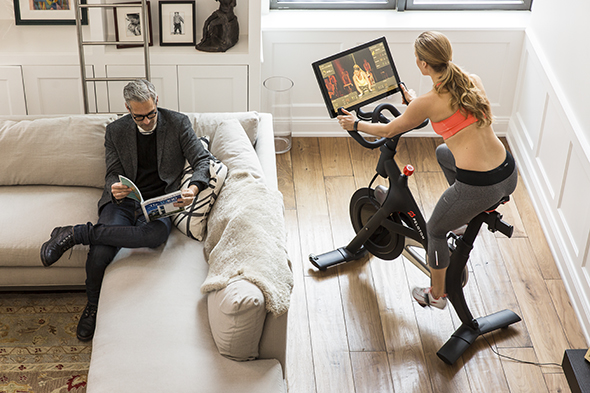 In the lobby of Peloton's studio, one wall bears a large, grayscale world map, flecked here and there with small orange dots that show where the bikes have shipped. Most are concentrated in the American Northeast, but there are a few elsewhere in the U.S., in Western Europe, and in East Asia. Peloton, which closed a $10.5 million funding round three weeks ago, previously raised over $300,000 to build and market its bikes through a campaign on Kickstarter. The company has sold about 1,100 machines since they hit the market in November, and Foley says its "distributed technology" model could unfold into a billion-dollar business.
Foley is candid about Peloton's target audience: wealthy, middle-aged couples. He recognizes that most people don't have $1,995 to drop on a custom-made stationary bike plus a monthly streaming subscription, but he thinks well-to-do families will regard the Peloton bike as a worthy addition to their households. True cycling fanatics might even find the upfront cost a good investment in the long run: If you spin every day, purchasing Peloton's bike plus a monthly subscription would become cheaper than SoulCycle sessions in a little less than two and a half months. Of course, most gym memberships would be cheaper than either of those options, but we're talking about the high-end consumer.
It's certainly possible to believe that the Peloton model of convenience and quality will strike a chord with wealthy spinners. What's more questionable is the company's assumption that, as it builds a comprehensive library of spinning classes—so comprehensive that you can search by instructor, by workout type, even by language—people will continue shelling out $39 a month to access live content. When I mention this to Foley, he seems unconcerned. "In the same way that cable isn't something where you buy a bunch of TV shows, we're trying to keep the content new," he says. "Every day it's fresh. Every day it's relevant."
Perhaps. But people subscribe to cable to watch a favorite sports team or keep up on the lives of characters they care about. You pay for HBO because you need to know who got a knife through the face this week on Game of Thrones—the subscription is only as valuable as the stories it tells. So far, Peloton isn't spinning anything close to a narrative. But it has time to work on that.