You're Investing Like an Idiot
Three sites that help you avoid stupid money-management mistakes.
Betterment. Fees begin at 0.35 percent of your assets; as low as 0.15 percent with a minimum of $100,000 invested.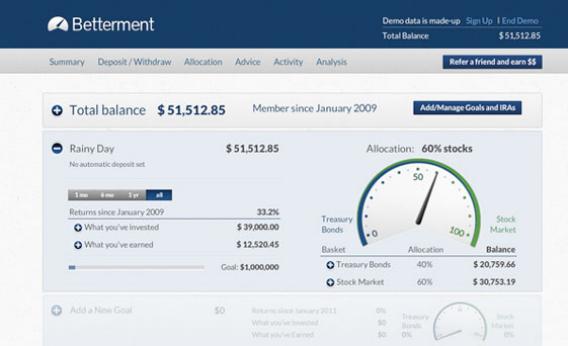 This site launched a year ago with the promise of making investing easier, and it has delivered on that goal. Betterment is the easiest investment site you'll ever use. To start, just sign up and transfer money into the site. Then, all you do is select one lever—the percentage of your money you'd like invested in stocks versus bonds. That's it: Betterment will take care of diversifying and rebalancing your money. When you add funds into the account, Betterment makes the appropriate trades to keep your account in balance. It all happens in the background, automatically, without you having to lift a finger.
Jonathan Stein, Betterment's CEO, says the site's simplicity is meant to reduce anxieties about investing. "We want to help people actually do something with their money—get over the inertia that paralyzes them from taking action," he told me a year ago, just after the site launched. At that time, I resisted recommending Betterment because its fee structure seemed too high—it was charging a fee of up to 0.9 percent of your assets, not including the underlying fees for ETFs. (Felix Salmon called it "overpriced simplicity.") In February, though, Betterment radically lowered its prices. Now, if you sign up for an automatic monthly transfer of money from your bank account into Betterment, you'll pay 0.35 percent of assets. The fee goes down to 0.25 percent with $10,000 invested, and 0.15 percent with $100,000.
For people with not that much money and no extra time, Betterment is hard to beat. The one problem is that, in order to keep things simple, the site doesn't put your money anywhere beyond stocks or Treasury bonds. If you're looking to invest for the long term, you should probably have some of your assets in real estate, commodities, and other kinds of bonds, too.
Personal Capital. Investment management fees start at 0.95 percent of assets, with a $100,000 minimum investment. Fees go as low as 0.75 percent for accounts of $5 million or more.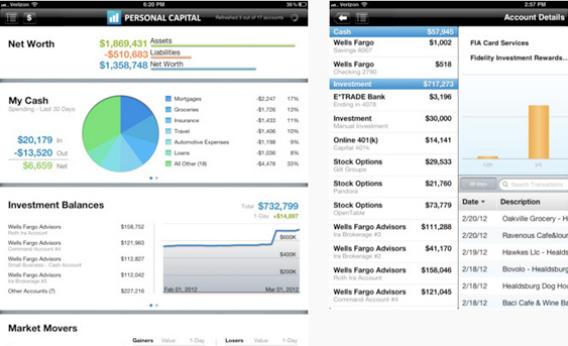 "The biggest problem that most affluent Americans face in their financial lives is fragmentation—they're not in control of their money, they lack the ability to see and think holistically about their assets," says Bill Harris, a legend in the financial tech world who formerly served as CEO of both Intuit and PayPal.
To solve that problem, Harris' company has created two products: First, there's a free "dashboard" that connects to all of your investment accounts to show you just where your money is and what it's doing. Second, the company offers an investment service designed for the "mass affluent"—people who are wealthy enough to need help sorting out their complicated financial lives, but not quite high-flying enough to afford Goldman Sachs. Harris says that this large market of tech-savvy, less-than-ultra-wealthy people—think of all the millionaires Facebook will soon mint—has been underserved by the financial industry.
If you're not a millionaire, I'd still recommend you sign up for Personal Capital's free site, which I've found quite helpful. If you've got your money in various places—a company 401(k), your spouse's government pension plan, an IRA you never look at anymore, a 529 college savings plan, and on and on—it can be impossible to manually deduce your asset allocation across all your accounts. Personal Capital produces a slate of useful and stylish graphs to track these allocations. In this regard, it's kind of like Mint, but with a greater emphasis on investments than banking.
If you are a millionaire, Personal Capital wants to sell you more than just these graphs. While the firm's investment fees are higher than what you'd pay for managing your money on your own with something like MarketRiders, the fees are far lower than what most other consultants charge for investment management. When you pay the fee, Personal Capital will assign you a wealth manager who'll look at your overall asset mix and recommend a strategy for your money. This is ideal for people who don't have the time to mess with a DIY service like MarketRiders—Personal Capital will make trades on your behalf, so you never have to worry that your account is languishing. It will also perform many advanced functions that you probably wouldn't do on your own, like "harvesting losses" to reduce your taxes. Harris says that by diligently rebalancing your account, by considering all of your financial assets, and by reducing your taxes, Personal Capital will make up for its fees in higher returns.
What's my verdict, after looking into these three sites? For most people, Betterment is best. Its price and simplicity make for a killer combination. Those who want more options but don't want high fees should choose MarketRiders. It's what I've been using for my own money for more than a year, and I've grown to love it. And if I win the lottery tomorrow? That's when I'm signing up for Personal Capital's consulting service.