Introducing MySlate
A personalized version of Slate, just for you.
You know how it is on the Web. There's so much information—and so much good stuff—that it can be hard to keep up. That's why we're introducing MySlate, a tool that lets you create your own personalized version of Slate, full of your favorite authors and stories. (Click here to get started.)
Can't bear to miss a gem from Dahlia Lithwick? You can follow her on MySlate and be notified whenever she writes a new piece. Are you a politics junkie who wants all of our election coverage as soon as it hits the screen? Follow our "Politics" section and you'll stay up to date. MySlate will also let you track your comments, so you can see if Farhad Manjoo—or any other Slate commenter—responds to or likes your post. And if you're too busy for the latest from Seth Stevenson, you can save it to read later with a single click. You'll find all of this—your custom mix of writers, sections, stories, and comments—on a personalized page you can bookmark to visit any time.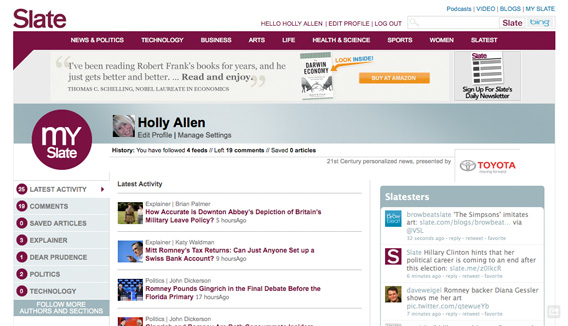 Once you've signed up for MySlate, you can choose how you want to be notified about new items—with an onsite notification, a daily newsletter, or both. You can also find MySlate in the maroon navigation bar at the top of every page—it's over there to the far right—and you'll see MySlate icons on every article page.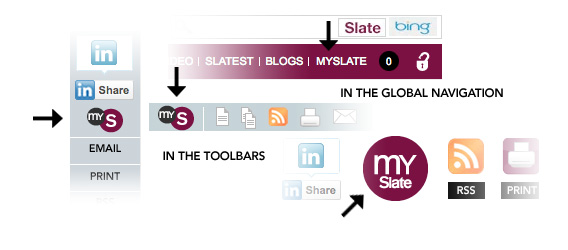 Your selections will remain completely private—no one will know about your love of that "Explainer" about whether smart people are ugly. You may also notice that we've added some new sections to our navigation bar alongside MySlate, including Blogs, the Slatest, and a Photos section that will highlight all of our galleries.
To learn about how MySlate works, take the video tour below. Or click here to give it a try.