A Year of NYC Foursquare Check-ins
Compressed into a mesmerizing and gorgeous 32-second video.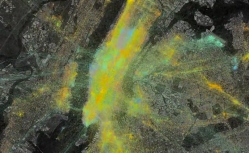 Check-ins are represented by dots, and each is colored according to the category of the place. For example, orange dots are stores, green dots are restaurants, and blue dots are nightclubs.
In the resulting animations, the cities appear like living things, inhaling and exhaling commuters and cooling from a orange-green to blue as their denizens gravitate to nightclubs. It's a strangely mesmerizing effect.
Advertisement

TODAY IN SLATE
Politics
Blacks Don't Have a Corporal Punishment Problem
Americans do. But when blacks exhibit the same behaviors as others, it becomes part of a greater black pathology.
Lifetime Didn't Think the Steubenville Rape Case Was Dramatic Enough
So they added a little self-immolation.