Do things better.
Nov. 2 2009 9:36 AM
Awkward Suggestions
Let's have fun with the Google search box.
Grammar also seems to make a difference: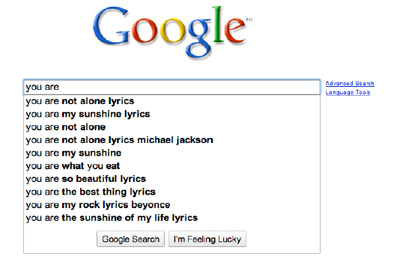 Perhaps "less intelligent" vs. "more intelligent" isn't the kindest or most accurate way to classify these queries. Some of the "more intelligent" queries are clearly high-schoolers desperately trying to get their homework done. And some of the "less intelligent" queries are no doubt very smart people distracting themselves with Google in an idle moment. But let's not allow nuance to get in the way of contest. Send me your best example of a "less intelligent" vs. a "more intelligent" query at michaelagger1@gmail.com. The winner will receive my undying gratitude and whatever Slate item in their size that I can find lying around the office. (No umbrellas left, sorry.) I'll announce the winner next week.