The Thirsty West: What Happens in Vegas Doesn't Stay in Vegas
Even Sin City's attempts to conserve water are wasteful.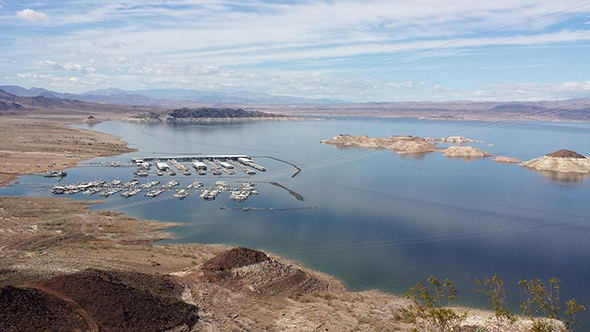 Perhaps the best evidence of this problem lies in stark juxtaposition across a stretch of desert surrounding Las Vegas.
Within the span of a single afternoon, it's possible to witness the past, present, and future of water issues in the West. We accomplished this by driving past the Hoover Dam, through Las Vegas, and on into California via Death Valley.
The Hoover Dam was the biggest civil engineering project in U.S. history, famously constructed in the midst of the Great Depression to tame the Colorado River, provide electricity, and create Lake Mead, the largest reservoir in the country. Now, climate change is starting to make it obsolete.
Lake Mead provides 90 percent of the water to the once-again booming city of Las Vegas, as well as indirectly to Phoenix, Tucson, Los Angeles, and agricultural areas downstream via diversions from the Colorado River. As the result of an ongoing multiyear drought, this giant lake is now approaching the lowest water levels since its construction.
When we saw it for the first time, we gasped.
The sight of so much water in the middle of a desert is in itself brain-twisting, but to see the bright-white "bathtub ring" marking the lake's historic high-water mark more than 100 feet above current levels, contrasted with boats merrily speeding around on the dwindling reservoir, was nearly too much to take. It was a sharp reminder that despite building dams, aqueducts, and other super-human feats, water in the desert is inherently temporary. We stayed only a few minutes.
The last time water levels were this low, in 2010, federal officials contemplated worst-case scenarios of forced cuts to Las Vegas—of both electricity and water. It didn't happen then, but the drought this time around is worse.
The lake is now expected to reach a new record low of 1,080 feet by April 2015 and to cross the first trigger for downstream water cutbacks at 1,075 feet shortly thereafter. By summer 2015, the water supply to Las Vegas itself could be affected if an $817 million tunnel project—currently months behind schedule—isn't yet completed. That project, conceived as a way to extend Lake Mead's usefulness in the face of climate change, is designed to suck water from the lake all the way to the very bottom—a point long after even the turbines of Hoover Dam would have to shut down, possibly for good.
The new tunnel can't be finished fast enough. As the magnitude of the current drought started to hit home, construction of an impromptu tunnel designed to buy the larger project a few months of time was approved late last year. Officials described the newest tunneling project as an "emergency meant to avoid an emergency."
It all has the feel of a patient on life support, with a spaghetti of IV lines coming out of both arms. The morbidly curious can follow the daily level of Lake Mead (down another 1.7 inches Monday), via the U.S. Bureau of Reclamation website. Which brings us to Las Vegas today.
A city built on sin can add another to its list: water.
The driest city in America still uses more water per capita than just about any other city in the country. This despite years of steady efficiency improvements and the resounding success of its "cash for grass" program that pays residents for each square foot of lawn they rip out and replace with rocks. Front lawns are now illegal in Las Vegas, yet verdant golf courses are still commonplace. About 70 percent of the city's nearly maxed-out water diversion from Lake Mead still goes to landscaping.
Don't get me wrong: The city has made major improvements in water efficiency, using about 40 percent less water per person over the past 25 years or so. The problem is the city's population has tripled over that same time, and total water usage is up (though down from its peak about a decade ago—an improvement due at least partially to the economic downturn). It's like a one-ton man patting himself on the back for losing 400 pounds. Great news, but there's still a long way to go.