The Sewing Machine Patent Wars
What a 19th-century episode tells us about smartphone litigation today.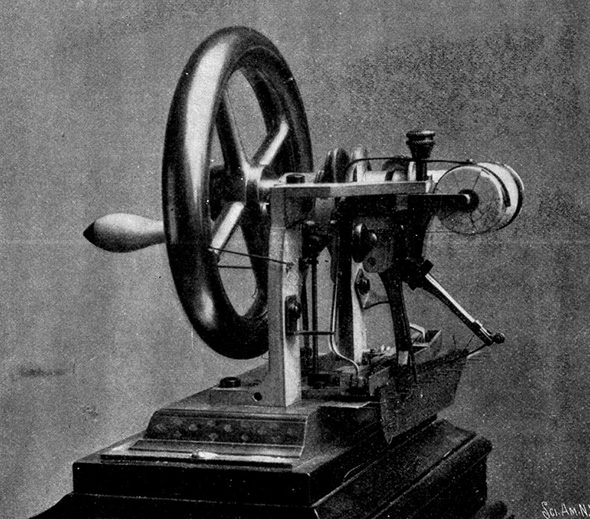 This article is part of Future Tense, a collaboration among Arizona State University, the New America Foundation, and Slate that explores the ways emerging technologies affect society, policy, and culture. On Dec. 9, 2013, Future Tense will host an event on patent reform in Washington, D.C. For more information and to RSVP, visit the New America website.
The "smartphone war" has roared back into the headlines. In late November, a jury raised the total amount of damages that Samsung owes Apple to more than $900 million for infringing Apple's patents on the iPhone. And a month earlier, the Rockstar consortium filed a patent infringement lawsuit against Google and some manufacturers of Android smartphones. As one commentator remarked, Rockstar's lawsuit, which is the first direct attack on the entire Android ecosystem, represents the "thermonuclear war" that Steve Jobs promised to bring to Google.
These recent legal skirmishes in the smartphone war have added fuel to the fire raging in the public policy debates about the patent system. Many claim that there has been an unprecedented "patent litigation explosion" and that the "patent system is broken."
But as I explained in recent testimony before the Senate, these allegations are mostly the byproduct of inflammatory rhetoric and unscientific and unreliable studies. In fact, the smartphone war is anything but unprecedented. Our patent system has long, and effectively, promoted innovation—and legal battles, sometimes substantial legal "wars," have always occurred along the way.
The first of many such patent wars was more than 150 years ago: the sewing machine war of the 1850s. Not only was it the very first patent war—it had all of the trappings of the following patent wars up through today's smartphone war. Although some may think the sewing machine is a mundane household product, it was a technological achievement on par with today's smartphone or tablet. The sewing machine was the result of numerous innovative contributions by different inventors, all of whom received patents on their particular inventions. The result: Each sewing machine produced, sold, and used by consumers infringed multiple patents, which spurred massive litigation by the patent-owners against manufacturers, retailers, and consumers alike.
In addition to the numerous overlapping patents covering each sewing machine, the sewing machine war also entailed the active selling and purchasing of patents, high-profile lawsuits, expensive litigation, lawsuits in multiple venues, complaints about overly broad or vague patents, and much more. Yet many commentators allege these elements of today's smartphone war are new, dangerous threats to innovation. All things old are indeed new again, which in this case is more truth than cliché.
Even the prominent role of "nonpracticing entities" (also known by the pejorative epithet "patent trolls") in patent litigation is not new. The sewing machine war was started by Elias Howe Jr., who didn't make sewing machines. At the time, Howe's business model was solely licensing his patent on the lockstitch to sewing machine manufacturers; one historian referred to Howe's "main occupation" in the early 1850s as "suing the infringers of his patent for royalties." In short, if Howe were alive today, people would call him a "patent troll," although it's more accurate to say that his business model was patent licensing. In fact, Howe's licensing and litigation practices were only possible because he had the financial backing of a business investor; again, as historical research has shown, this is something that has been embraced by patent licensing companies from the 19th century to today.