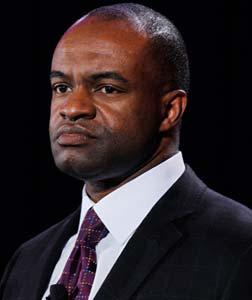 Thanks for putting a wrap on things, Nate. And thanks to everyone who followed along with our discussions before the season started, at the halfway point of the NFL season, and throughout the playoffs.
In lieu of pressing on with a 25-part dialogue on the scouting combine—Part 18: the 4.2 40-yard dash, myth or reality?—I'd like to open the floor for some offseason predictions. Commissioner Roger Goodell and NFLPA executive director DeMaurice Smith have started preliminary talks about the league's labor deal with a stated goal of reaching a new agreement before the collective bargaining agreement expires on March 4. If there's no deal by that date, Goodell has said, there will be no free agency. As Pro Football Talk's Mike Florio explains, that essentially means there will be a lockout if the sides don't shake hands by March 4.
The predictable columnists have written the predictable columns about how the league cannot afford a work stoppage. Of course, that's not literally true—NFL owners reportedly have $320 million saved up to tide them over until football returns. Still, it wouldn't look good for either the owners or players to cry poor after the Super Bowl scored record ratings and the league just signed a deal to keep Monday Night Football on ESPN for $2 billion a year.
While I'm not sanguine about the NBA's chances for labor peace, I have a hard time imagining that the NFL's owners and players won't reach an agreement. The pie is enormous enough and there is enough common ground—a desire to reduce rookie salaries, an interest in at least creating the perception of progress on player health issues—that both parties should be able to make a deal that they'll be able to spin as a victory.
Roger Goodell, good-hearted executive that he is, has vowed to take a salary of $1 in the event of a work stoppage. So, what do you think—will the commish have to live off of four quarters (and the millions he has in the bank) in 2011? My predictions: The 2011 season will kick off on time with the Packers playing the Saints in Lambeau Field. Despite evidence that fans don't want it, there will be an 18-game regular season starting in 2012. (The league will try to compensate for the extra wear and tear by adding two roster spots per team.) And after a review of James Harrison's illegal hit highlight reel, Goodell will retroactively suspend him for the 2010-11 season, forcing the Steelers to forfeit all of their victories.
What am I missing?
---