Roger Federer Serves Like a Girl
Science explains why female tennis players can serve as fast as men.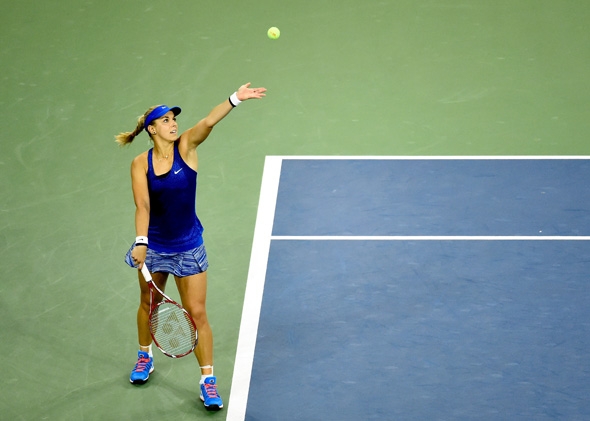 That's not just fast for a woman. Lisicki's record-setting shot—which broke Venus Williams' mark of 129 mph—is faster than any serve Roger Federer has hit in 2014, according to statistics provided to me by the Association of Tennis Professionals.
Lisicki, who lost in the third round of the U.S. Open to Maria Sharapova, stuck around long enough to blast the speediest serve of any woman at this year's U.S. Open (124 mph). That's just barely slower than the best effort in the Open of top men's seed Novak Djokovic (125 mph) and equal to or better than the fastest serves of at least 29 men, including seeded players Kei Nishikori, Richard Gasquet, David Ferrer, Guillermo García-López, and Mikhail Youzhny. (I say at least 29 men because not every player in the men's and women's singles draw played on a court equipped with a serve-measuring radar gun. Also, a necessary caveat: There has been some dispute about the accuracy of tennis radar gun measurements.)
Serena Williams' top serve at this year's Open (122 mph) has also outpaced that of Ferrer (119 mph), García-López (118 mph), and Youzhny (117 mph). And women can compete with the men on average first-serve speed as well. Serena Williams' average (108 mph) in her quarterfinal match against Flavia Pennetta was better than that of No. 12 men's seed Gasquet (104 mph) in his third-round loss to Gaël Monfils. And No. 10 seed Nishikori, a U.S. Open semifinalist, has an average first-serve speed of 108 mph—the same as Serena's highest—in three of his five matches thus far.
In a recent column on hard-throwing Little Leaguer Mo'ne Davis, the Washington Post's Sally Jenkins argued that cross-gender comparisons risk making the world's best female athletes look like failures. Indeed, it would be silly to argue that Lisicki and Serena Williams' fast-serving feats aren't all that impressive because certain men, like Milos Raonic and John Isner, can serve a whole lot faster. But what's fascinating about the tennis serve is that the gender gap is so narrow by comparison with other athletic endeavors. And sometimes, as in the cases of Sabine Lisicki and world No. 5 David Ferrer, the gender gap gets flipped completely.
In his excellent book The Sports Gene, David Epstein points out that there's long been speculation that women might catch up to men in athletic performance—for instance, a 1992 article in Nature asked, "Will Women Soon Outrun Men?" Given that women have only recently been encouraged to participate in sports, it was natural that elite female athletes would improve at a rapid clip. Epstein argues, however, that after the initial boom in women's sports, "the biological gap is expanding." In track and field events, he writes, "the top 10 men at any distance … are about 11 percent faster than the top ten women ... [and] in the long jump, women are 19 percent behind men. The smallest gap occurs in distance swimming races. In the 800-meter freestyle, top women are within 6 percent of top men."
And then there's tennis. The overlap between men's and women's serving speeds in the ball-and-racket sport isn't totally unique. In golf, the top three women on the LPGA tour in average driving distance—Lexi Thompson, Gerina Piller, and Brittany Lincicome—all outdrive the last man on the PGA Tour's driving distance scoreboard, Paul Goydos. But there is far more overlap with tennis serves, where someone like Lisicki can crank it faster than many of the world's best male players.
Golf and tennis have something in common: Players impart force to the ball by swinging a piece of equipment. Do the rackets explain the rocketing serves of top female pros? In a piece on ESPNW.com, the global tour manager for Wilson tells Johnette Howard that he thinks improved racket technology isn't a huge factor—that improved training and technique "are contributing to higher ball speeds more than a racket change has."
Or is it the balls? Forbes' Allen St. John claims that women are serving so well at the U.S. Open because they're playing with a different ball than the men are, one that flies more quickly. But the data don't support that conclusion—or at the very least don't support the idea that the ball explains everything. At Wimbledon, where men and women do play with the same ball, 20 women served 111 mph or faster. At the U.S. Open, 20 women have served 112 mph or faster. The fastest serve by a woman at Wimbledon in 2014 (Madison Keys' 123 mph strike) was just one mile per hour slower than the fastest serve by a woman at this year's U.S. Open. (David Ferrer's fastest serve at Wimbledon in 2014? 118 mph.) And Serena Williams' fastest average first-serve speed in any Wimbledon match in 2014 (106 mph) was just two miles per hour slower than her fastest average speed so far at the U.S. Open.