Messi and Neymar
Will the world's greatest player and Barcelona's new prodigy play well together?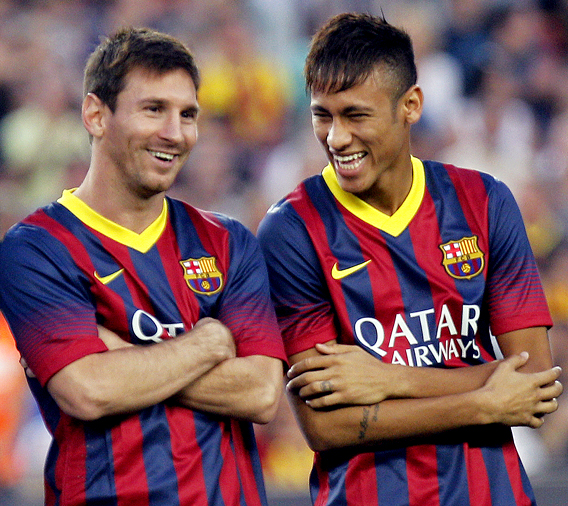 "Messi is the best player in the world and I am here to learn from him."—Neymar
Lesson No. 1: Know your place.
The biggest star in Brazilian football began on the bench at Barcelona. Neymar had to watch as his new team put six goals past Levante before halftime.
He will have paid close attention to Pedro, who played on the left of Barcelona's front three. A few days before, Neymar had said, "I really like Pedro a lot. He is capable of doing everything on the pitch." He may have come to take Pedro's place, but at least he's trying to be nice about it.
In the 12th minute, Lionel Messi twisted away from a defender and angled a pass into the path of Pedro, advancing into the penalty area from the left. Most forwards would have shot at goal. Pedro made as if to shoot, then clipped a first-time pass across the 6-yard box, where he knew Messi would be arriving to sweep it into the net.
That's how you play with Messi. Will Neymar, the 21-year-old prodigy, play this way? Can he? Should he?
"Lionel Messi is awesome. He's totally amazing. I don't know him all that well. We're very different people. He joined Barca when he was 13 years old. He's been brought up in that culture and doesn't have a problem with that school crap. Within the team, the play centres around him, which is entirely natural—he's brilliant."—Zlatan Ibrahimovic, I Am Zlatan
Zlatan Ibrahimovic has won 10 league titles in 12 seasons in four different countries. In his career, there has only been one place he didn't shine, and that was in the shadow of Lionel Messi.
Zlatan had already excelled as a central striker for Malmo, Ajax, Juventus, and Inter by the time he arrived at Barcelona in 2009. They bought him to offer something different from the players they already had, and he felt his difference more keenly than expected. Barcelona, he later wrote, "was a little like school, or some sort of institution ... none of the lads acted like superstars, which was strange. Messi, Xavi, Iniesta, the whole gang—they were like schoolboys. The best footballers in the world stood there with their heads bowed, and I didn't understand any of it."
Despite these misgivings, Zlatan started well at Barcelona, at least in his own opinion: "I was amazing. I dominated on the pitch." But then: "Messi started saying things. ... I was scoring more goals than him. He went up to [Barcelona manager Pep] Guardiola, and told him, 'I don't want to be on the right wing any more. I want to play in the centre.' "
Forced to the periphery by Messi, Zlatan boiled with resentment and eventually blew up at Guardiola. (Zlatan: "You haven't got any balls! You can go to hell!") He was sold to Milan at a loss of €40 million. His place was taken by Valencia's center-forward, the Spanish World Cup winner David Villa. Already familiar with many of Barcelona's players from the national team, Villa would surely adapt more easily to Barcelona's peculiar culture.
Villa had scored more than 250 goals as a central striker for Sporting Gijon, Zaragoza, Valencia, and Spain. He knew when he arrived at Barcelona that he would be playing as a wide attacker, with Messi in the middle, and he started well. While his scoring rate dipped from the rate of two goals every three games in his last two seasons at Valencia, to closer to two in five, he finished the season with league and Champions League medals and a sweet goal in the European final against Manchester United.
In his second season Villa broke his leg, and returned after the summer break in the tentative form of a footballer who needs to play his way back to fitness. After several substitute appearances, his first start came in September against Granada.
Barcelona had already missed several chances when the ball came to Villa on the left corner of the penalty area. He dribbled into the area with four touches and tried to find Messi with a side-footed pass that was blocked by the converging defenders. The ball ricocheted and Messi darted onto it, but his control let him down and it bounced behind for a goal kick.
Messi's scream of frustration probably had more to do with his own mistake, but for whatever reason, he then decided to take it out on Villa. "First time! First time!" he shouted. Villa looked nonplussed. "If I bring it to you ..." Messi furiously cut him off: "First time!" Villa yelled back: "I couldn't control it! Jesus! Are you serious? One, two touches, then I give it!" The blood had already drained from his face. It's not easy getting reamed out by the world's greatest player in front of more than 70,000 people. Even a World Cup winner shrinks before the scorn of a genius.
Villa played less and less for Barcelona as that last season wore on, and in the summer he joined Atletico Madrid. Last week, Atletico played Barcelona. Seven minutes in, Villa scored the opening goal and, ignoring the fashion for players to mark goals against their old club with solemn restraint, he celebrated wildly.
At 21, Neymar has already scored 161 goals for Santos, Brazil, and now Barcelona. It's a phenomenal number: twice as many as Romario had scored at the same age, and three times as many as the 21-year-old Cristiano Ronaldo.
Neymar, the prodigy, is also ahead of where Messi was at 21. He has played with successful teams, winning his state championship, his continental championship, and most recently the Confederations Cup with Brazil. He was named best individual player at that tournament, adding to a hoard of individual awards: top scorer in Brazil, Brazilian player of the year, twice South American player of the year, FIFA's Puskás Award for the best goal scored anywhere in the world in 2011, a finalist for that same award in 2012.
Neymar is just five years younger than Messi, but he belongs to a different era. It doesn't sound like a lot, but as the speed and volume of human communication increases toward infinity, half a decade now constitutes a massive generation gap. Neymar's Instagram account has 2.4 million followers and more than 1,600 posts. Online at least, Neymar likes to share. We can see him playing with his 2-year-old son, hanging out with teammates, posing with fellow members of the Nike family, barbecuing with Dani Alves, shivering in ice baths, modelling gear from sponsors. There are memes, action shots, inspirational sayings.
Most of all, there are selfies—so many selfies. Laughing, pouting, gurning, yelling, eyebrows up, eyebrows down, tongue in, tongue out. For every conceivable human emotion there exists somewhere a selfie of Neymar expressing it, wearing a combination of hat and shades you haven't seen him in before.
Neymar has two seemingly irreconcilable missions at Barcelona. First, he must fit into the world's most sophisticated team without disturbing its delicate ecosystem. Second, he must keep playing the kind of football that persuaded Barcelona to pay €57 million for him.
Blessed with preternatural balance, touch, and acceleration, Neymar is an entertainer who takes obvious joy in beating his man. He will stop the ball and invite the defender to take it off him, the way George Best used to do. Teammates don't always enjoy that, but crowds love it.
A coach might say that one of the most exciting things about him is how much room he still has for improvement. At 140 pounds, he is the lightest player on a Barcelona squad that is famously the shortest in Europe. Like a lot of players with great acceleration, he lacks stamina, and his tackling is a disgrace. At the Confederations Cup, he committed more fouls than any other player.
It's hard to stay mad at Neymar, though. Look at his 2011 Puskás Award goal, a 40-yard run and one-two past four men. Look at the way he beats the last defender with a trick the guy has probably never seen before. This is sheer superhero football, the kind kids dream about.
Messi plays the kind of football that only other masters can fully appreciate. It's not simply that he's technically brilliant, with bullish strength packed into a compact frame and instant, insectlike reactions. Perfection in possession is just the beginning. Messi is also the best player in the world during the 98 percent of the game when he doesn't have the ball.
That doesn't mean he runs a lot. His central role at Barcelona allows him to stay close to the box, so he rarely has to dart more than 20 meters at a time. While others chase, Messi lurks, saving his energy for the decisive moments.
No such moment ever catches him off guard. He's in a sustained flow state that nothing can disturb (except, perhaps, a teammate hesitating a little too long over a pass). In that trance he thinks too fast for his opponents to keep up. He doesn't respond to provocation, and he doesn't play to the crowd. He doesn't even dive.
Playing this way match after match, Messi has recalibrated the limits of the game. Five years ago, nobody would have believed any player could score 73 goals in a top-level season. It's a tally that belongs to the days of chain-smoking defenders and goalkeepers in flat caps.
Messi is the first to acknowledge how much of his success he owes to the team around him, which comprises several brilliant individuals working together to multiply his impact. The ball usually comes to him from Xavi or Andres Iniesta, the best creative midfielders in the game, while Dani Alves' tireless raids down the right give him a third major supply route.
Then there are the wingers. The classic winger gets the ball, runs at his man, and slings a cross into the box for the center-forward. Winger is traditionally a fun position, often associated with lazy glory-boys. Barcelona's conception of the winger is a little bit different.