The Best Tennis Player I Ever Saw
Catching up with 39-year-old pro Lisa Raymond, who destroyed me on the court when I was 12 and she was 9.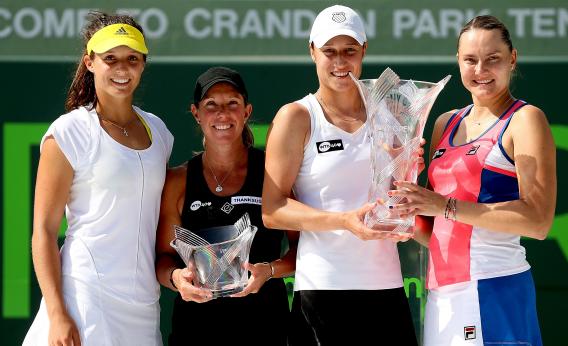 One hot summer day when I was 12, I stepped onto a clay tennis court to play a girl I'd never met before. I knew that her name was Lisa and that she was 9, and I could see that she was short. I figured that I'd gotten a lucky draw.
Here's what I remember about what came next: shot after topspin shot, deep, well placed. And even more than that, pure, calm determination. Lisa wasn't flashy, as a player or a person. She was polite to a fault, and even kind—not to be taken for granted in junior tennis—but she was also utterly focused. I've never seen athletic determination like that up close, before or since. She was a competitor getting a job done, and I was just a flighty girl, totally outclassed despite my three-year age advantage. I'd like to say I won a single game before my brief excuse to be out on the court with Lisa ended, but I'm not even sure of that.
Throughout my unstoried tennis career, I lost to plenty of players, but Lisa was the one I remembered. So it was gratifying, sometime in the mid-1990s, when I caught Lisa Raymond playing on TV. I've followed her on and off ever since, with a kind of weird one-sided pride. Not only did I spot a winner 30 years ago, I picked a woman who's had one of the longest careers in the game. Lisa waited to go pro until she turned 19, after playing for two years at the University of Florida. She won the NCAA singles title twice, and she was the first player ever to win all three Grand Slam college titles in one season. Staying in college meant that she wasn't out on the tour with other girls who were trying to follow Tracy Austin (and later Jennifer Capriati) into teenage celebrity. After she turned pro, Lisa spent 10 years ranked 31 or higher in singles—her peak was 15, in 1997—and she has won an astonishing 83 WTA titles, including 11 Grand Slams. But if you've never heard of her, that's because 79 of those titles and all 11 of the Grand Slams have come on the doubles court.
Lisa played for years with Australian Rennae Stubbs, and then some with another Aussie, Samantha Stosur. But last month, when Stosur got injured, she entered a tournament as a wild card with a new partner, Laura Robson—who at 19 is less than half Lisa's current age (39). They went on to beat the world's top-ranked doubles pair, Italians Sara Errani and Roberta Vinci, before losing in the final. After I saw the picture at the top of this page, in which Lisa is a head shorter, not to mention a generation older, than the other three Sony Open finalists, I decided I had to call her. Twenty years into her pro career, how has she outlasted just about every single one of her peers and how has she stayed so damn good? Here's an edited version of our conversation.
EMILY: OK, I want to hear it—what's the secret to your longevity?
LISA: You know, it's a combination of factors. I've been very fortunate with injuries, or the lack thereof. And I've only played doubles for the last eight to 10 years. And of course that's not as hard on the body. The matches are shorter and so are the points. You're not running down balls for three hours all over the court. It's almost as if I've had a second career since I stopped playing singles.
But you know, also, if I'd been pushed harder when I was very young, if I hadn't gone to college, if when I was younger I'd gone to tennis academies and tennis had been my life 24/7, 365 days of the year, I truly believe there is no way I'd be playing now. Because you just burn out. I'm not saying I wasn't pushed. I was at a tournament every weekend, and I played on the U.S. National Junior team, and I did well. But in comparison to a lot of the girls then, and all the girls and guys now, the amount of hours I practiced in a week—they're doing that in two days.
I look back, and there were times I wish I had more time with my friends, but my parents were nothing compared to these crazy tennis parents out there. I went to high school, to prom, to senior week, to college. Because of those choices, I had a better perspective, and I truly attribute a lot of my longevity to that—physical and also mental. You know, emotionally, it's not an easy life out here. When you're doing well, it's phenomenal. But when you're not, it is very tough.
LISA: The game for men and women is just so much more physical than it was 15 or 20 years ago. Girls and guys at 16 to 18 just are not strong enough, not developed. The rackets are so much more powerful, and the new strings, but also everyone's fitter. Nutrition is a huge part of the game now. It's a bigger and more powerful sport. It has changed so much. Players have teams with them now. When I was coming up, no one traveled with a trainer, a nutritionist, a physio. You put in your hours on the court, maybe a few in the gym—that was it. Now it's truly a team effort with the top players, and the physicality of the sport has made a huge difference. There won't be any more Capriatis and Martina Hingises. You won't see that anymore. The Williams sisters came along, and Monica Seles, and Mary Pierce, and they really started this powerful type of tennis that took the game to a new level.
EMILY: You're not big or tall. [Lisa is 5-foot-5.] Do you think you wouldn't be able to have the success you had in singles in the '90s if you were coming up now?
LISA: Good question. I was never someone who would overpower you, and I have a one-handed backhand, with slice. I was versatile, all over the court, moving in, setting up my volleys.
EMILY: Right—you know how to play at the net, which a lot of people don't, even on the tour.
LISA: Ha. I never had a huge serve, but I always placed it well. You're going to struggle to see smaller players these days. I truly believe you have to have a big shot: a big serve, a massive forehand, whatever it is. To make it into the top 10 to 15 in the world, you have to have something special like that. I think the bigger you are, the stronger, it will pay off. I don't know if we'll ever see another No. 1 at Justine Henin's height, with a one-handed backhand. [Henin is also 5-foot-5.]