Saying No to Tebow
He could've been traded anywhere. Why'd he have to land on my team?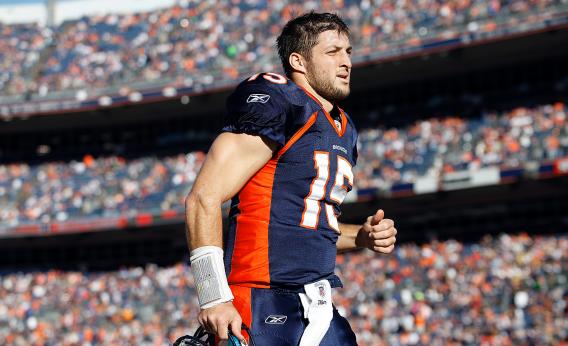 With the news that Tim Tebow is coming to New York, there's a message I'd like to deliver to the young quarterback on behalf of an army of long-suffering Jets fans: We don't want you here. Please, I'm begging you. We'll even take Vernon Gholston back—whatever you want. Just go away.
Admittedly, it's easy to make a case for this trade from the Jets' perspective. Tebow could be a born-again Brad Smith, the much-loved and highly effective Wildcat quarterback whom the Jets lost to the Bills in the summer of 2011. New York's new offensive coordinator Tony Sparano loves the Wildcat and ran it with great frequency in Miami. Send Tebow in as an occasional passing running back / running quarterback and the Jets would gain a new wrinkle to help offset the downfield passing struggles of Mark Sanchez. Plus, this is costing the Jets nothing more than a few late-round draft picks. And consider the intangibles: Tebow is great in the locker room! He's a winner! This could be the perfect tonic for a team looking to re-calibrate after an underachieving 8-8 season.
Let me now demolish that straw man. The idea that Tebow will be limited to the Jets' Wildcat ghetto seems preposterous given what happened during the 2011 season. Thanks to those miracle comebacks in Denver—which led the "overachieving" Broncos to an 8-8 record, the same as the "underachieving" Jets—Tebow now believes he should start in the NFL even if nine-tenths of the professional football world sees it otherwise. The under-appreciated one will exude humility at the start of the season, but imagine what will happen when Sanchez has a bad game or three. The same New York Post columnists who said early this week that the Jets should avoid Tebow like a pick in the red zone will be clamoring for the miracle worker to get his shot. That's how it goes in New York.
But Tebow shouldn't get his shot. We already know that he's worse than Mark Sanchez. As a passer, Tebow makes Sanchez look like Drew Brees, or maybe Chad Pennington. When Sanchez struggles, are Rex Ryan and Tony Sparano going to install the Tebow-led, Broncos-style offense that left Denver sputtering aimlessly in 2011?
Tebow's arrival also has to be unnerving for Sanchez, who has seen his image transform from golden boy up-and-comer to shaky interception machine. Though Sanchez's flagging confidence got a boost recently when the Jets signed him to a $40 million extension, trading for Tebow will put the butterflies back in his stomach. There's a good argument that Sanchez needs to be pushed, having been backed up in recent years by the NFL's version of petrified wood, "cagey veteran" Mark Brunell. But if you want to push him, sign a real quarterback like Kyle Orton. Bringing in Tebow is the worst of all possible worlds: It will annoy Sanchez and it won't make the Jets any better under center. .
Now, let's get to the intangibles. The story goes that the Jets had a divided locker room last season and that Ryan lost the team by making me-first Santonio Holmes the team captain. For the Jets to turn things around, they need to dump the bad apples and get a few "good locker room guys." And who's nicer than Tim Tebow?
That's all BS, of course. The divided locker room story is the hoariest media narrative there is, a tale that crops up at the end of so many failed seasons. Team discord is always more a symptom than a cause of a losing record. A couple of weeks ago, Sanchez and Holmes reportedly had dinner and buried (the mostly media-created) hatchet. Holmes may get frustrated with his young quarterback's tunnel vision, and he may not be a paragon of leadership, but he's a gamer who's been to the mountaintop—someone Jet fans loved when he carried them to multiple fourth-quarter wins in 2010. His airplane celebrations are incredibly irritating when the Jets are losing. When the team is winning, they're spectacular monuments to the team's wondrous success.
Now, what's something that could really, truly divide this team? I'd nominate the acquisition of the most-polarizing athlete in professional sports. On his best days, Rex Ryan's bluster is a useful distraction, allowing the players to drift into the shadows as their blabbermouth of a coach gets all the heat. By trading for Tebow, Ryan and general manager Mike Tannenbaum have added fix or six more rings to the media circus that's already Barnum-and-Bailey-ing outside the Jets' locker room. All that extra tabloid coverage will be spiffy, but if given the choice, I'd prefer five or six Super Bowl rings.
The one guy who's making sense in this mess is Antonio Cromartie, the Jets cornerback who tweeted "We don't need Tebow" in advance of the trade. As the wise Cromartie says, if all the team wants is a guy to run the Wildcat, then they can just hand the ball to the less famous, speedier Jeremy Kerley or Joe McKnight.
Instead, Jet fans will have to deal with Tebow Tebowing in a green uniform. This is a desperate move of a desperate franchise, one that's been flailing for 43 years in a relentlessly futile attempt to get back to the Super Bowl. The best possible outcome here is that the trade to be completely pointless—Tebow will be an irrelevant sideshow and the Jets will sink or swim on the merits of the dozens of other guys on the roster. In the worst case, Tebow will somehow seize the starting job and set the franchise back five years. Hey, as a Jet fan, at least I'm used to that sort of thing.