The Importance of the Incomplete Pass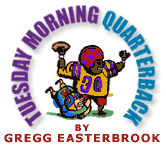 "DLM" suggests the "pre-owned" as a euphemism for used.
Reader "Statute Man" reports that Ohio agencies have begun to refer to prison staff as "providers of correction services." This carries, he notes, the inference that prisoners are consumers of correction services.
Tuesday Morning Quarterback nominates "detainee." We are not taking you prisoner; we are merely detainee-izing you. However, you may not become a leavee. TMQ is perfectly happy to have the al-Qaida thugs become consumers of correction services, but they should be called what they are: prisoners.
"Brett V" nominates "experimented," as in, "Prince Henry experimented with drugs," suggesting some objective, dispassionate exercise. So Prince, when will you publish the results of your experiment?
"Joe Baby" proposes that the Commission on Decommissioning, the organization charged with collecting weapons from Irish fanatics, has a lovely euphemism name.
Dave Curley nominates "involuntary attrition," the euphemism Cisco uses in lieu of "layoffs." When Neil Easterbrook, Official Brother of TMQ and a professor at Texas Christian University, was laid off from a job teaching in a public high school, he was handed a letter informing him that he had been "excessed."
The stylish TMQ cap is awarded to Nora Greer of Scottsdale, Ariz., for the euphemism "going over the rim." This is not something the Shadows and Vorlons did at the end of the Babylon 5 serial. Greer once worked in the Fred Harvey hotels on the Grand Canyon south rim. She reports that tourists who plummeted to their deaths from scenic edges of the Canyon were casually referred to by hotel staff as "going over the rim." The fate is more common than local promoters care to mention: Five tourists fell to their deaths from the south rim in 1998, for example. Presumably the hotels' main concern was whether the estates would still pay the room charges.
Sci-fi Note: TMQ always loved the alien name Vorlons in Babylon 5. It sounds like the secret ingredient in laundry detergent. These creatures' starcruisers should have brightly painted messages on the sides: "Now! With added Vorlon!"
This Week's Challenge … Pittsburgh ran another touch-football-style play in which Kordell Stewart walked away from center as if upset and about to call time, then as Baltimore relaxed, the ball was direct-snapped to Troy Edwards for a 23-yard run. Since Pittsburgh and St. Louis both run these plays, which may require Actor's Equity cards, a Super Bowl meeting might be fun.
But should quarterback acting plays be legal? Tuesday Morning Quarterback can't decide. So submit your arguments pro and con to The Fray. The best, determined on a completely arbitrary basis, may receive a stylish TMQ cap. Be sure to include your e-mail in the unlikely event your submission is honored.