The Importance of the Incomplete Pass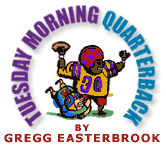 TMQ Instant Poll! Be sure to take the new Tuesday Morning Quarterback Instant Poll, below.
This Week's Star Trek Complaint: How come whenever something explodes in front of a Federation ship, bridge-crew characters are seen shielding their eyes from the glare? The bridge view screen isn't a window, after all, but a monitor. Presumably it would be set to filter any wavelength that harms the eye. It's not reassuring to think that 200 years from now, Homo sapiens will build ships that exceed light speed but will have forgotten how to make a dimmer switch.
Reader Haiku and Senryu: Submit yours via "The Fray." Note that two involve readers communicating in haiku, and they are haiku as beaches and tuna are nature. (Parcells is called the Tuna because he snarfs down tuna subs, which count as natural depending on the deli.)
Favre flops for Strahan.
Football gods dispense justice.
Rams—six picks, three scores.
—Steve Paquin

Time was, Wisconsin
Was famous for its six packs
Now it's for six picks.
—"Mr. Senryu"

'76 flag
sent Raiders to Super Bowl.
No tears for them now.
—Bob Saidi

Parcells in the sun?
Floridians, flee the beach!
Shark is circling.
—Scotty

Is this a result
of devolution? I thought
he was a Tuna.
—Robert Shlanta

Soon, very soon, will
Steve Spurrier wish he had
stayed put in Gainesville.
—Rich Mahady

Universe went splat?
Princeton, home of Institute
for "Advanced" Studies.
—"Yalie Dave"

Jeri Ryan's bod
or football on satellite?
Thank God for TiVo.
—Eric Akawie

To blitz is to err?
Philly's points allowed: second-
best in NFL.
—"Gang Green"

Jerry's a Raider.
TMQ cannot see why?
One king to a throne!
—"Cynical Pinnacle"
Wins Games, Not Friends: Marvin Lewis is a fabulous defensive mind, and now with the Ravens' defeat, free to negotiate for a head-coach slot. During the Baltimore-Pittsburgh game, CBS announcers expressed amazement that with all the head-coach openings, Lewis' name was not on any mentioner list, nor had any team contacted the Ravens for permission to speak with him.
This should not surprise anyone who knows recent history. Last year, as the Ravens drove toward the Super Bowl, Lewis was mentioned for several head-coaching posts. All teams with vacancies hired new coaches before the Super Bowl—when it was still verboten to negotiate with Lewis—except the Bills, where GM Tom Donahue, who loves Lewis, kept the job open specifically for him. Two days after the Super Bowl, Lewis was in Buffalo. There, he spent most of his interview complaining about the city, saying his wife didn't like the schools and expressing ambivalence about the job. Donahue thought it might be Super Bowl come-down, so he waited several days and flew to Baltimore himself to interview Lewis again. Again Lewis said he was ambivalent. Donahue moved on and hired the tastefully named Gregg Williams. Lewis' agent promptly accused Donahue of racism. And Donahue, whom Lewis' man denounced, was the only GM in all the league who had reached out to Lewis.
Given this, if you were an NFL GM needing a head coach, would you want to have anything to do with Marvin Lewis?
Sir Paul Update: OK, "She loves you/ yeah, yeah, yeah" wasn't exactly Coleridge, but on a topic of such moment, it would be nice if McCartney could do slightly better than, "Freedom, talkin' 'bout freedom."
Parcells in True Form: Last Tuesday when Bill Parcells was considered a lock for the Buccaneers job, TMQ listed the many incidences when this gentleman screwed various teams for his own ego's sake and warned Tampa fans, "Do not lament to the football gods if Parcells turns against you as well." Who would have thought it would only take a week! Now, led on by Parcells, Tampa is screwed out of Tony Dungy—the only winning coach in franchise history—and screwed out of this year's playoffs, as the Bucs lost in dispirit in Philadelphia knowing their owner was negotiating with the Tuna. 
Parcells may have jilted Tampa partly for the sheer ego gratification of feeling important enough to get a playoff coach fired, and then walk away. But Hall of Fame politics is the key. First Parcells negotiated with Tampa owner Malcolm Glazer and began contacting other coaches to form his staff. Then the Hall nominations finalists list came out, with Parcells the sole coaching candidate. But active wearers of headsets can't be selected; if Parcells took the Tampa job, his name would be withdrawn. Parcells wants in to Canton fast, for ego reasons. It would also raise his speaking fee.
Right after the Hall list came out, Parcells turned Tampa down and made another ridiculously insincere statement about how he would never return to coaching. His hope is that the Canton electors, meeting Super Bowl week, will choose him, and then he can take another coaching job and be lauded as the first Hall of Fame coach ever to walk the sidelines. Don't be shocked if he ends up in the Tampa job anyway. Swearing he would never coach again in order to get voted into Canton, then taking a job—"I had a change of heart," blah blah—would be classic Parcells since this would allow him to screw the Hall of Fame for his own ego's sake, too.