The Importance of the Incomplete Pass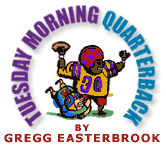 That ends the game-by-game review, except to pause for the Reader Senryu of the Week:
Oh brave Aeneas,
Favre's your stalwart Achates:
Throws you two TDs.
—AML
In Greek and Roman mythology, Achates was the devoted best friend of Aeneas. You knew that, right?
Stats of the Week: After New England took possession trailing by 13-3 with 12:29 remaining, for the balance of the game, the Patriots ran 38 plays for 166 yards while the Raiders ran 14 plays for 34 yards.
Stat No. 2: Baltimore had 226 yards rushing a week ago against Miami, then 22 yards against Pittsburgh. And honestly—can you name any Steeler defensive lineman?
Stat No. 3: Ravens long-snapper Dale Hellestrae has now played in more defeats, 161, than any gentleman in NFL history.
Stat No. 4: The Baltimore defense had given up 19 points in its previous five playoff games before surrendering 27 to Pittsburgh.
Stat No. 5: The St. Louis defense outscored the Green Bay offense. The Rams would have won had their offense not played.
You Can Trust Us Because We're Lying About Our Honesty: Nextel is saturating the airwaves with commercials featuring Dennis Franz, snarling tough-guy of NYPD Blue. The message of the commercials, in which Franz brags about himself and acts unpleasant to everyone he encounters, seems to be that nasty, self-centered people use Nextel. But what about each commercial's boast that Franz does not do ads? Should we be impressed that he has agreed to accept a large sum of money in return for lowering his standards?
Specifically, Franz snarls in one spot, "I don't do commercials. Because they are dishonest—they lie." Set aside the long-term wisdom of big companies and advertising agencies promoting the notion that big companies lie and commercials should not be believed. I don't do commercials. But obviously you do! You are snarling this in a commercial. Because they are dishonest—they lie. What's dishonest here? The claim that Franz doesn't do commercials. He is the one lying, and the purpose of his lie is to distract viewers from the evident fact that he will sell his reputation for personal profit. Let's hope the fee was hefty.
Cheerleader of the Week: TMQ was quite favorably impressed when, for the cold-weather Bucs at Eagles game, the Philadelphia cheer-babes wore skin-tight green unitards. Very classy fan-oriented move, plus the temperature had that frisky cold-weather effect on nipples. For this display of dedication and professionalism, Eagles pep squad members are cheerleaders of the week. Check out the abs-of-steel Julie, the priorities-in-order Wendy—whose favorite flick is Coyote Ugly,a movie about the zany, fun-filled lifestyle of bar maids—and getting-her-money's-worth fitness buff Sabrina. (Click here, then click Julie, Wendy, or Sabrina.) TMQ has walked the streets of Philadelphia and never seen the likes of these babes. They must fly them in.