The Importance of the Incomplete Pass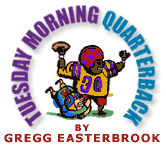 The Bears did blitz a lot. Two weeks ago, TMQ cautioned that Chicago ran up its league-lowest 12.7 points allowed mainly by blitzing the dickens out of second-echelon opponents. If the Bears "go blitz-wacky against first-rate teams in the playoffs, woe may betide," spoke the column. Chicago went blitz-wacky and surrendered 33 points.
And Bears fans, you wuz not robbed by the hit on Jim Miller—it was hard but clean. When there is a turnover, the QB becomes a safety, and safeties may be blocked. There are rules granting the quarterback special protection after he releases and when he hook-slides, but no special rule for when the QB becomes a defender. And there is certainly no rule against hard blocks, though several NFL offensive lines seem to believe there is. Quarterbacks are coached for this situation—on turnovers they are supposed to make the tackle if needed, or if not needed, get out of Dodge because they are fair game. Had Miller either run forward to join the action or backward away from it, he could not have been hit so hard. Instead he just stood there, exposing himself to being legally clocked.
Cautionary note: The Eagles have great defense, the great McNabb, pretty good OL, and receivers enhanced by McNabb's talent field. Oh, if they had a back! Considering Duce Staley's deteriorating body, the mystery of the offseason was why Philadelphia, poised for a Super Bowl run and with plenty of cap space, did not make a move for a back in free agency or the draft. It didn't even have to be an expensive move; imagine everything exactly the same except the Eagles now have Priest Holmes or Antowain Smith, both of whom they considered, then sent away. There will be rending of garments and gnashing of teeth by the Rocky statue if Philadelphia falls to St. Louis for want of a power back.
Best Offensive/Worst Defensive Simultaneously: Trailing 14-13, Philadelphia had second and goal at the Bears' 6. The Eagles split Duce Staley far right. Trick formations with runners split wide can be ignored if the runners can't catch. But Staley is an excellent receiver, having scored from this very formation a few weeks ago. The Bears seemed not to know that—don't they watch film?—and put no one out to cover Staley. Then, realizing the mistake, Chicago defenders began to mill around and point at each other, but no one thought to form his hands into a T and shout, "Timeout!" Touchdown to Staley, and the Eagles take the lead for good.
Philadelphia then wisely followed TMQ's immutable law, Take One Till the Fourth, by kicking to make it 20-14 rather than gambling for 21-14 and ending up 19-14.
Best Mind-Read: Leading 13-7, Philadelphia faced third and two on its 36. Everyone expects a run. Yet Chicago took out the rush line, pulling its two  Ticonderoga-class DTs, Ted Washington and Keith Traylor, to the sidelines and inserting a nickel defense. Sure enough, the Eagles passed, and McNabb looked so surprised by a nickel in a running situation that he was picked off by a Bear corner who returned it for six. Bears coaches must at least have watched film of what Philadelphia does on third and two.
Buck-Buck-Brawckkkkkkk No. 1.Trailing 26-17 with 5:24 remaining, Chicago faced fourth and seven on its 36. The Bears punted. There's no tomorrow, and no BCS rating on margin of defeat. You need two scores. Why are you punting? Why are you punting?
Oakland at New England
Yes, the Raiders wuz robbed. Yet seldom has a team petitioned the football gods for defeat more openly than the Raiders in the fourth quarter on Saturday night. When you leave the keys in the ignition and the car running, don't come cryin' that you got robbed.
Oakland had a three-point lead and possession on the Patriots' 45 with 3:55 remaining, second and 11. The Raiders were pushing back a tired New England front seven; they had rushed six times for 25 yards on the previous snaps and seemed to be mounting a classic clock-killer drive. Then, it's a pass! And not a gamble for a long gain to ice the game—a dinky, dunky short swing to lead-handed reserve FB Jon Ritchie, who rarely plays. Incompletion. I looked up and thought, I can't believe the clock is not moving. Third down? Incompletion.
There followed an exchanged of punts. New England ended up with the ball near midfield, 2:06 left and no timeouts, for the drive that included the unpleasant call and ended on the long tying field goal that barely cleared the crossbar with 35 seconds to play. If on the possession described above, the Raiders had simply plowed the ball into the line for no gain on second and third down, the Patriots would have run out of clock. Ye gods.
Why did Tom Brady catch fire late? In December 2000, New England played at Buffalo in similar driving-snow conditions. For the first three quarters, the P-Individuals ran their normal offense and scored only three points, same as Saturday night. When the fourth quarter arrived, they tossed out the game plan and began throwing on every snap—especially short crosses and short "drags," plays on which DBs had trouble keeping their footing. New England became unstoppable and won by a figgie in overtime.