I'm Pickin' Up Good Vibrations!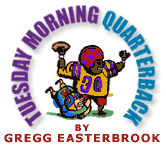 Real football is about to fold its tent and steal into the desert for that long, lonely offseason during which you are expected to do chores, attend cultural events, read the classics, and engage in spiritual growth—rather than sit drinking beer and watching ill-tempered gentlemen collide on the tube. But there is still hope: vibrating football. It's a game that can be played anytime, and its popularity is rising. The Super Bowl of the Electric Football League was held in Memphis, Tenn., last weekend at the Marriott East Hotel. Hundreds of vibrating football zealots gathered. Zealots of vibrating football, I mean—they were not themselves vibrating, in most cases.
About 10 years ago Mike Landsman, a former toy salesman, started Miggle Toys to manufacture updated versions of the vibrating football sets of baby boomers' youths—boards that shake teams of 11 plastic figurines. Landsman is now commissioner of the Electric Football League, which has caught on enough that you must form a conference and compete to enter your board in the annual playoffs, where aficionados dressed in zebra uniforms supervise games. (This  site shows the championship brackets and even allows you to calculate quarterback ratings for vibrating QB figurines.)
You can now buy players in the colors of any NFL team and many college teams, plus jersey numbers that allow you to simulate the squads of any era (the 1970s Cowboys, for example). You can buy a to-scale Jumbotron scoreboard and a deluxe lighted stadium for simulating night games. Best of all, you can buy magnetic-base sideline figures to decorate your set—or your desktop, where TMQ has some. There are zebras (including a ref in authentic white cap), cameramen, air-headed-looking reporters, distressed-looking coaches, scowling owners about to fire the coach figurines, and miniature cheerleaders in blond, brunette, and African-American. Naturally, TMQ went with the blond.
This year's ELF Super Bowl was won by Ron Bell, an assistant district attorney for New Orleans, who had won "the prestigious Miggle Trophy" two previous years. So they sit around in the New Orleans DA's office plotting vibrating football tactics: Well, it's better than devising new theories of the Kennedy assassination. Bell defeated Bruce Watts of Columbus, Ohio, by a final of 22-12.
Tuesday Morning Quarterback attempted to contact Bell for a post-game interview but was unable to reach him. That's just as well, as it creates license for this totally imaginary interview:
TMQ: Do you run the West Coast Offense™?
Bell: The players are only inches apart. All passes are short.
TMQ: Do you blitz a lot?
Bell: Everybody's coming on every down. Plastic figurines cannot back-pedal.
TMQ: How do you handle disciplinary problems, such as a plastic Randy Moss that only plays when it's in the mood?
Bell: When a player becomes a disciplinary problem, I cut him.
TMQ: Place him on waivers?
Bell: No, cut him in half with a pair of scissors. It gets the attention of the other players.
TMQ: Do you find yourself gawking at the cheerleader figurines? They may only be 4 centimeters high, but they are quite scantily attired by the standards of toys.
Bell: I prefer tall women.
TMQ: As a three-time ELF champion, what's your advice to the Rams and Patriots in the Super Bowl?
Bell: Clean your bases before the game. Be sure everyone's paint matches; this makes a good impression. Face all players in the right direction. When the receiver is open, hit him in the back with a piece of felt.
In other NFL news, it's sunset for the West Coast Offense™. Though half the league's teams now play the West Coast Offense™, note that only one Westie club made the championship round. Pittsburgh and the Patriots got where they were using a power game while the Rams employed the sui generis Spiral Arm Offense brought from Kurt Warner's homeworld on the opposite side of the galaxy. Philadelphia was the sole West Coast survivor. The West Coast approach isn't fresh anymore; defenses now know what to do when they see it. TMQ expects that in the next few years, West Coast Offense™ theory will blur into all other offenses and disappear.
New England at Pittsburgh
He signed a contract with the Devil and made a shocking arrangement with the picture of Dorian Gray. Kordell Stewart just forgot to read the fine print and ensure the arrangements did not expire before Feb. 3. Cover-your-eyes awful most of his career, this year Stewart played mature, fabulous football. Then on Sunday, poof! He turned back into Kordell Stewart.
Pittsburgh trails 24-17, faces third and eight at its 35 with three minutes left. There's a man open and—awful, horrible pass intercepted. The defense gets the ball back with just 39 seconds run off the clock, and now it's second and 10 near midfield, not yet to the two-minute warning, home-crowd energy, and—awful, horrible pass to a doubled receiver, intercepted, game over.