TMQ Sponsors the Fiasco Bowl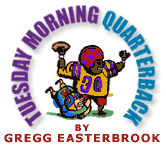 Pittsburgh now plays at Ketchup Field, Denver at Please Don't Buy From Invesco Stadium—the gloried, storied names Three Rivers and Mile High gone forever. The Patriots just turned out the lights on the last regular-season game at Foxboro; next year they will play at CMGi Field, which sounds like it's named after a blood protein. (Shares of CMGi, an Internet "operating and development" firm that does—good luck figuring out what it does—closed Friday at $1.56, so let's hope the Patriots got their licensing fee up front.) The Ravens play at PSINet Stadium, named for a tech company in bankruptcy court. Miami performs at Pro Player Stadium, named for a company that went kaput two years ago. The Rams play at the Dome at the Center of the Observable Universe. (The actual title, the Dome at America's Center, hypes a shopping mall.) The Niners play at 3Com Park, the wonderful name Candlestick having been sold for a mess of porridge to yet another tech firm that cannot keep up the payments. Detroit is about to abandon the gloriously known Silverdome—county officials refused to allow the team to practice there one day in November owing to an end-of-lease dispute—for a pitch named after a billionaire, William Ford. Remaining fields with real names, such as Texas Stadium and Oakland-Alameda County Stadium, are an endangered breed. As Chicago's lakefront coliseum gets torn down and rebuilt, TMQ feels sure it will end up named something like Sears Offers Discounts to Soldiers Field.
If names must be promotional, Tuesday Morning Quarterback continues to propose that all NFL venues be called Your Trademark Here Stadium. Rights could be auctioned on a weekly, monthly, or yearly basis, according to market forces and whatever messages big sponsors need to get out. This week the Patriots could have performed at The Fellowship of the Ring Now Playing Everywhere Stadium. The Packers could have played at Your Friendly Postal Service Needs Another Rate Increase Field. Dick Enberg would have said, "Welcome, everybody, to the Browns-Packers game here at Your Friendly Postal Service Needs Another Rate Increase." Next week the Cowboys could play at Some Enron Executives Were Honest Stadium. (Wait, the Astros already play there.) The Chargers could play at Everyone's Talking About the Incredibly Cleverly Titled New Book Tuesday Morning Quarterback Field.
Meanwhile, the costs, taxpayer subsidies, and promotional gimmicks of stadiums keep getting more outlandish. The original gloriously handsome Soldier Field was completed in 1924 for a price that equates to $98 million in current dollars; the soulless modern-architecture replacement is expected to cost $572 million. The Eagles will spend at least $506 million on their new stadium and are raising funds by selling "personal seat licenses" at up to $3,145 per seat. Bear in mind these are not tickets, just the right to buy a ticket.
Last summer the Eagles' Web site cheerfully declared, "The notion that the [personal seat license] plan has gone over poorly is incorrect," noting that when the Steelers offered PSLs for Ketchup Field, they "sold them out in one month with no resistance whatsoever." Resistance is futile! Eagles official Joe Banner declared that if a PSL costs $3,145 and the new stadium lasts 30 years, "that's really only an extra $100 per year for each seat." Econ majors, groan in unison: Since the PSL must be paid up front, "present value" makes the true cost considerably higher. Conservatively invested, $3,145 would yield $150 annually, with which you could pay the Eagles $100, keep $50, and still own the principal. But surely the Eagles know this; resistance is futile!
Perhaps I should sell Tuesday Morning Quarterback PSLs, granting the right to click on future columns. Granting the exclusive right to click from your own computer.
In Seattle, Seahawks owner Paul Allen, one of world history's richest men, is receiving $300 million in taxpayer funds for a new corporate-luxury-oriented coliseum. Why waste public money on health care or schools when it could go straight into the pockets of a billionaire, plus provide heated skyboxes for executives? In the Seattle deal, Allen puts up only about $130 million for a stadium he will in effect own. The rest is subsidy from people with far, far less money than he.
According to the Washington State Public Stadium Authority, in return for a $300 million investment of public capital, Allen pays $850,000 in annual rent. Essentially, this represents a loan at 0.28 percent interest. The Washington State Public Stadium Authority sure drove a hard bargain! Allen keeps nearly all stadium football revenue and becomes "sole master tenant" for the new facility, which means he keeps most revenues when the stadium and an adjoining exhibition center are used for non-football events. Oh, but he promises that 10 percent of the field's tickets will be "affordable"—meaning 90 percent of the public-funded seats offered for sale to the public will be overpriced. (That is, not "affordable.") Voters approved Allen's handout! Resistance is futile.
And then there is the new moving-roof venue in the works for the Arizona (CAUTION: MAY CONTAIN FOOTBALL-LIKE SUBSTANCE) Cardinals. Preparations fell into limbo after the Federal Aviation Administration declared the stadium would be "a hazard to air navigation" in its current planned location adjacent to Phoenix's Sky Harbor Airport. The Cardinals, perennially last in the league in attendance—while St. Louis, the town the Cardinals fled, supports its Rams very well—during the 2000 season played a home game before just 28,878, and this year boasted average turnout of 33,430. TMQ suggests the new, aviation-menacing Arizona field be christened Empty Stadium.
In other NFL news, is it just me, or the more the Oakland crowd dresses up, the worse their Raiders play? Of course it's great to see the mentally unbalanced being mainstreamed and allowed to attend Oakland games and all, but they seem to have convinced themselves that visiting teams will actually be afraid of fans wearing spikes made of cardboard covered with aluminum foil. Meanwhile the networks give us 25 disagreeable shots of Raiders fan in aluminum foil, and of neck veins bulging on perpetually scowling Jon "I Was A Teen-Aged Coach" Gruden, for every one view of the highly aesthetic Raiderettes who, after all, are supposed to be looked at.
Best Plays of the Week. Best Play of Extraterrestrial Origin: Kurt Warner pump-faked deep, then gave a wraparound handoff to Marshall Faulk on the delay draw for a 20-yard gain. Every week St. Louis has a clever new play design. And every week, fabulous blocking. With all the attention to Rams skill players and revamped defense, let's not forget that OL play is the fulcrum of all great teams.