TMQ Sponsors the Fiasco Bowl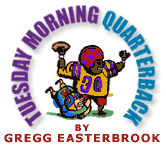 Kick returner tries
reversing field, goes backward:
should be called "relapse."
Reader Ian M. suggests that when a defensive player picks up a fumble or makes an interception, begins a crazed run and ends up fumbling back to the offense, this be called a "dumble."
Reader Parker suggests that when the quarterback trips over a lineman's foot and sacks himself, this be called a "sad sack."
Charles Monagan suggests that when a pass sails out of bounds and is caught by someone standing along the sidelines, this be called an "unpletion."
And this week's stylish TMQ cap goes to Adam Masin of New York City, greatest city in the world, for suggesting that when the hike flies over the head of a punter or shotgun quarterback, it be called a "snapfu."
This Week's Challenge: None. TMQ has no intention of reading the Fray on Christmas Day. The Challenge will resume next week.
Holiday Schedule: Next week, in keeping with no Monday night game and New Year's Day being on Tuesday, TMQ will post on Monday in the Slate table of contents, but the logo and assorted hoopla won't appear till Wednesday. Normal confusion will return the following week.
In a year that has reminded us what really matters in life-surely, not the NFL-Tuesday Morning Quarterback wishes a very happy holiday to all football enthusiasts, space aliens and mega-babes. Bells are ringing all across the local star cluster!