TMQ Sponsors the Fiasco Bowl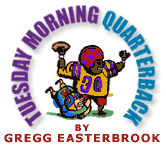 Bandwidth of the Week: This season, style demands that NFL players on the sidelines don baseball caps, often worn backward. Look closely next time you see a shot of a backward cap on an NFL star. TMQ has been doing this lately, and has noticed-the adjustable bands are always cinched halfway or even two-thirds over. Which is to say that NFL players, despite being enormous pumped-up gentlemen, have unusually small hat sizes. Think about it.
Cheerleader of the Week: The City of Tampa Bucs may be plodding on the field, but their cheer-babes unit is fast-must be that Florida beach effect. Check out the highly three-dimensional, serious-minded-looking Missy Sherrill (click here, then on "Individual Photos/Bios"), a dance teacher with a degree in child psychology, which means she could handle you. Also don't miss the sample photos from the Bucs cheerleaders swimsuit calendar, which, the team advertises, is available in Publix supermarkets around the Tampa area. Half-naked babe calendar sold in supermarkets? Must be that beach-and-sun-influenced libertine Florida attitude about thong two-pieces.
Ominous Star-Trek-esque News: The Wall Street Journal reports that one commercial application from the old Russian bioweapons program is a pistol-shaped device-now being tested on pigs-that administers vaccine without a needle. To TMQ, the photo of this gizmo looked disturbingly like a low-tech version of what Dr. McCoy used in the Captain Kirk episodes.
TMQ Insider Exclusive! Tuesday Morning Quarterback has learned on an exclusive basis that Chicago linebacker Brian Urlacher has tested positive for Ovaltine. Remember, this is a Tuesday Morning Quarterback exclusive.
Obscure College Score of the Week: Montana 13, Furman 6, Division 1-AA championship. Yohance Humphrey scored the deciding touchdown as the Grizzlies, slowly being reintroduced into football, ousted the Paladins. Located at a gorgeous Blue Ridge campus in Greenville, S.C., Furman boasts  that "most students participate in at least one experiential learning activity before they graduate." Furman also practices "engaged learning," an incredibly advanced concept that takes many paragraphs to explain, but apparently boils down to: Kids are expected to pay attention in class.
Bowl Note: This concludes this season's edition of Obscure College Scores, as the teams playing from here on out tend to be pretty well known. Be sure to tune in on Dec. 31 to TMQ's favorite holiday event, the Humanitarian Bowl, in which people smash into each other in the name of peace and understanding. You can buy commemorative 2001 Humanitarian Bowl T-shirts here.
If Tuesday Morning Quarterback sponsored a bowl game, it would be called the Fiasco Bowl.
Maybe this is how I could finally see the much-desired matchup of Indiana of Pennsylvania vs. Pittsburg of Kansas-invite them to the Fiasco Bowl at Your Trademark Here Stadium. Dave Oreck vacuum cleaners would be the corporate sponsor, genetically engineered corn chips the official snack, raspberry half-barley light stout bock pale ale the official drink, and TMQ would audition the cheerleaders personally.
New York Times Final-Score Score: Once again the Paper of Guesses goes 0-15 in its quixotic attempt to predict an exact final score, bringing the New York Times Final-Score Score to 0-217 this season and 0-477 since TMQ began tracking. We're getting perilously close to the mark of 500 guesses which is, TMQ supposed last year in an incredibly scientifically advanced analysis, the number of tries required to predict an exact NFL final score.
Reader Animadversion: Owing to the Visa card Lovin' You commercial, crafty stadium sound crews have gotten big laughs from crowds by actually playing Lovin' You. Reader "BJ" heard it recently during a first-down measurement at Cleveland Browns Stadium.