TMQ Sponsors the Fiasco Bowl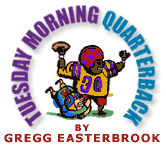 Female readers might hope to find under their trees the new women's cut authentic Marshall Faulk jersey, representing the leading edge of an NFL attempt to market team wear customized for double-XX chromosome individuals. All well and good, but when are the Rams going to offer jerseys cut for space aliens, huh? With extra tentacle openings, dazzle-trimmed fluke supports, and so on. Surely they would sell like throcmort cakes on Kurt Warner's homeworld.
Last-Minute Christmas Shopping Plug of the Week: Reader Joel Jacobsen writes,
I notice from the ad at the bottom of the column that Barnes & Noble classifies the incredibly cleverly titled book Tuesday Morning Quarterback under "sports and adventure." Well, which is it?
Joel-it's about sports! And it's an adventure! Football enthusiasts, space aliens, and mega-babes all across the local star cluster are reading Tuesday Morning Quarterback, which is new stuff, not a collection of past columns. The Washington Post recently called the Tuesday Morning Quarterback book, "Our favorite stocking stuffer this year." There's still time to make that last-minute purchase, or order it here.
Steve, the Theory Is, Challenge Calls That Go Against You: Niners coach Steve Mariucci challenged a call that resulted in San Francisco having first and goal at the Philadelphia one. Unlike two equally puzzling cases in which Bill Cowher challenged calls that gave his team first and goal at the one-both times the Steelers scored on the next play anyway-this puzzling challenge hurt the Niners. They had been moving crisply, averaging 8.4 yards per play on the possession, and with first and goal had an excellent chance for six. But Niners players had to stand around, stand around during a lengthy challenge review, then stand around, stand around for the two-minute warning. When festivities finally resumed, San Francisco had lost its rhythm, ran three shaggy-looking snaps, marched backward, and settled for the field goal.
Available Soon, Commemorative Edition Food-Drop Packets: If you're looking for a belated Eid ul-Fitr gift, don't we all need a little Urdu humor? Check out the Urdu humor section of Desistore.com. This Texas Web site sells all things Urdu, including pop and classical Ghazal CDs and traditional Pakistani competitive kites. No razor string for downing other kites though, you can only get that in Pakistan. Site slogan: "The Few/The Proud/The Pathans."
Stop Me Before I Blitz Again! Leading 7-0, the P-Men faced second and long at the Marine Mammals 23. It's a blitz! Six gentlemen cross the line, leaving neither fullback nor tight end covered by anyone. Tom Brady chooses FB Patrick Pass for the touchdown, and just like that Miami is in trouble.
Stop Me! No. 2: Game tied at 17 in the third, the Giants had the Hawks facing second and long. It's a blitz! Seven gentlemen cross the line, this tactic rarely seen because it rarely works. And it didn't here, instant touchdown pass and just like that the G-Men are in trouble.
Haiku of the Week: Don't submit any, please, because TMQ will not be lurking in the "Fray" on Christmas Day. In fact, hold all clever comments for next week.
What's in Your Window? The Macy's Christmas window displays in New York-greatest city in the world-this year are among the best ever, including an animatronic scene based on the trial of Kris Kringle in Miracle on 34th Street. But most American downtowns no longer have stores with holiday window displays, as shoppers abandon walkable downtowns-and the holiday walking experience of snowflakes and looking fellow members of humanity in the eye-for suburban malls where it's SUVs only and we can pretend the homeless do not exist. Roberta Brandes Gratz, author of the book The Living City, has written a telling article on this subject for the journal of the Michigan Land Use Institute, an important land-preservation organization; read her here.
Buck-Buck-Brawckkkkkkk: Trailing by 10 with four minutes left, Philadelphia faced fourth and 10 near midfield. Coaches sent in the punting unit. Sure, fourth and 10 is a long shot, but what did they have to lose? The Eagles got the ball back and, facing fourth and 11 with one minute left, went for it after it no longer mattered.