TMQ Sponsors the Fiasco Bowl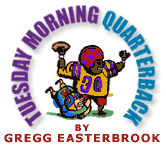 Stat No. 3: While John Carney, unwanted in the offseason before signing with New Orleans for the veteran minimum, is 26 for 29 on field goal attempts this year, Sebastian Janikowski, the league's highest-paid kicker, missed two fourth-quarter field goal attempts as the Raiders lost to the Flaming Thumbtacks by three.
Stat No. 4: In its last three home games,San Francisco has allowed a total of three points.
Stat No. 5: Ken Dilger of Indianapolis became the third tight end to throw a touchdown pass this season.
Stat No. 6: New York/A and New York/B have both won consecutive games on last-minute scoring drives.
Stat No. 7: San Diego is 5-10 despite having outscored its opponents.
Stat No. 8: RBs Terry Allen, Garrison Hearst, Priest Holmes, Stacey Mack, and Antowain Smith, all cut by their previous teams, rushed for a combined 610 yards.
Stat No. 9: Cincinnati has been shut out three times this season, and outscored 75-0 in its last three appearances at Baltimore.
Ridiculous K2 Survival Gear ? Victory: TMQ explained last year that coaches should be cold. In any cold-weather game, if one sideline wears balaclavas and McMurdo-base-style parkas, while the other wears varsity jackets and baseball caps, the football gods invariably confer victory upon the team of the coaches who shrug at the cold. Through last season, TMQ documented many instances of the immutable law, Cold Coaches = Victory and its corollary, Ridiculous K2 Survival Gear ? Victory.
This season, there have been few instances of sideline overdressing-either it's global warming or NFL coaches are reading Tuesday Morning Quarterback. But Sunday in Green Bay, as the snow swirled, the Cleveland Browns (Release 2.1) coaches came out as if dressed for the Amundsen-Scott expedition, while the Packers sideline wore varsity jackets and baseball caps. Packers by 23.
Beware This Joke: Packers rookie DB Bhawoh Jue had a big interception against the Browns. But TMQ is just waiting for him to make a mistake that costs Green Bay a game, solely in order to be able to use the subhead, "Blame the Jues!"
TMQ's Christmas List: TMQ is hoping his stocking will contain the adult alternative to Barbie, the 16-inch Victoria Silvstedt doll that is a Barbie-sized likeness of the recent Playboy Playmate of the Year. The doll comes in black lingerie, is anatomically correct and has tan lines! You can also dress the doll, but what would be the point of that? The Victoria Silvstedt mini-babe is $49.95 and advertised as a "limited edition"-limited, surely, to the number that can be sold.