Atsah Defeat Sange, 20-6, as McNabb Stars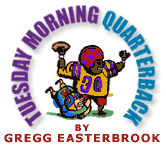 Adherents of the Cleveland Browns (Release 2.0) should quit griping about the turn-back-the-clock call that ended their hopes against Jax. Yes, it was bizarre, as if the game had fallen into a temporal anomaly or perhaps a chronosynclastic infindibulum. But the purpose of replay is to ensure that the right team wins, and the right team won. The Browns' fourth-down pass on the previous snap incontrovertibly had been incomplete. The ball indeed should have been awarded to the Jaguars, as it was following the time-travel intrusion.
Plus the home crowd is in no position to whine after acting like cut-rate Sal Mineo juvenile delinquents by hurling beer bottles onto the field. Though since it was Cleveland, you could be sure the bottles were empty. When executive Carmen Policy and owner Alfred Lerner made excuses for the fans after the game, the word "backbone" kept floating into TMQ's mind. As in, wouldn't it have been nice to see some from Cleveland management? Policy is something of a juvenile delinquent himself, flying the coop from San Francisco after lying to the league about Niner contracts. And pray tell what might Lerner have in his closet, that makes him sympathetic to lawbreakers?
(TMQ counterintuitive thought: The advent of the plastic beer bottle, a "branding" gimmick now standard in NFL stadiums, helped create Sunday's disgrace. Previously beer was sold in plastic cups, which are so insubstantial you couldn't thrown them all the way to the field if you tried.)
But if we're going to establish a new standard that officials can void downs to go back and alter previous plays, Tuesday Morning Quarterback sees no reason to stop there. Why not previous games or seasons? Next time the Jets take the field, zebras should wave their arms after the first snap and go back to alter the ridiculous 1998 play on which New York/B was awarded a last-second winning touchdown it clearly didn't deserve. Next time the Bills take the field, zebras should wave their arms and go back to alter the ridiculous 1998 sequence on which Buffalo lost after New England was awarded a last-second first-down conversion, though the league later admitted the Pats receiver had both feet out of bounds and was a yard shy of the marker. Correcting these two plays would have deprived the Jets of their bye in the 1998 playoffs, given Jax a bye, awarded Buffalo a home rather than road playoff game and Miami a road rather than home game. OK, then we'd have to replay the entire 1998 postseason to see if Denver still wins the Super Bowl. Time travel will make this possible!
And why stop at revisiting recent calls? Next time the Arizona Cardinals take the field, zebras should wave their arms, stop play, and have a look at the 1974 pass from Jim Hart to Mel Gray, grasped for a nanosecond in the end zone and ruled a touchdown, allowing the club then known as the St. Louis Cardinals to beat the club not yet known as the Chesapeake Watershed Region Indigenous Persons. And what about the 1966 Packers-Cowboys championship game, did Bart Starr really make it on that sneak? Maybe Fuzzy Thurston was offsides. Let's review!
In other NFL news, NBC has announced that during halftime of the Super Bowl, it will air a 20-minute special of the drek "reality" show Fear Factor—"reality shows" being the least real things on television—in which the contestants are six former Playboy Playmates of the Year. Swimsuits will surely be required for the so-far-undisclosed event. Maybe it will be a tanning-oil rubbing competition! The segment will start the moment the Super Bowl second quarter concludes, to lure viewers from Fox during the halftime festivities. (Or "festime halftivities," as Official TMQ Brother Frank Easterbrook is wont to remark.) This ratings-driven display of half-naked mega-babies is transparent, cynical exploitation. What channel did you say it will be on?
Best of the Week. Best Simulated Blitz: TMQ is generally anti-blitz, and readers have been asking how come the Steelers can be playing such fabulous defense when they blitz constantly? Answer: They don't. Pittsburgh uses the 3-4 alignment, last NFL team to favor this base defense. On most downs the Steelers bring three DLs plus a LB or DB. This looks like a blitz, but actually only four gentlemen are coming, the conventional number. True, against Tampa in October, when the Steelers amassed 10 sacks, they did send five repeatedly. (And the Bucs, who went into the game planning to "slide" protection right, inexplicably never noticed that all 10 sacks came from the left.) But the Tampa game was the exception that proves the rule. In the fourth quarter on Sunday night, the Steelers real-blitzed four times on 20 Ravens snaps, though Baltimore was behind and passing constantly. Real-blitzing 20 percent of the time is about the Pittsburgh standard, and fine even by TMQ.
When will announcers learn that it's not a blitz if a linebacker comes across but only four total are rushing? The otherwise admirable Mike Patrick of ESPN cries, "It's a blitz!" whenever he sees a linebacker shoot, regardless of the total rush. At one point in the Ravens-Steelers game he cried, "Blitz coming!" on a play on which Baltimore rushed three.
Best Feet: Steve Young, who favored the roll-out version of the West Coast offense, used to say he could tell whether he was playing well simply by watching his feet on game film; if he moved purposefully and efficiently, then the passing lanes would be there. Watching rookie QB Mike McMahon run a roll-out West Coast against the Vikings, TMQ was struck by how close to perfect his footwork was, rolling efficiently for a touchdown run and a big first down on the Lions' winning drive. Keep on eye on this gentleman's feet.
Best Simulated Bunch: Many teams are using "the bunch," a formation in which three receivers pack tightly into the slot; the theory is that as they cross in close quarters after the snap, they can pick defenders without getting the pick-play flag. Last night for its first TD, St. Louis lined up bunch left at the Saints 6. New Orleans defenders braced for complicated crossing moves. Instead Isaac Bruce simply ran a corner, a straight-line pattern to the left corner of the end zone; Saints DBs seemed so surprised that he wasn't doing anything fancy, they immediately lost him. Later Kurt Warner threw a touchdown to Marshall Faulk on the same pattern to the same corner.
Best Covert Action: Elvis Grbac scored from the 1 against the Steelers on a "secret" bootleg, a play on which the QB does not tell teammates he plans to keep the rock, so that blocks and run fakes are convincing. Check the tape: As Grbac waltzes in, lead blocker Sam Gash is standing in the end zone looking around frantically trying to figure out where the ball is.
Best Vengeance: Antowain Smith, cut by the Bills in June, beat them with a long touchdown run in the first Buffalo-New England game. In the rematch Sunday, Smith's 38-yard rush in overtime put the P-Men on the Bills 3, whence the winning figgie sailed. By the Hammer of Grapthar, he was avenged!
Worst of the Week. Worst Look: Against the Bears, City of Tampa consistently lined up CB Ronde Barber as an extra linebacker. The idea was to stuff the run while daring Chicago to throw, since the Bears go down the field less than any NFL club. This tactic backfired when Marty Booker caught a TD pass off the tangled-up-at-the-line Barber in the second quarter, starting the Chicago rout. Choking up didn't even stop the straight-ahead stuff; Chicago finished with 207 yards rushing.
Worst Line Handoff No. 1: Essential to offensive line play is the "handoff," in which blockers transfer assignments. With San Francisco leading 14-0 late in the half, Miami faced third and one at the Niners 45. San Francisco rushed the standard four gentlemen. But Miami's line botched its handoff, the left tackle turning inward to double-team the Niners DT rather than turning outward. This left no one blocking the San Francisco rusher from right end—who blew in unhindered to sack Jay Fiedler and end the drive.
Worst Line Handoff No. 2: Game scoreless, Bay of Green faced first down with the ball on its 1. Run called; at the point of attack the Packers' right tackle slanted in, doubling the Flaming Thumbtacks DT but leaving only a tight end to block Reggie Carter, a DE. Carter tossed the TE backward as if he were no more than a Harry Potter action figure, and a Tennessee teammate nailed Ahman Green for a safety.
Worst Gullibility. Late in the fourth, New York/B scored its winning touchdown against Cincinnati on a play-fake pass to an unknown reserve tight end on third and goal from the two. The Bengals had stopped the run on the previous two snaps, and here it was third down; there's no way any defense should fall for the play-fake in this situation.
Worst Rodomontade: As the gun sounded, Lions players doused coach Marty Mornhinweg with Gatorade. Detroit is 1-12. Owner Bill Ford celebrated wildly in the executive box. Detroit is 1-12. Note to Wall Street: If 1-12 is what Bill, who just became head of his family's car company, takes as cause for wild celebration, now is a good time to short Ford shares.
Stats of the Week: Dallas, Miami, and Tampa all had more punts than points.
Stat No. 2: RBs Skip Hicks, Priest Holmes, and Antowain Smith—all released in the offseason—ran for a combined 358 yards.
Stat No. 3: Kordell Stewart is now 7-1 as a starter against Baltimore.
Stat No. 4: Four of the last five Buffalo-New England games have gone into overtime; cumulative score Bills 48, Patriots 48.
Stat No. 5: San Francisco has recorded shutouts in two of its last three games. Miami is 9-4 despite having been shut out twice in the last month.
Stat No. 6: Including last January's playoff loss at Oakland, in two 2001 trips to the scenic Bay Area, the Marine Mammals have been outscored 48-0.
Stop Me Before I Blitz Again! Trailing by a point, Pittsburgh faced first and 15 on the Baltimore 25 at the two-minute warning of the first half. It's a blitz! Safety Rod Woodson rushes, red-hot Steelers WR Plaxico Burress is "iso" (single-covered) for the touchdown. Both of Burress' long catches in the second half came against the big-blitz, too.
Quote of the Week: "This is the best moment I've had in football." Lions WR Johnnie Morton after Detroit beat Minnesota. The Lions are 1-12.
Sports Reality TV: ESPN has started broadcasting tape of how the place-kickers did in pregame warm-ups.
Olé of the Week: An olé is when a kicker, finding himself the last man who can stop a breakaway return, stylishly leaps aside—and the matador's fans cry, "Olé!"—to avoid being hit. In the more sophisticated fake olé, the kicker throws himself on the ground to at least appear to be attempting a tackle. As Baltimore returner Jermaine Lewis broke free for the 62-yard scamper that almost put his team ahead in the fourth, Pittsburgh punter Josh Miller was the last man back. He got in front of Lewis, then faked-oléd to the safety of the ground. When Lewis swerved around the punter's prone form, a Steeler caught him from behind.
TMQ's Christmas List: I'll be asking Santa for the Harry Potter Invisibility Cloak Action Figure, featuring Harry wearing the cape he receives as his gift for his first Christmas at Hogwarts. Ummm, but, you can see the Harry Potter Invisibility Cloak Action Figure.
Plug of the Week: For the football enthusiast, space alien, or mega-babe on your holiday shopping list, don't forget the incredibly cleverly titled Tuesday Morning Quarterback, now in stores or you can buy it here. It's new stuff, not a collection of past columns. Included is the new haiku,
All walk back, are glum.
Football's most tedious play:
Offsides on a punt.
—TMQ, 2001
Web Sayonara of the Week: The medical site DrKoop.com is now out of business. One of the biggest blows to this site came when the New York Times ran a snarling front-page story suggesting Koop's enterprise was untrustworthy because it accepted advertising. Note: The still-in-business New York Times has a health Web site that accepts advertising.
Insider Politics: According to this article by Dayn Perry in the Washington Monthly, the nation's capital will soon again boast major-league baseball. Which raises the question, what should the team be named? Here are possibilities, assuming the club actually plays in Washington and does not have to be dubbed the "Chesapeake Watershed Region" Something or Other:
The Washington Power Brokers.
The Washington Monicas. If you buy a season ticket, one of the cheerleaders would—oh, never mind.
The Washington Special Interests. ("They didn't look very special out there today, Clint.")
If playing in a domed stadium, the Washington Insiders. During good years they could be known as the Powerful Insiders.
Cheerleader of the Week. Past columns gave visual proof why TMQ's heart pines for the highly aesthetic Dolphins, Broncos, Dallas, and Raiders babes. (Holiday procrastination tip: Check the Dolphins' "cheerleader of the week, in swimwear," Jaime, a highly three-dimensional college student with an interdisciplinary major in "criminal justice and ethnic studies. "After seeing the Rams pep squad flounce on an MNF game earlier in the year, a reader haikuized,
Boy, I'll tell you what—
St. Louis Rams cheerleaders
are pretty hot too.
—Byron DeBord
TMQ admires the straight-to-the-point nature of this verse and during that telecast did find himself admiring the Rams babes. These women can't be from Missouri—they must fly them in. Maybe it's the old Los Angeles connection. Close textual analysis of the Rams cheerleader site shows that nearly all are identified as "students," not "actress/model." Try clicking on Kelly Busken, a student in "human service management," or Rachel Wieda, an elementary-school teacher. How come teachers never looked like this when TMQ went to school? You can buy the Rams babes swimsuit calendar or trading cards here.
Put the Dogs Back: Visa is getting lots of mileage from its clever commercial in which a Pittsburgh-Tennessee game comes to a halt when the stadium PA plays the crooning Lovin' You because a hapless soundman was unable to purchase Who Let the Dogs Out with a personal check. But the football of the spot is all wrong. The PA begins to blast as the Steelers, the home team, approach the line. Stadium sound systems never blast when the home team has the ball; they make noise when the visitors are trying to call plays.
Reader Haiku: Submit yours via the "Fray." One concerns TMQ's item on that classic holiday CD, Rosemary Clooney's Jersey Turnpike Christmas. Another bounces off TMQ's contention that when Henry and Betty Rowan gave $100 million to have Glassboro State renamed Rowan University, they should have had it renamed Henry & Betty, à la William & Mary. (Reader Arthur Stock points out that Rowan's sports nickname is the Professors: A proposal to make it the Rowan Martins failed when no one under 40 got the joke.) A third concerns the highly aesthetically appealing elf-babe costumes recently worn by the Denver cheerleaders as a Christmas present to fans. And the haiku about the Kellogg-Briand Pact? I guess you'll just have to read every week.
You forgot Turnpike's
Lombardi rest stop? For shame!
Drop and give me 10.
—Tom Nawrocki

Robertson safety,
Robinson wide receiver:
egregious error.
—"mspaul"

Kellogg-Briand, bah!
No history event tops
the Diet of Worms.
—Mike

Henry & Betty?
For same sum, will Johns Hopkins
be Michaels Bloombergs?
—Scott

Bronc babes merry: cheer
in tight velvet Santa frocks.
Alas, change at half.
—Mike Iams

I don't even like
football; TMQ makes me
want to watch the sport.
—Brian Manning
Build a Fence Around Him:Owner/Menace-to-Western-Civilization Dan Snyder of the Chesapeake Watershed Region Indigenous Persons just bought a pricey manse in Potomac, Md., stronghold of Washington's horsy set. Synder has asked permission to seal off his property with a double barrier of 10-foot-high chain-link fence enclosing 8-foot stone walls. Fence politics are keen in Montgomery County, Md., which has the relevant jurisdiction. The county allows only 6-foot residential fences and strongly discourages walls, to maintain pleasing civic visuals and prevent the rich from barricading themselves for reasons of ego gratification. Ego gratification is precisely what the Owner/Menace-to-Western-Civilization has in mind. Snyder wants, visually, to extend the middle finger to his neighbors, suggesting he is so, so important he must live behind nuclear-power-plant-class security. Barbed wire would be just the ticket for the top of the 10-foot fence. Perhaps an alligator-stocked moat facing the street. Snyder's fortress manor will need a name. How about Tora Bora?
To justify his application for a variance, Snyder claims he needs 8-foot walls enclosed by 10-foot fences to keep out deer. What, elite deer commando units? Deer are as numerous as cell phones in the wooded parts of Maryland, and everyone else has adjusted without notable problems. Phrases like "deer density" have become common at public hearings. Biologists believe there are now more deer along the Appalachian range than when Europeans first arrived in North America: To think, Thoreau lamented that deer were extinct and future generations would never see one! (Check out the National Park Service's incredibly scientifically advanced Deer Management Simulator.)
But experience teaches that fortress architecture is not required to deter these less-than-Einsteinian ungulates. TMQ, who has the misfortune of living a few miles from Snyder, has deer wandering across his front lawn. Your writer solved the deer problem by erecting a county-spec 6-foot slat fence and obtaining the services of Geneva, Official Dog of TMQ. (A Chesapeake retriever, noble State Dog of Maryland.) Cutting up Irish Spring and placing the pieces around front flower-beds makes them deer-repellent, plus gives your azaleas that refreshing just-showered scent. Thus, TMQ advises Dan Snyder to get a dog. Then at least there would be someone who likes him.
Linguistics note: Perhaps, rather than a mansion, Snyder will have a compound. Why are the houses of people the United States needs to attack always "compounds"?
Accounting note: Does naming Geneva the Official Dog of TMQ make her tax-deductible?
Hidden Indicator Player: Could it be that the present woeful condition of the Dallas 'Girls represents karmic payback for the Herschel Walker trade? In 1989, Dallas sent the declining Walker, plus a 10th-round draft pick, to Minnesota for a net of three first-round draft choices, three second-round picks, one third-round pick, a sixth-round pick, and four players. (TMQ just loves that 10th-rounder thrown in by Dallas, Minnesota sure drove a hard bargain.) The Vikings went wonky, instantly dropping from a playoff team to also-ran, while the 'Boys, then actually 'Boys, used the picks to lay the foundation for a three-ring Super Bowl run.
Then came the Joey Galloway trade. Dallas surrendered two first-rounders and a huge fraction of its salary cap (the cap, which didn't exist in 1989, is today a reason big-trading has almost stopped) for the underachieving Galloway, who possesses the incredibly scientifically advanced-cloak-of-invisibility-like power to disappear for entire games. Galloway is averaging just three catches for 36 yards per game, and the 'Girls are 9-20 since he put on their colors. On Sunday, Galloway's former team, the Seahawks, pounded Dallas 29-3. The football gods chortled.
ObscureCollege Score of the Week: Mount Union 30, Bridgewater 27, Amos Alonzo Stagg Bowl. (Division III championship.) It was the sixth Division III crown for the Raiders, whose Chuck Moore won the Gagliardi Trophy, "sponsored by Jostens." Located in Alliance, Ohio, Mount Union offers a Student Bill of Rights that has 20 entries; James Madison was able to handle America's Bill of Rights in 10. Check this Mount Union right:
15. Students have the right to freedom from illegal search and seizure. However, this right of privacy carries with it the responsibility for students to conduct themselves within the general policies of the College. The College reserves the right to enter a student's college residence room for administrative, safety, and regulatory purposes. The College exercises this right only under specific circumstances. Authorized College representatives shall have the right of inspection within student rooms for the following purposes: to conduct routine housing and maintenance functions at reasonable hours, have reasonable grounds for believing the room is being used for an illegal purpose, and inspections in situations where the student's well-being appears to be threatened or in which a violation of College or civil regulations seems to have occurred. Students are expected to comply with College personnel seeking entry. Failure to admit authorized College personnel will result in disciplinary action.
Compare to the slightly more concise Madisonian wording:
The right of the people to be secure in their persons, houses, papers, and effects, against unreasonable searches and seizures, shall not be violated, and no warrants shall issue, but upon probable cause, supported by oath or affirmation, and particularly describing the place to be searched, and the persons or things to be seized.
Bonus Obscure Score: Furman 24, Georgia Southern 17, Division 1-AA semifinals. A fumble by Zzream Walden proved the key play as Southern's 39-game home winning streak was snapped. Located in Statesboro, Ga., Southern asserts licensing rights over these terms and items:
Georgia Southern University®
GSU™
GSU Eagles™
The Eagle Head Logo®
The Strutting Eagle®
The Stylized GSU mark®
Eagles in GSU logotype™
Offical [sic] University Seal®
Yes, that's clipped directly from the university's Web site; they must have fired English professors to divert funds to the licensing department. Anyway if you're about to tell someone, "I go to GSU," the school insists you say, "I go to GSU™." Tuesday Morning Quarterback expects that in the next Potter book, Harry Potter and the Enormous Tie-In Campaign of Doom, kids at Hogwarts will call, "Hey, Harry™!"
New York Times Final-Score Score: Once again the Paper of Record went 0-15 in its quixotic attempt to predict an exact final score, bringing the New York Times Final-Score Score to 0-202 this season and 0-462 since TMQ began tracking. There was rending of garments and gnashing of teeth on West 43rd Street, as it was: Times predicted, Detroit 26, Minnesota 24, and actual, Detroit 27, Minnesota 24.
Reader Animadversion: Many rose to the defense of the Grand Valley State Lakers, pointing out that Michigan contains almost as many lakes as Minnesota. Others objected to TMQ describing Michigan as the "neighbor" of Minnesota, though its gorgeous Upper Peninsula is awful darn close to the Minnesota border. Reader Joe Wingerter summed all points in an epic three-cantos haiku:
Minnesota is
Land of Lakes; but Michigan
is the Great LakesState.

U.P. shares border
with Minnesota—although
it's underwater.

Wisconsinites as
members of buffer state must
put up with them both.

—Joe Wingerter
Reed Crofoot noted that TMQ's link to a cheesecake shot of mega-babe Maria Cucinotta caused the host server to overload, flashing "The web site you are trying to access has exceeded its allocated data transfer" all last Tuesday. He laments in haiku,
TMQ raves up
Maria Cucinotta;
readers shatter site.
Brendan Getzell pointed out that Kurt Warner's walk-away-from-the-line fake on fourth down against the Niners, however clever-looking, should have drawn a flag because as part of the act, the space alien unbuckled his chin strap. They may allow that on your homeworld, but not here, buddy! NFL rules require that chin straps be buckled at the snap; an unbuckled strap is illegal procedure. Getzell further notes that the Niners defenders who turned away from the line just as the trick play began are thus not to blame—seeing Warner unbuckle, they assumed zebras would wave the play dead.
TMQ called the Denver play that appeared to be a double reverse but wasn't—it was an end-around followed by a reverse, meaning a single reverse—a "squamish," then asked readers if they caught the reference. Far more than is perhaps healthy did indeed, reader Patrick Davitt explaining in haiku,
"Squamish" reference—
a game in Mad magazine,
from the mid-'60s.
Specifically 43-Man Squamish, Mad's sport in which players wore swimmer's flippers on their feet and the official was the Probate Judge. Reader Lex Nerenberg called it "a deliciously absurd fictional game, maybe a precursor of the XFL." Reader John Gallup won TMQ's undying affection by saying, "I doubt you're old enough to remember that issue." Tim Lowell even found an archive of the game.
Last Week's Challenge … was to solve the problem of Redskins and Indians team names by proposing new, cool-sounding, sports-related words from actual American tribal languages such as Cherokee.
Several readers suggested part of the problem could be dodged by keeping the Chesapeake Watershed Region Indigenous Persons named the Washington Redskins, but changing their logo and imagery to that of the potato. One phrased this proposal in haiku:
Forget the Redskins:
Indigenous Persons should be
renamed for the spud.
—"CharleyA"
Another suggested that Redskins and Indians weren't the only problematic names:
Offensive team names
solved. But wait! Hapless "Bengals"—
Calcuttans would cringe.
—Tony P.
Reader Seth G. cautioned that in addition to being Mad'sridiculous game, Squamish is the name of a British Columbia tribal nation, whose school's sports teams call themselves the Squamish Indians. Hmmm.
Getting down to business, reader Tim Lowell suggested Dan Snyder's club be renamed the Washington Sange, which means Weasels in Lenape. "A portrait of Danny would adorn the helmets," Lowell proposes.
Reader "Lewsdarren" suggests any affected sports team could change its name to the Ohdroht, which means "kind of scary" in the Cayuga language. Now batting in the seventh, the Cleveland Ohdroht. That's got a ring to it! Better than Cleveland Spiders, the club's first name. Reader Aaron notes in haiku that Indians in Cleveland's case derived from old-time Indian star Lou Sockalexis:
Cleveland once Spiders.
Name honors Sockalexis.
Respect Lou, don't change.
The tastefully named Gregg Fanselau suggests Snyder's franchise become the Washington Cho Nnee, which is Apache for "large people." That "Nnee" spelling would likely mean no existing trademarks to infringe.
This week's stylish TMQ cap goes to Ameer Youssef of San Francisco, who proposed these possibilities:
MLB, the Cleveland Ho'Nehe. Wolves, in Cheyenne.
NFL, the Dallas Ah-Tad. 'Girls, in Navajo.
NHL, the New Jersey Chindi. Devils, in Navajo.
NBA, the Los Angeles Okotok. Rocks, in Blackfoot. (For the current Clippers.)
NFL, the Philadelphia Atsah. Eagles, in Navajo.
NHL, the Montreal Tkin. Ice, in Navajo.
Collegiate, the University of Illinois Iinii. Bison, in Blackfoot, and an incredibly cool word. Would relieve pressure on the Illini to abandon tribal mascots and symbolism, though as reader M. Serio notes, the state of Illinois is named after a here-before-Europeans nation.
NBA, the Los Angeles Dzeel. Strength, in Navajo. (For the current Lakers.)
NFL, the St. Louis Ne-Tah. Navajo for "fooled them."
This Week's Challenge. Responding to TMQ's proposal that a play that looks like a double reverse but isn't be called a squamish, reader Chopper proposed that when the quarterback fumbles without being hit while trying to scramble, it be called a "scrumble."
Can you propose a goofy-yet-apt name for a category of play? Submit via the Fray, and remember to include your e-mail address in the remote event your submission is arbitrarily chosen for a stylish TMQ cap.
Holiday Schedule Note. So that TMQ can spend the holidays with the elf-dressed Denver Broncos cheerleaders—and taking into account that Christmas and New Year's fall on Tuesday this year, with the Monday Night games moved to Saturday night temporarily—for the next two weeks Tuesday Morning Quarterback will post Monday, not Tuesday. Its logo will appear Wednesday, not Tuesday.
Got that? Pretty much the column will be available starting on Monday for the next two weeks. Normal confusing timing will then resume.