Oh Darling, Your Eyes Are Like Limpid Logos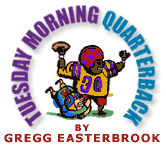 The NFL just fined Denver guard Dan Neil $53,000 for using illegal blocks, two weeks after fining teammate Matt Lepsis $15,000 for the same offense: Neil and Lepsis each broke an opponent's leg while cheating. People wonder why Denver has such an effective running game despite low-draft-choice RBs and undersized OLs. One reason is the Broncos' single-cut rule for RBs, described in a previous TMQ, which bans "look-Ma-I'm-dancing" running; this rule works so well it is a small mystery all other teams do not adopt it. But equally important is that Denver offensive linemen are coached to try to injure opponents, by diving at their knees and backs of their legs. As a result, defenders must endeavor to protect their knees and legs, which prevents them from focusing on stopping the runner.
Broncs coach Mike Shanahan protests that the league has reviewed Denver tapes and found only a few illegal hits. But this is because defenders are not standing like statues waiting to be harmed the way bad guys do in Chuck Norris movies; defenders are trying to evade efforts to hurt them. (Kung fu flicks and TV kick-boxing scenes would not be possible if the actors "fighting" did not elaborately cooperate with each other, including by leaving themselves open for blows, hurling themselves backward when hit, and so on.) Because defenders are defending themselves, Denver OLs rarely succeed in deliberate injury moves. But by forcing defenders to protect their legs and knees, Bronco blockers do succeed in making the opposition front seven less effective. TMQ hopes the league crackdown continues. Johnnie Cochran to the Broncos: If you cheat on the line, you must pay the fine.
Here is what it would sound like if Cochran were hired to defend the Broncos linemen:
MARCIA CLARK: The state would like to introduce game film of guard Dan Neil …
COCHRAN: Whoa now! How was that film obtained?
CLARK: (Puzzled.) From ESPN.
COCHRAN: Did my client grant permission to be filmed? Did you have a warrant to film him?
CLARK: The game was played before 82,000 people!
COCHRAN: That's what you say. His privacy rights have been violated! The game film is tainted evidence and must be suppressed.
CLARK: Your Honor, the linesman threw a flag …
COCHRAN: All we know for sure is that a flag was found at the scene of the penalty. The official could have picked up a flag elsewhere and moved it! And how do you know that is my client in the game film?
CLARK: The state enters into evidence a game program listing player No. 62 as Dan Neil.
COCHRAN: Can you prove that was Dan Neil wearing No. 62? Mr. Neil, put on Denver jersey No. 62. Does it fit?
NEIL: (Struggles with jersey.) Too loose.
CLARK: He's not wearing pads!
COCHRAN: Ladies and gentlemen of the jury, if the jersey is too XL, then the prosecution must go to hell.
CLARK: (Desperate.) But your Honor, on the game tape, you can hear Dan Neil yell at the injured player, "Take that, f*****."
COCHRAN: Whoa now! Are you saying there is such a thing as a white man's voice?
In other NFL news, Coopervision, a maker of specialty eye wear, has begun selling contact lenses that surround the pupil with the symbols of NFL clubs. Wearing the lens makes the eye appear to be a team emblem. Logo lenses are being marketed first in Bills, Eagles, Raiders, Rams, Ravens, Titans, and Vikings colors. Note that this means a big company's marketing department believes these teams have a significant number of fans of who have taken leave of their senses.
Worst Play Ever After Midnight: At 12:43 a.m. ET this morning, Tennessee needed 1 foot to win on the game's final snap at the goal line. Did the Flaming Thumbtacks follow TMQ's immutable law of the goal line, choosing from among the three plays that work? (Power run, play-fake, or roll-out.) No, it was a quarterback sneak: The same play Tennessee called at the goal line in the closing seconds a week ago against Jax, so it's not exactly as if Baltimore had not seen this on film. And the Titans ran the sneak from a four-wide set—meaning with the game and their collapsing season on the line, five Titans stood around watching and doing nothing while Steve McNair threw himself into the pile. (Doing nothing were the four wideouts plus Eddie George, who inexplicably stood watching rather than run-fake or at least throw himself into the pile, too.)
Four-wide with a foot to go! Can't anybody call a power run anymore? A spread formation leading to a QB sneak can work at the goal line ifit causes the defense to spread, too, leaving five OLs pushing four defenders. But at 12:43 a.m., the Ravens did not spread. Seven purple gentlemen lined up in the "box" directly across from McNair, leaving five Tennessee linemen pushing seven defenders, and the fiasco ensued. Apparently the play had no "automatic" (mandatory audible) to a roll-out if the defense did not spread. And Tennessee can't claim it had no time to ponder what play to call since action was stopped almost 10 minutes while zebras sorted out the confusing ruling on the previous snap, also a QB sneak.
Best Plays of the Week. Best CLEAN-Blocking Special: As Marshall Faulk turned upfield for his 71-yard TD run, fourof Carolina's front seven were lying on the ground. The Rams line simply "blocked down," slanting to the direction of the run, with a short pull by frostback guard Tom Nutten, who sealed the corner. (TMQ was not aware that Canadians were allowed to be 6 feet 5 inches tall, 304 pounds.) Sportscasters extolled Faulk's scamper, but blocking was the greatness of this run.
Best CLEAN Blocks No. 2: Fourth and inches on the Kansas City 25, seconds left in the half, the Jets handed off to Curtis Martin, who ran for six. As Martin hit the hole, all sevenof the Chiefs' front seven were sealed at the line by the Jets OL, which simply blocked down with a short pull by guard Kerry Jenkins. Sportscasters extolled Martin's scamper, but blocking was the greatness of this run.