Once More Into the Breach Against the Local Affiliates!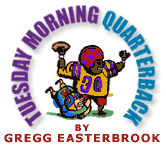 Saints at Rams, Raiders at Eagles, Niners at Bears—wow, what an attractive Sunday card, combined record 24-7 for these hot teams. So which of the headliner games was shown in the nation's capital, where TMQ lives? None. The nation's capital saw only Jax at Baltimore and Giants at the Chesapeake Watershed Region Indigenous Persons, combined record 9-14. New York, the nation's largest city, saw neither Rams-Saints nor Niners-Bears, both barn-burners. What, are terrorists controlling football programming now, too?
The NFL continues to spend millions to field a quality, exciting product—then ensures that huge swaths of the country can't see it by allowing local affiliates to choose crummy games. Worse, the networks break in with highlights, taunting with flashes of the much more interesting action in the great games you're not seeing!
If given a choice of matchups pitting division leaders or cellar dwellers, half the nation's local affiliates would lock on with laser-target-designator efficiency to the crummy contest. Or local affiliates choose "regional" matchups, even if bad teams are playing games as tedious as twice-told tales. Year after losing year, for example, most of the Pacific Northwest sees the "regional" Seahawks, regardless of what good game is on the card.
Recognizing their smart-bomb-like flair for homing in on the worst possible game, a few local affiliates do the democratic thing and allow viewers to vote. As reader Ravi Nanavati points out, WBBM, the CBS affiliate in Chicago, lets fans pick what matchup the station will show in non-Bears slots. (Vote for this week's possibilities here.) Why don't other affiliates employ this sensible system?
Meanwhile the insidious home-sellout penalty refuses to die. Since 1973, when Congress voted to compel the NFL to air sold-out home games, there has been a catch: When a station shows a sold-out local game, it cannot show any other NFL game that day. This rule cancels the doubleheader if the sold-out home game is airing on the same network holding the doubleheader that week. (By contract, Fox and CBS rotate doubleheader weeks.) For cities that perpetually sell out their stadia—Dallas, Denver, Kansas City, Washington among them—the effect is to block about half the season's doubleheader Sundays. In New York, where the two-team, always-sold-out Meadowlands stadium hosts a home game weekly, for years the effect has been to show fans in the nation's largest city strictly the Giants and Jets. During 1999, for example, in 11 of the 17 NFL regular-season weeks, New York on Sunday afternoon saw the Giants and Jets and nothing else.
Problems with the blackout catch are two. First, it penalizes fans for selling out the local stadium. Second, it penalizes owners by limiting ad revenues since so many good games aren't shown in major cities; showing them would improve ratings and ad revenue. Meanwhile all bad local affiliate decisions reduce ratings and thus revenue. It's not like viewing of the top games appreciates and can be marketed later. Viewing is worth quite a bit while the games are in progress and is worthless one second after they end.
Why don't advertisers, who have the financial clout, demand change? TMQ has no idea. Why were the blackout rules and local-affiliate rules instituted? The only rationalization TMQ has ever heard is that antediluvian owners, furious about Congress' 1973 decision, wanted to do something, anything, to screw the fans.
Last year the league began loosening the blackout penalty to allow airing of some doubleheaders even when a home game is shown. But most local affiliates still won't show a game in the early slot if a home game airs later. This is why the nation's capital did not see Saints at Rams or Niners at Bears—WTTG, Washington's Fox affiliate, aired exciting Stargate reruns in the early slot because the Giants-Persons game was due for the late start. The tormented rationale is that if the early game went into overtime, the station would have to break away and not broadcast the ending. So: Because we might not be able to show you a couple minutes of the game, we won't show you anything.
Ah, to live in Los Angeles—or any city without an NFL franchise. Absurdly, often the best NFL games are shown only to those cities that don't have teams since local-affiliate judgment is not clouded by home-team concerns.
The solution is DirecTV, with which you pay $169 for NFL Sunday Ticket and see every matchup. The problem is that most Americans don't get DirecTV: Availability of this satellite service is erratic, with about 10 million subscribers. TMQ would dearly love to buy Sunday Ticket and be set free from the inanity of local affiliates. But lovely greenhouse-gas-absorbing trees block the view from his house of the southwestern sky, where the DirecTV satellite hangs. Many who might buy Sunday Ticket face other techno-barriers.
The NFL's exclusive contract with DirecTV ends in two years, and presumably then Sunday Ticket will be available on every cable carrier, broadcast to your PalmPilot and projected onto the back of your sunglasses. Till then, viewers live in thrall of crummy games. If you have an example of an outrageous choice by a local affiliate, submit it via " The Fray " with specifics and station call letters. At least we can torment them.
In other NFL news, corks popped at 4:33 p.m. ET Sunday as the previously undefeated Rams left the field mumbling "No. !!%@&!&*" at the Dome at Center of the Observable Universe, or whatever the St. Louis stadium is now called. In one of the sweetest traditions in sports lore, each season on opening day, each surviving member of the 1972 Miami Dolphins—the sole NFL team to complete a perfect season—sets aside a bottle of champagne to cool. The cork is loosened when the last remaining undefeated team honks, ensuring the record is safe for another year. And it's genuine champagne, not the blueberry-almond sparkling-style chlorine-infused beverage-type substance passing for bubbly these days. Gentlemen of 1972, TMQ hopes you enjoyed your draught. You are likely to sample it again annually until the day the football gods summon you to Asgard for song and feasting.
Best of the Week. (Best Non-Plays): Game tied at 31, the Saints had first and goal at the Rams' 8 with 1:48 remaining and St. Louis bereft of time-outs. New Orleans made no attempt to score a touchdown. Instead kneel down, kneel down, kneel down, then the winning field goal with one second left. St. Louis was bereft of time-outs because earlier, coach Mike Martz challenged a fumble ruling that was obviously correct. TMQ warned last week that the football gods would punish the Rams for the hubris of their onside kick when leading by a big margin against the Jets.
Best Stat-Padding: Saints DB Sammy Knight had an interception and a fumble recovery on the same play.
Best Merriment: Mike Brown returned an overtime pick for six to cap Chicago's big comeback against the Niners. He concluded the winning play by diving into the end zone—except he was already 5 yards into the end zone when he dove.
Worst Plays of the Week: Facing fourth and an inch at the Ravens' 8 in a scoreless first quarter, Jax lined up with an empty backfield, not even bothering to show run. You have to pass to gain an inch? Incomplete, change of possession, the Jaguars went on to lose by one. This also demonstrates the potency of TMQ's law: Kick Early, Go for It Late.
Worst No. 2: Trailing 10-3, the Arizona (CATUION: MAY CONTAIN FOOTBALL-LIKE SUBSTANCE) Cardinals had possession on their 1, third and 10. The Az-Men came out in a shotgun,forcing QB Jake Plummer to stand near the back of the end zone. He retreated almost to the end line, then launched a wild heave-ho that was intercepted and returned for six. Arizona would have been much better off running to improve punt position or taking a deliberate safety. The shotgun from your own 1!
Worst Attempt at Divine Intervention: The "review assistant," the anonymous gentleman in the NFL box who alone can challenge calls in the final two minutes, challenged both the Bears' last-second touchdown and the ensuing last-second deuce conversion to force overtime. Both plays were upheld.
Worst Coaching No. 1: QB guru genius Mike Holmgren left Trent Dilfer—on a 20-4 run as a starter—on the bench as Matt Hasselbeck, 1-3 lifetime, honked to the Marine Mammals.
Worst Coaching No. 2: Trailing Miami 24-20 with two minutes left, Seattle faced fourth and four at the Dolphins' 10. Guru genius Holmgren sent in the kicking unit, gambling his underachiever defense could get the ball back immediately for another field goal attempt to win. The 28-yarder doinked; game over. But Seattle was doomed in any case for violating an immutable law: Kick Early, Go for It Late.
Worst Rodomontade: As the gun sounded on the Persons' win over the Giants, players doused coach Marty Schottenheimer with Gatorade. Washington is 2-5.
Worst Ridiculous K2Survival Gear: Each time he came to the sidelines in Chicago, Niners quarterback Jeff Garcia put on a ski cap and pulled it over his ears. Kickoff temperature was 53 degrees.
Stats of the Week: Kordell Stewart recorded his second touchdown pass of the season at 10:06 p.m. ET on Oct. 29. Till that moment, the Steelers' starting QB had been tied for the team lead in TD passes with RB Jerome Bettis, who had thrown once.
Stat No. 2: No one has a winning record in the NFC East.
Stat No. 3: All AFC East teams at or above .500 have surrendered more points than they have scored.
Stat No. 4: At 16 seconds, the Bears-Niners overtime was the shortest in NFL annals. At 10 yards, Dexter Coakley's touchdown return of Plummer's wild heave-ho was one of the shortest-everscores off an interception.
Stat No. 5: Buffalo and San Diego have met three times in the last four seasons, each game going down to a Bills field goal attempt on the final play. Buffalo missed both in San Diego and hit at home.
Typo of the Week: NFL standings in the Boston Herald listed St. Louis as scoring 1,176 points through week six. Apparently the notion of the Rams putting up 196 points per game did not strike the Herald as implausible.
Sensors Detect Temporal Anomaly in the Arrowhead Sector: Taking over with 45 seconds left in the half and three time-outs, trailing by seven, the Chiefs drove to the Horsies' 30, where they kicked a field goal on second down because the clock was almost zeroed. During the possession, Kansas City never called time out. On the plus side, the unused time-outs can be donated to charity.
Kurt Warner Expected To Attend: This week the American Academy for the Advancement of Science will hold a conference called "Becoming Human." The event will explore "what it means to be human." Does the American Academy for the Advancement of Science believe that a significant number of people are confused about whether they are human? Of course there are the Ravens, and several women TMQ once dated.
Forget the Titans: With last night's loss, Tennessee is on the ropes at 2-4 and is 2-5 since the end of the 2000 regular season, when it had compiled the best AFC record and was the purist's choice for the Super Bowl. Ye gods, what happened? Tuesday Morning Quarterback will report the shocking truth next week.
Midrange Babes of the Week: TMQ was heartened to learn from the history of the Miami Dolphins cheerleaders that:
The 2001 swimsuit calendar shoot took place in the Bahamas. And, for the first time in Miami Dolphins cheerleader history, the calendar features all 31 cheerleaders in swimwear.
The first time in Miami Dolphins cheerleader history! TMQ strongly favors swimwear for babes (cheerleaders being midrange, not quite mega), and future historians are much more likely to want to study Dolphin cheerleader history than most of what is produced in our era. Tuesday Morning Quarterback has long considered the Dolphins' squad the epitome of NFL aesthetic appeal, the better-known Dallas unit a runner-up. Beaches are an essential element of babeness, as California girls have long known; no beaches in Dallas. Check out some Dolphin cheerleaders' historic swimwear pictures here.
Cartographic Note: Now that TWA has flown into the sunset, the place the Rams play is renamed The Dome at America's Center, though America's geographic center lies approximately 500 miles to the northwest. Given Kurt Warner's space alien origin, TMQ suggests the venue be called the Tazenda Dome.
Researchers Note Rice Envy Syndrome: Two years ago, as he closed in on becoming the No. 2 receiver all-time behind Jerry Rice, rather than acting happy, Andre Reed became an incredible jerk—throwing tantrums on the sidelines, denouncing his teammates for not revering him enough. Now Cris Carter, who just passed Reed as No. 2 all-time behind Rice, has become an incredible jerk—throwing tantrums on the sidelines (against Tampa, Carter on the sideline looked like he needed milk, crackers, and a bedtime story), denouncing his teammates for not revering him enough. Sure, anthrax is the priority. But couldn't some biologist devise a vaccine for the debilitating effects of Rice Envy Syndrome?
Stop Me Before I Blitz Again! Persons 27, G-Men 21, seven minutes left, Persons facing third and 19 at their 24. All New York needs is to play straight coverage, get a stop (the average NFL pass attempt yields 6.2 yards), and the punt puts the Giants in excellent field position. Instead, it's a blitz! Journeyman Michael Westbrook is one-on-one with part-time CB/full-time tawdry pitchman Jason Sehorn and scorches Sehorn for the 76-yard TD that seals the game.
Reader Haiku: Readers were brimming with verse this week. One concerns the item on Kate "I Love Being Naked" Hudson posing in "tasteful" nudity for InStyle. Another concerns last week's cheerleader of the week, the highly three-dimensional Stacey Rogne of the Bolts, whose bio declares her religious. But Matt, don't despair. There's a lot more sex in the Bible than in most books; it just happens in tents rather than at the Hyatt Regency Lake Tahoe.
Hey politicos!
The Rams have a Canidate
who knows how to run.
—Britt

They win by running
and a powerful defense:
Pittsburgh is 2-D.
—Bruce Brown

"Tastefully nude" is
easier for Kate Hudson
than, say, John Madden.
—"Foobarski"

Monday Night Football,
Giants can't put it away.
Birds win. Angie's sad.
—Beth Jerome

Pats, bane of Horsies!
Brady makes New England swoon.
Bledsoe: Keep resting.
—Rob Garrity
Panthers' problem: no
Tim Biakabutuka.
Who will fumble now?
—Patrick Davitt

Cheerleader Stacey:
Wow! Look at those dimensions!
Damn, likes the Bible.
—Matthew Cole

TMQ says, "Blitz
no good." However, Steelers
get 10 sacks with it.
—Rick Evans
Dan Snyder takes a
Schottenheimer in the dark.
Now only grief, loss.
—Owen Rodgers

It's Tuesday morning.
Stare at Slate. Refresh. Refresh.
TMQ yearning.
—"Foobarski"
Plug of the Week: The incredibly cleverly titled Tuesday Morning Quarterback is now in bookstores, and you can buy it here. TMQ, who is to one thing constant never, wishes it known that the book is new stuff, not a collection of columns. Also, there are swell retro-1950s graphics. The publisher is Universe, which usually does artsy coffee-table books of tasteful nudes. (TMQ, of course, favors tasteless nudity.) Unfortunately there are no nudes in Tuesday Morning Quarterback, but it's got dozens of tasteful new haiku, including this one for Los Angeles:
Odious agents,
Vacuous bimbos. Yet oh,
Where the NFL?
—TMQ, 2001
The Football Gods Chortled: For this year's office Halloween party, TMQ came wearing a big magnet: costumed as a babe magnet! In a cruel twist, all the attractive women from the office came dressed as men, so the magnet had no effect. It was touch-and-go whether it would even work on TMQ's wife.
TMQ Insider Exclusive! Tuesday Morning Quarterback has learned exclusively that LB Levon Kirkland does not brush after every meal. Remember, this is a Tuesday Morning Quarterback exclusive.
Running Items Department
ObscureCollegeScore of the Week: Wisconsin-Stevens Point 34, Wisconsin-Stout 24. Stevens Point, whose foreboding modernist campus is centered around a vast concrete sun dial that looks like the main deflector dish of a crashed starcruiser, boasts that it finished fourth in the 2002 U.S. News ranking for "top public Midwestern universities—master's." (The U.S. News college ranking franchise is sprouting so many categories, it makes the Academy Awards seem restrained.) The school's Faculty Constitution (access it here) runs 42 pages—formatted as a Word general document, the U.S. Constitution is 12 pages—and contains such earth-shattering specifications as, "Subject to review by the Senate, the committee shall have the authority to encourage programs with an international emphasis." Lifestyle bonus: Beer aficionados consider Stevens Point Brewery one of the country's top micros. Gape at the frightening Point Maple Wheat beer here.
Bonus Obscure Score: Muhlenberg 23, Ursinus 20. Located in the pastorally named Collegeville, Pa., Ursinus is "a Dell Laptop Campus," issuing every incoming frosh a Latitude deck. (So Mom and Dad, that tuition is really only …) Its admissions page points potential customers to an article deriding the myth that "if you don't get into Harvard, Yale or Princeton, your life is ruined … [this is] like saying that without Armani and Prada, we'd have nothing to wear." TMQ's life was ruined when he failed to get into the University of Miami, farm team for the Dolphins' cheerleaders. And Ursinus appears to suffer the same genus confusion as the American Academy for the Advancement of Science. An essay by Ursinus President John Strassburger says students "burst into applause" when a professor asked them, "What does it mean to be human?"
Double Bonus Obscure Score: Norfolk State 7, Howard 0 in OT. This game was 0-0 after four quarters and came tantalizingly close to TMQ's ultimate football final, 2-0 in overtime. Norfolk State emerged victorious despite gaining 49 yards in regulation. Howard threw 25 times for a net of 2 yards.
Most Embarrassing Dennis Miller Moment: Deliberately spitting all over himself in the opening shtick? Pu-leeze. The phrase "this isn't funny anymore" applies at several levels. And how come MNF showed no shot of the giant animatronic ketchup bottle at Heinz Field? Best thing about the place. (Henceforth this venue will be Ketchup Field to TMQ.)
ObscureCollegeGame of the Year: The wait will finally be over Saturday when California of Pennsylvania visits Indiana of Pennsylvania for the Tuesday Morning Quarterback Obscure College Game of the Year. Indy of Pa. bested Clarion 35-34 on a missed extra point in OT, remaining undefeated at 7-0 and first in the PSAC West. Cal. of Pa. lost to Shippensburg 37-20 and slipped to 4-4. You can listen to the game here.
New York Times Final-Score Score: The Paper of Guesses goes 0-14 in its quixotic attempt to predict an exact final score, bringing the New York Times Final-Score Score to 0-99 for the season and 0-359 since TMQ began tracking. Reader Brian Golden's generic final score—Home Team 24, Visiting Team 10—also whiffs, bringing this item to 0-27 since inception.
Misery loves company: CBS Sportsline's Harmon Forecast, boasting to employ an incredibly scientifically advanced "mathematical formula" to pick winners " between 72 percent and 78 percent of the time," is just 50.5 percent for the season, calling 17 of the 27 games wrong the past two weeks. And this incredibly scientifically advanced formula is only picking straight up, not against the spread. (Note: Whisky and football picks are two of the three things that are best straight up.)
Reader Animadversion: Many readers noted that after Gorzon the Inexplicable warned that the starcruiser fleet hiding on the far side of Mars would cause NASA's Odyssey probe to "mysteriously" fail, Odyssey entered Martian orbit flawlessly. Well—that's what the sinister Galactic Hegemony (Did Somebody Say Invasion?) wants you to think! The probe seems to be beaming back reports that everything is quiet, cold, and harmless on the far side of Mars. But all we really know is that NASA is receiving telemetry on the Odyssey bands, and the telemetry is telling NASA exactly what it wants to hear. …
If the above item makes no sense to you, consult " For Those Who Came in Late." Meanwhile there seems to be debate in The Fray regarding whether readers want more captured Gorzon memos. Please submit your viewpoint to help me choose. Of course, the final decision will be completely arbitrary.
Last Week's Challenge … was to find a quote from great literature embedded in the column. Reader John Wright suggested the phrase "the Bears are in first place" was in the original manuscript of Alice in Wonderland but cut by Lewis Carroll as too unrealistic. Many readers fell for "please don' throw me into that blitz patch," which sounds like a line from Song of the South but isn't a quote. Others fell for "I knew the 1992 Chargers, the 1992 Chargers were friends of mine, and 2001 Lions, you are no 1992 Chargers," which sounds like Lloyd Bentsen in his vice presidential debate with Dan Quayle, but neither Lloyd Bentsen's speeches nor those of any living politician of whom TMQ is aware fall into the category of literature.
An impressive number of readers knew that "A touch, I do confess" was spoken by Laertes near the beginning of the bloody duel scene that ends Hamlet. On a completely arbitrary basis, Lisa Rosenthal of Brooklyn, N.Y., gets the TMQ cap.
Kyrie O'Connor noted that Laertes was a dangerous opponent despite being described as "fat and scant of breath," and "Ed" went on to add that the same may be said of Jerome Bettis. Reader "Dersins" proposed that "a touch" was actually spoken by Billy Joe Laertes, second-string QB of the Elsinore Danes, and noted that all quarterbacks named Billy Joe seem "scant of breath." Corky King asserted that from a close textual reading of Shakespeare's original, you cannot be certain whether Hamlet and Laertes are dueling or playing John Madden Football on Nintendo. "DB" noted that "Before the scene ends, the season is over for Hamlet, Laertes, Claudius, Gertrude, and Herman Moore." Even then, the guy could not stay healthy! Theo Mott observed that a line from the same scene—"another hit, what say you?"—sounds like Michael Strahan addressing a quarterback. Matthew Hall proposed that "Donovan McNabb" sounds like someone who should have been a bit player in Hamlet. ("Rosencranz, Gildenstern, and McNabb are here, sire.") One reader summed it up all in haiku:
Hamlet, Laertes
proclaim fencing's protocol:
Both men are poisoned.
—James Clark
There was a second, more deeply embedded Shakespeare, McNabbed only by a few: Cornerbacks seek "no wind of blame." Reader Stephen Salmon knew that Claudius promised Laertes if he killed Hamlet and made it look like an accident, "For his death no wind of blame shall breathe." Kate Bagley of Spokane, Wash., takes another stylish TMQ cap for knowing that No Wind of Blame was also the title of a 1939 murder mystery by the cult bad writer Georgette Heyer. No Wind of Blame even includes a character named Ermyntrude, which is, Kate writes, "a mega-babe name if ever I heard one." Check out a sample of Heyer's prose:
"You think I did it!" Vicky cried, springing to her feet. "You've always thought so! Well you can't prove it, any of you! You'll never be able to prove it!"

"Vicky!" gasped Mary, quite horrified.
This week's column also contains embedded quotations from literature, plus an obscure reference. Identify any, append a clever comment, and submit via The Fray. You may receive a stylish TMQ cap, but we promise nothing. Remember to include your e-mail in the unlikely event your submission is chosen.