The World's Ugliest Photograph of Michael Phelps
How a batch of terrible photographs went viral—and why that's good news for photographers everywhere.
The athletes vary dramatically in height and skin tone. Some come with gear or are wearing their uniforms. Others are wearing distracting jewelry that they need to be coaxed into removing. Some are friendly and at ease in front of the camera; others are exhausted and uncomfortable.
The experience for most photographers was "pretty intense mostly because of the sheer number of athletes that came through," says Toni L. Sandys, who photographed dozens of participating athletes for the Washington Post. "You want to be a little creative with them, but you can't be changing the lighting setup with every athlete."
On top of that there's extreme personal pressure, she says, because you're surrounded by other photographers shooting the same people. You see them drape the athlete with a flag or apply some fancy lighting scenario and you can't help but ask yourself whose photos are going to come out better.
Any photographer working in these conditions would expect to have a few failed sessions among the dozens. Although no one else whose photos I've reviewed produced work quite as consistently bad as Klamar's, most of the photographers produced a wide range in quality. (The work of this Dallas Morning News photographer has sparked commenter attacks as well.)* Some photographers may have done worse, but worked for publications that opted not to publish the results.
Myth No. 2: Klamar Is a Horrible Photographer
Just because you are good at writing movie criticism does not mean you are good at reporting on Supreme Court cases. The same goes for photography. The other Klamar photos on the wire suggest that he's more accustomed to working the red carpet, shooting dolled-up celebrities in an environment that's similar in its frenetic pace to a media day, but otherwise quite different. According to Sandys, Klamar told her the media day was his first time covering this sort of Olympic event.
Newbie error is not an airtight excuse. Sandys, who had never covered an Olympic photo day before either, was far more successful.
One difference, though: Sandys was well-prepared because she knew about the assignment more than a month in advance. She said Klamar told her he'd just learned about it the day before. He arrived without the proper lighting gear and was forced to make do, using gear he was not familiar with.
Myth No. 3: The Editors Should Have Photoshopped the Images Into Something Better
How on earth did AFP and Getty let a photo with ripped backdrop slide through? (Sandys explained why it was ripped, by the way: The soccer players, who came through before the gymnasts, were wearing cleats.) The editors do bear some responsibility here. Klamar should not have turned in such horrible photos to his editors. But neither should his editors have let his horrible photos be published on the wire, going out to hundreds of clients across the world, potentially ruining his career. (I reached out to Getty for comment on this process, but never heard back from their spokesperson.)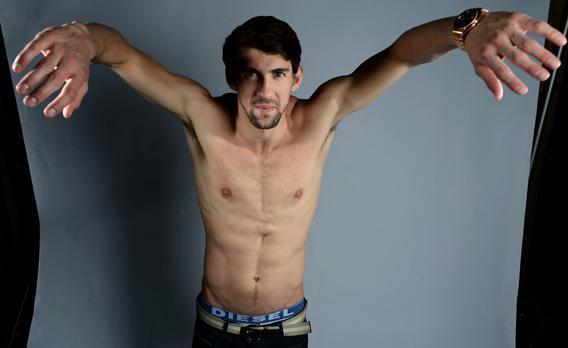 That said, the idea that the photo editors who worked for AFP or Getty should have used the powers of Photoshop to buff out those ugly wrinkles and rips reveals a misunderstanding. Unlike the editorial photographs commissioned by magazines—like, say, a photo you might see on the cover of ESPN the Magazine—photographs released on newswires are not supposed to be dramatically altered.
So how did these photos get published? Perhaps a desire to feed the Web beast was involved. It's likely that pressure to provide options quickly was a priority, that Getty's editors perhaps never imagined that in a Web full of bad photos, people would care about wrinkles in a backdrop and awkwardly placed light. As it turns out, this assumption was wrong. Thank goodness for that.
Correction, July 6, 2012: This article misidentified a Dallas Morning News photographer as a Dallas Times photographer. (Return to the corrected sentence.)