Sochi Night Live
The best Olympic opening ceremony tweets in real time.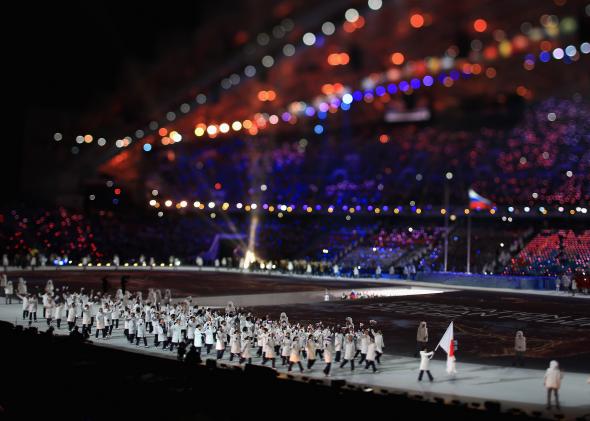 The Sochi Olympics officially begin Friday with an opening ceremony that was anticipated to rival London 2012 in terms of pageantry and lavishness. Anyone who lives overseas—or doesn't have any compunction about watching a pirated video stream—will have already been able to watch all of the fireworks, which took place earlier Friday. But the way so many of us enjoy major cultural events these days is communally by watching on TV and simultaneously following along on Twitter. Consuming the games alone on a hacked BBC live stream isn't really conducive to that approach.
So to aid in your viewing pleasure on Friday night, we've assembled two lists of the best journalistic Twitter accounts for pairing with an NBC tape-delayed Olympic opening ceremony. On the left side of the screen are a few dozen of our favorite cultural journalists and commentators. On the right side of the screen are a few dozen of our favorite sports journalists and commentators. If you're looking to watch the opening ceremony for snark about Sochi's take on Russian history, scuttlebutt about the Russian torchbearer, or news about the political protests surrounding the country's human rights abuses, then check out the left-hand feed. If you want to know about Lolo Jones's bobsled exploits, Bode Miller's alpine resurgence, or this year's luge favorites, then the right side should have you covered.
Even if the ceremony is on tape delay, at least the tweets are live!