The London Olympics Sap-o-Meter
Dreams from Danell Leyva's father on a record-setting night of sap in London.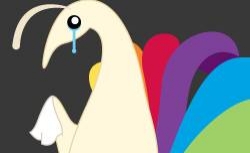 Last night's Olympic coverage featured an unprecedented barrage of sappiness, as NBC's continued focus on parents kept the Sap-o-Meter ringing all night. Fathers and sons provided the sugary center of the men's gymnastics all-around competition, with bronze-medal-winning U.S. gymnast Danell Levya and his teammate John Orozco continually professing their filial pride. Elsewhere, parental spectators in diving and swimming also amplified the sweetness, helping the Sap-o-Meter reach a London high of 68 Sap Points.
Emotions were high during the men's gymnastics individual all-around final following the U.S. team's disappointing performance during the team event. NBC mined for sap by relating Levya and Orozco's personal narratives, tapping the Olympics sugar maple for tales of Levya's father-son relationship with his coach/dad Yin Alvarez, and noting Orozco's heart and determination to use gymnastics to make a better life for his parents. One of the evening's most saccharine moments came when Orozco's mother tearfully described her young son's desire to help them pay their bills: "He would hear us talking about the mortgage and paying and how we were going to make the bills, and he went to the gym and he asked, 'Can I work?' And then first paycheck, he said, 'Here, Dad. Pay the mortgage.' "
Parents may have won the evening with nine mentions, but six dreams also dotted the festivities. Swimmer Jessica Hardy made a longtime dream a reality by finally competing in the games. (She was banned from competition in Beijing for unknowingly ingesting a banned substance.) Leyva—whose bronze medal on Wednesday night lifted Team USA from "the depths of despair" according to preeminent sap-ologist Tim Daggett—and his teammate Orozco expressed their dreams as a way to improve their families' situations (economic or otherwise).
In the end, however, the parental-based sap stood above the rest. It was Orozco who offered the Sappiest Line of the Day when he declared during a sap-filled profile: "All that heart. All that determination that I have for my sport. That's what I'm trying to give back to my parents."