Exclusive access to your favorite Slate writers and editors
Ask Prudie to solve one of your dilemmas. Quiz the Political Gabfesters in a private Q&A. Chat about movies with film critic Dana Stevens. Win a lunch with Simon Doonan. Tell John Dickerson which politico you'd like him to write about.

Bonus podcast segments
Listeners who sign up for Slate Plus will hear weekly bonus segments from our biggest podcasts, and will be able to listen to those podcasts ad-free! (Most popular podcast players supported, including iTunes, Downcast, Instacast, BeyondPod and DoggCatcher.)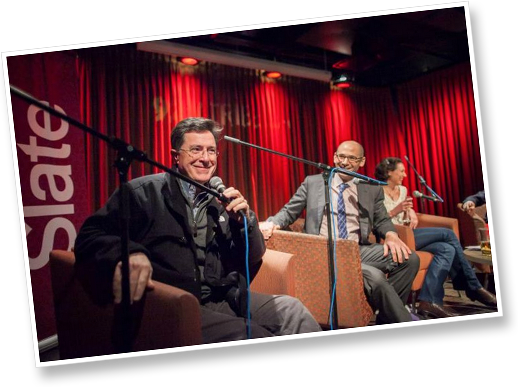 Early access to and discounts on Slate events and merchandise
Be the first to hear about live events, get exclusive access to pre-show parties, enjoy reserved seats, and receive at least 30 percent off ticket prices. And take advantage of special discounts on merchandise in Slate's store.
An enhanced on-site experience
Members will get single-page articles throughout the site. They'll get early access to feature stories. And comments will appear directly on article pages, rather than in a pop-up window.
Slate Plus members also will get behind-the-scenes info on Slate, regular updates from the editor, and much, much more.
An exclusive Jonathan Adler mug
Members who opt for an annual subscription will get a Slate mug, custom designed by the renowned potter, designer and author. (Mug will ship in early fall.)